Best iPad mini 5 Accessories
The iPad mini 5 is capable, but if you want to take it to the next level you'll need the best iPad mini 5 accessories. We're here to help you get the most out of your 2019 iPad mini with our list of essential accessories. From cables and cases to docks and dongles, we have you covered.
Once you get your shiny new iPad mini out of the box, it's a good idea to invest in a few essential iPad mini 5 accessories to add to what the iPad mini 5 can do. We've been using these accessories with our iPads for years and they represent the best you can buy, and you don't need to break the bank to do it.
All iPad mini models use a Lightning cable, so you can use your existing iPad mini and iPad accessories with the newest model. The only iPad accessories you can't use are those designed for the newer iPad Pro 3rd generation.
Best iPad mini 5 Accessories
Here are the best iPad mini 5 accessories, and what you need to know about using older iPad mini accessories with the 2019 iPad mini. You can add a stand, get more battery life, charge more conveniently, protect your screen and do more with your iPad mini.
iPad mini Stand – $9.99
iPad mini 5 cases – $10 and up
iPad mini 5 Screen Protector – $5.99
Backup Battery – $39.99
Click the links above to buy an iPad mini 5 accessory directly, or keep on reading to learn more about each of these options and why we think you need one of these.
iPad mini 5 Stand – $9.99

The iPad mini 5 is easy to hold thanks to the small size, but if you want to watch a movie or a make a longer video call you need a stand. The best stands are small and portable, so you can take them with you. Personally we prefer a stand over a case with a kickstand. You get more control of the angle and there's no added bulk when you don't need a stand.
Our top pick is the UGREEN Tablet Stand Holder. It's a collapsible and portable stand that works great and is easy to slide into a bag to take with you on a trip. Since it isn't specific to a device you can use it with your iPad mini 5, an iPhone or even the Nintendo Switch.
$9.99 at Amazon
Spare & Longer Lightning Cables – $12.99 to $15.99

You get one cable with your iPad mini, but you'll need at least one more and possibly a third. We recommend getting an Anker cable to be your portable cable that you take with you to use when you travel, to plug-in at work and to use with a portable battery pack. It's designed to take a lot of wear and tear without breaking.
3 ft Anker Powerline II for $12.99 at Amazon 

The next one that you should buy is a 10 foot Lightning cable. This is perfect for use in bed or connected near your couch. You can use it to easily charge while you use it during binge watching TV shows. This is also handy to keep with you in a hotel when plugs are far away.
The Amazon Basics 10 foot charging cable is double braided nylon and has great reviews.
10 ft Amazon Basics for $15.99 at Amazon 
iPad mini 5 Keyboard – $59.99 & $99.99
You can't use a Smart Keyboard with the iPad mini, but that doesn't mean you can't use a keyboard of some kind. We like two options for the new iPad mini 5. One is a snap on iPad mini 5 keyboard that protects the front of the iPad when not in use and the other is a standalone option that pairs well with the iPad mini 5 stand.

The Brydge 7.9 keyboard is a perfect companion when you need productivity. This keyboard is backlit and lets you type almost as fast as on a laptop. You get great keys and a nice layout.
It connects with hinges to your iPad mini and easily comes off when you just want a tablet. It's an awesome option that you need to look at if you plan to use your iPad mini 5 for productivity in any serious way.

The Logitech Keys to Go is a nice portable keyboard that easily connects to your iPad mini and that you can use to type faster on your iPad mini 5. It also works with your iPhone or Android. It's slim, features long battery life and it's made of a spill resistant fabric.
$59.99 at Amazon 

There are a lot of awesome iPad mini 5 cases that you can use to protect your new iPad mini. From the official Apple Smart Cover to the OtterBox Defender, there are a lot of options you can buy.
You should check out our roundup of the best iPad mini 5 cases to find one you like. There are options from $8.99 and depending on the features you want, what style you like and other features. Shown above is the official Apple Smart Cover.
$39 at Amazon, Apple and Best Buy
Apple Pencil or Logitech Crayon – $94 and $69

The iPad mini 5 now supports the Apple Pencil 1st generation and the Logitech Crayon. Both of these allow you to easily draw or write on the screen. They are great for taking notes as well as sketching and drawing. Check out the best Apple Pencil cases if you pick one up.
The Apple Pencil first generation is compatible with the new iPad mini. It charges with the Lightning port on the bottom and it works with a lot of different apps. Here's more on what the Apple Pencil can do. The Apple Pencil features the same basic specs as the newer Apple Pencil, so you aren't missing out on much.
$94.88 at Amazon

Another great option is the Logitech Crayon. Don't let the name fool, you this isn't a knock off or a half as good option. The Logitech Crayon is a different option that includes the same technology as the Apple Pencil but in a different looking and at more affordable price. This is great for younger users, but it's also professional enough to use in a business setting.
$69.99 at Amazon
iPad mini 5 Screen Protector – $5.99

A case is a good start, but if you take your iPad mini with you everywhere, you may also want to put a screen protector on it. You can get a nice option from JETech for just $6 that is made with tempered glass. It comes complete with a Touch ID cutout and you get everything you need for an easy installation.
This screen protector also comes with a lifetime warranty and has a 4.5 star rating on Amazon with over 500 reviews.
$5.99 at Amazon
Headphones – $84 to $350
The iPad mini features a headphone jack, so you can connect any headphones that you have handy, but we really love Bluetooth headphones that let you connect without any wires. These are awesome for travel and for watching in bed without getting tangled up. Here are some of our favorites.

These are the top picks that we are using now. The AirPods are perfect for easy portability and switching between different devices.
T

he Jabra Move Style headphones are comfortable over the ear headphones that are great for jamming out or watching movies in bed.

The Bose QC 35 headphones are perfect for long flights and for drowning out the noise in busy places thanks to great noise cancelling.
Apple TV or Adapters – $44 to $149
If you want to connect the iPad mini to a TV, you will need an adapter or you will need an Apple TV.
This allows you to stream to a TV from the iPad mini when you are at home or on the go, and to connect to projectors if you need to use it as a way to present on a business trip.

The Apple TV acts as a wireless display option that you can connect to and use AirPlay to stream from the iPad mini. You can also use it to play cool games like SketchParty.tv. Buy from $149 at Amazon.

Another option is the Lightning to HDMI cable that Apple calls the Lightning to Digital AV Adapter. This lets you connect the iPad mini to any device with a HDMI port and it includes a second Lightning port so that you can connect your iPad mini to power while using this.
Backup Battery – $39.99
You can keep your iPad mini 5 going long after the normal battery is depleted thanks to a portable battery pack. The RAVPower 22000mAh battery pack is a great option that will charge up to three devices at the same time. You can expect about two and a half charges of your iPad mini 5 with this battery pack.
If you also need to fast charge your iPhone or need a backup battery for your MacBook or Nintendo Switch look at the OmniMobile or a portable charger with USB PD.
$39.99 at Amazon
10 Cool Things the iPad Mini 5 Can Do
Take Notes with the Apple Pencil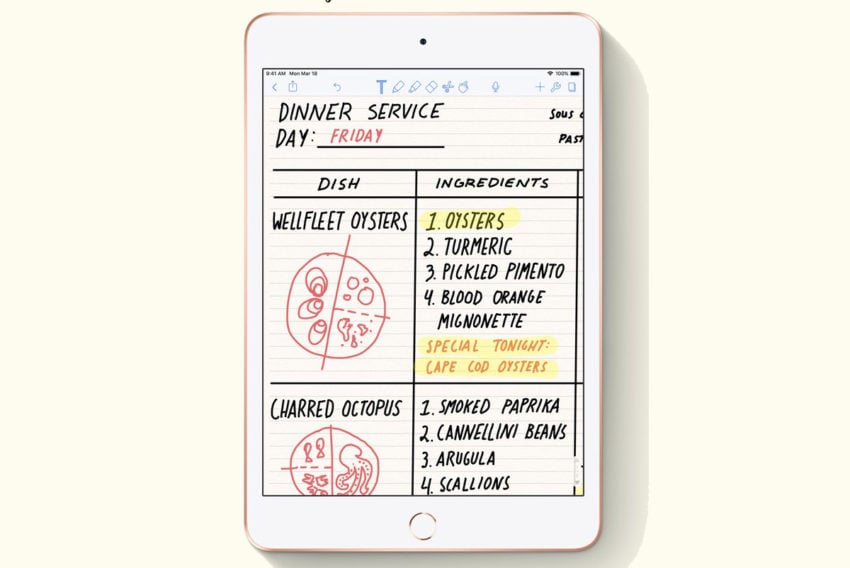 The iPad mini 5 works with the Apple Pencil for the first time. This allows you to take notes on the iPad mini just like you would on a small notepad. It is easy to use and you can start taking notes in the Notes app or invest in a more full-features Notes app.
You need to buy the Apple Pencil (1st gen) for $94 at Amazon or $99 at Apple and Best Buy.
This is much better than taking notes with the old style soft nub styluses that you could buy to use with the older iPad mini models.
We used the first gen Apple Pencil on the iPad Pro for a long time and it is a great tool for taking notes when you are in class or in a meeting. Even with the smaller screen it is a handy tool.