Three Best Splatoon 2 Deals
Splatoon 2 launches on July 21st and you can save money if you take advantage of the best Splatoon 2 deals now.
Splatoon 2 is the most important of this summer's Nintendo Switch game releases because it is a showcase for what makes the console unique. You can play Turf War, a mode taken from Splatoon for Wii U, on your television or on the go using the Nintendo Switch Online service. Salmon Run supports local cooperative play, so that you can take on the game's enemies with anyone that has the title and a Nintendo Switch of their own nearby. Splatoon 2 works with the Nintendo Switch Pro Controller, the Nintendo Switch Joy-Con Controllers and with motion control.
The best Splatoon 2 deals available let you experience everything that the game offers for less than you would pay for the game in the Nintendo eShop. It costs $59.99 without any savings. Use these Splatoon 2 deals to bring that price down.
Read: Splatoon 2 Release Date, Features & Details
Amazon Prime Splatoon 2 Deal – $47.99
Amazon discounts every video game pre-order that its Amazon Prime subscribers place by 20%. That includes Splatoon 2, which costs Prime users $47.99. That's a discount of $11.89.
Read: Should You Get Amazon Prime?
An Amazon Prime subscription costs $99.99 a year or $10.99 a month. If you already have a subscription, it's an easy way to save.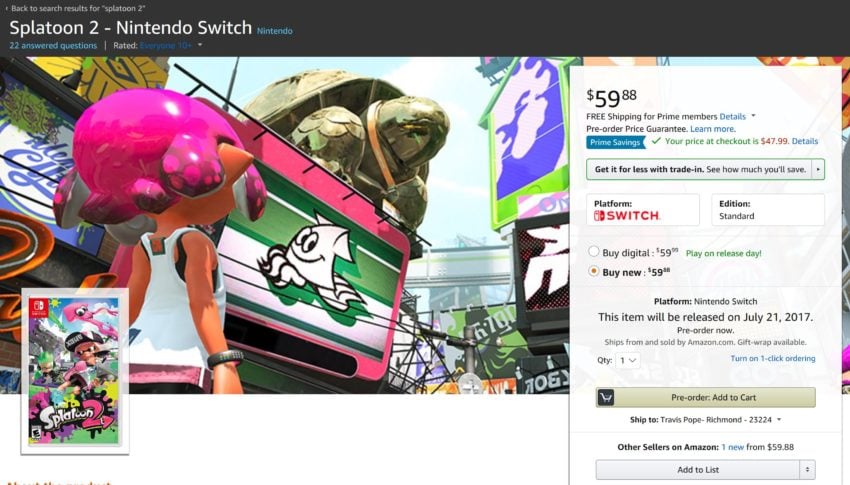 Boost your savings with a video game trade-in. Amazon Trade-In gives shoppers account credit for their video game trades immediately. You can use that credit for fast savings on your copy of Splatoon 2.
Buy Splatoon 2 at Amazon for $47.99 with an Amazon Prime Subscription
Best Buy Gamers Club Unlocked Splatoon 2 Deal – $47.99
Best Buy Gamers Club Unlocked subscribers get a 20% discount on every physical game that they purchase, including new titles. Splatoon 2 costs just $47.99 with this savings. Gamers Club Unlocked subscribers also get 20% off game guides, like the $10 Splatoon 2 Official eGuide from Prima Games. That lowers the cost of the guide to $8.
A Best Buy Gamers Club Unlocked subscription costs $29.99 for two years.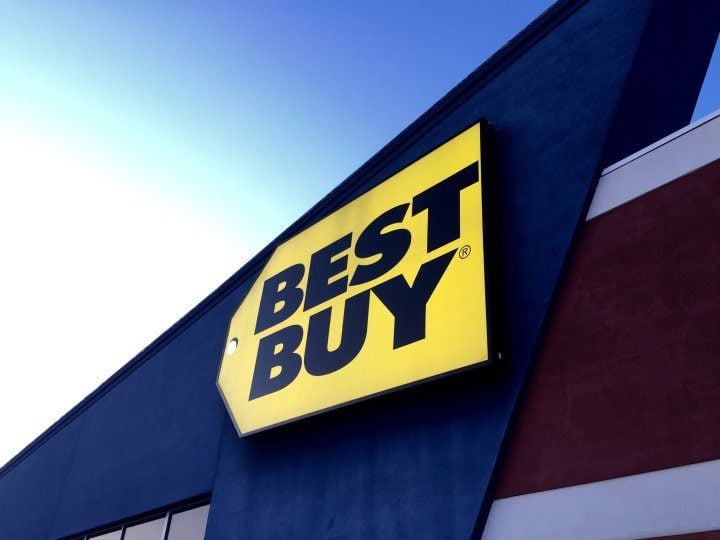 Read: Is Gamers Club Unlocked a Good Deal?
Like Amazon, Best Buy also has a video game trade-in program. Call your local store to see if you can use your old games towards a big Splatoon 2 discount.
Buy Splatoon 2 at Best Buy for $47.99 with a Gamers Club Unlocked Subscription
GameStop Splatoon 2 Deals for Trades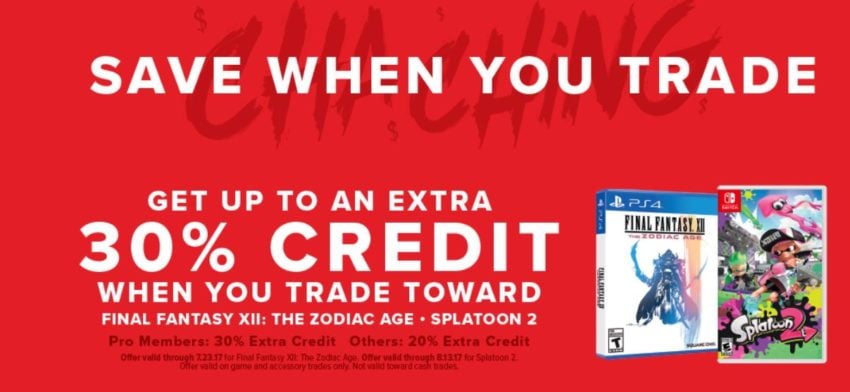 GameStop has an attractive Splatoon 2 deal of its own. The company boosts the value that shoppers get for a trade by 20% when they sell anything to buy Splatoon 2. This deal lasts until July 23rd and you must take your games and accessories to a local store to save instantly.
The company gives Power-Up Rewards Pro members 30% extra credit when they trade accessories and games towards Splatoon 2. This deal lasts until August 13, 2017. A Power Up Rewards Pro membership costs $14.99 for one year. Members also get extra points to buy rewards with every game they trade.
See these Splatoon 2 Deal at GameStop
Those are all the Splatoon 2 deals available before launch. Be sure to look for Nintendo Switch deals if you don't already have a console to play the game on. Gamers could play the first Splatoon on the Nintendo Wii U, but this game won't come to any Nintendo consoles besides the Switch. Nintendo doesn't sell a Splatoon 2 console bundle.
Read: How to Find the Nintendo Switch in Stock
If you can't take advantage of these promotions today, don't worry. Expect Splatoon 2's price to fall as Nintendo shifts focus to its next major release. That game, called Super Mario Odyssey, is also exclusive to the Nintendo Switch.
10 Best 2017 Nintendo Switch Games Coming
Sonic Forces
Featuring three protagonists, Sonic Forces will offer platforming and an all-new story when it arrives on video game consoles – including the Nintendo Switch – in 2017.
We know that Sonic Forces lets gamers create their own characters. Players must base this character on one of seven different classes that come with their own advantages and abilities. Sonic Team calls these custom characters "Avatars," and there are hundreds of cosmetic items for Sonic Forces players to add some style to their creation.
You can skip the custom character mode and enjoy two generations of Sonic game play: 2.5D and 3D. The 2.5D mode offers the classic side-scrolling Sonic experience from your childhood. 3D Mode plays more like Sonic Unleashed. All game worlds and characters are three-dimensional, just like they would be in a modern game.

As an Amazon Associate I earn from qualifying purchases.