Best Twitter Apps to Replace the Default Twitter App
Stop using the default Twitter app or the Twitter website where you need to deal with the frustrating layout and out of order Tweets. You don't need to be a Twitter power user to get benefits from these default Twitter app alternatives.
Instead of listing a ton of great Twitter apps that you then have to narrow your way down through, we've already done that to find the best Twitter app for each platform. Forget using the stock app and switch to one of the best Twitter apps today.
Yes, you will need to pay for these Twitter apps, but they are worth way more than what the developer is charging. If you enjoy Twitter, you will love these best Twitter apps.
When we hear people complaining about how Twitter works, not seeing the Tweets they want to see and other common Twitter problems, we don't experience most of these because we are using the best Twitter apps instead of the stock app.
Best Twitter App for iPhone & iPad – Tweetbot
Tweetbot for iPhone and iPad is the best Twitter app you can buy. It's incredibly simple to use, but you can also customize controls and amp up what it can do if you are a power user.
You always see Tweets in the traditional timeline view, support for lists and searching is top notch and the overall layout makes it simple to stay on top of you timeline as well as notifications and replies. Tweetbot supports multiple accounts and can sync with Tweetbot for Mac.
One of the best features is how easy it is to mute something. If you want to stop seeing a hashtag, simply long press on it and choose how long to mute it for. This can clean up your timeline in a second without unfollowing someone or jumping through hoops.
There are tons of gestures that allow you to quickly read a thread, reply and more. You don't need to use these features if you don't want to, but they are there if you want them.
Download the App for $4.99: On iPhone, iPad and Apple Watch
Best Twitter App for Android – Fenix 2
Fenix 2 is the best Twitter app for Android. This app looks great and it includes a lot of customization so that you can make your main screen look just like you want it. Fenix 2 supports multiple accounts and includes video and image previews for most major sharing sites so you can see them right inside the timeline.
Enjoy a very nice conversation layout if you are reading a back and forth between users. You can also mute users, hashtags or keywords to keep people or specific topics out of your timeline.
Multiple themes including light and dark options add to the beautiful look of Fenix 2.
Download the App for $2.49: On Android
Best Twitter App for Mac – Tweetbot
Tweetbot is also the best Twitter app for Mac. Instead of using the Twitter website where, again, timelines are messed up and you don't have much control over the style, you can use Tweetbot.
The Tweetbot for Mac app brings the features from iOS over to the Mac, and your timeline progress can sync across the platforms so you are always at the same spot. It's designed for Retina Displays and supports Notification Center. You can also use multiple window options to keep your preferred information up in front of you and easy to see.
You get the same mute filter support as on iPhone and you can also connect to a wide variety of 3rd party services.
Download the App for $9.99: On Mac
Best Twitter App for Windows – Tweet It!
On Windows forget the Twitter website and install Tweet It! for Windows. This app allows you to upgrade your Twitter experience on Windows and it includes Live Tile Support as well as the ability to handle up to 3 accounts.
With push notifications you can reply to tweets without opening the app. You can also sync your Timeline position between multiple devices. Customize the columns so that you can get the layout that fits how you use Twitter best. You can use phrase filtering to mute keywords, hashtags and users.
Download the App for $5.99: On Windows
20 Best Apps to Make Money in 2020
Google Opinion Rewards - Make Money By Answering Questions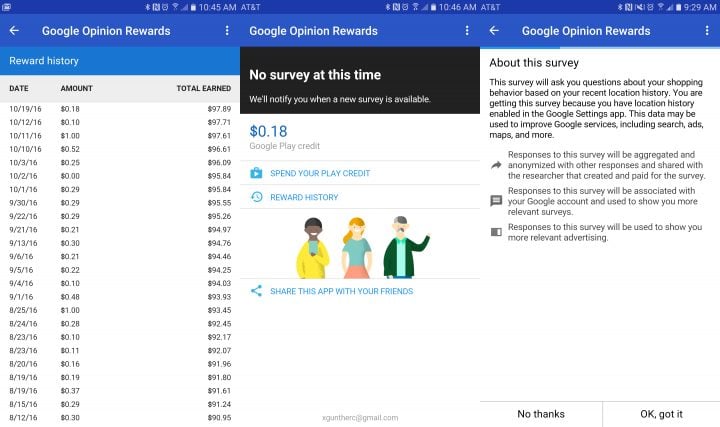 You can make money answering survey questions on your smartphone with Google Opinion Rewards. Also known as Google Surveys by many users, this free app rewards you for sharing your opinion. This works on iPhone and Android, but the best way to make money is on iPhone.
A member of the Gotta Be Mobile team earned over $100 with Google Opinion Rewards. All you need to do is answer questions and you'll earn anywhere from a 10 cents to a dollar. You can also answer Google Opinion Rewards surveys in stores to really earn more money.
The money that you make works for Google Play Credits on Android that you can use to buy apps, movies, books, and even spend on in app purchases for games like Clash of Clans without spending your cash.
iPhone users get the credit sent to PayPal when they have a balance of $2, which can happen every two or three weeks depending on how many surveys you qualify for. It's easy to earn when you start, but surveys may become less frequent as you go.
Download Google Opinion Rewards for Android and Google Opinion Rewards for iPhone.