LG G6 vs Galaxy S8: What Buyers Need to Know
With the new LG G6 now official, potential buyers are wondering how it compares to the upcoming Galaxy S8. Both phones have been rumored for months, and will be available in the near future. Take a look at our LG G6 hands-on, then read on to see how these two phones compare. This is the Galaxy S8 vs LG G6 based on official announcements and the most recent leaks and rumors.
If you want a big beautiful screen on your next phone, these will be two great choices. In 2016 both companies took different approaches, but this year LG is bringing the fight to Samsung. Between a mediocre LG G5 and a recalled Galaxy Note 7, both have a lot to prove in 2017.
Read: Galaxy S8 Release Date Breakdown & Rumor Roundup
Both look to rebound with stunning new phones. Devices with huge screens and almost no bezels. Thanks to the LG G6 announcement today, and a slew of leaks for the Galaxy S8 we have a very good idea of what to expect and how these two stack up. The choice will be harder than ever this year, and LG is already out in front with the G6. Take a peek below.
While LG has already announced the G6, Samsung has been silent. Although we should be learning more soon. Leaks, reports and rumors have been floating around for months on end. From Samsung using bigger screens and a new AI assistant, to LG adding water-resistance and matching Samsung's premium materials.
LG completely ditched the modular design from the G5, and is now offering a sleek premium device that could really give Samsung a run for their money. Our initial hands-on we came away very impressed, and now can't wait to see what Samsung delivers next month.
When it comes to making a choice in 2017 buyers will need to consider all of the options. And while Motorola, HTC, OnePlus and Google all will make a strong case, the Galaxy S8 and G6 will likely be the best two. At least initially. In 2016 both phones were unveiled in February, then released in March and April. That isn't the case this year, as the Galaxy S8 has been delayed for quality assurance testing. Either way, our slideshow below goes over everything one would want to know about the Galaxy S8 vs LG G6. This information is subject to change once the Galaxy S8 is announced.
Galaxy S8 vs LG G6: Design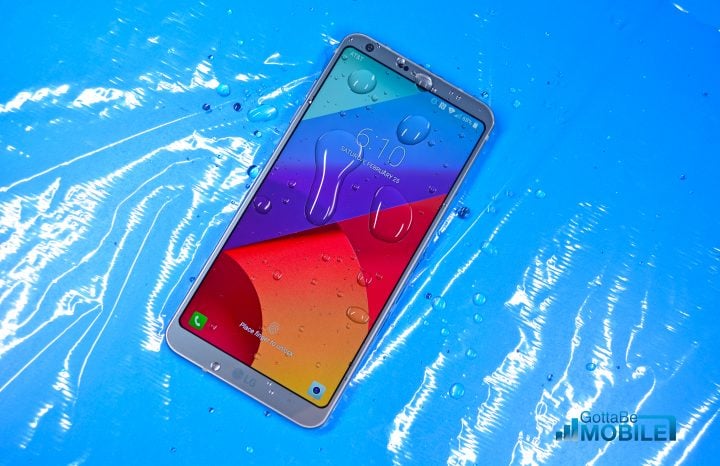 First things first is the design. This is important because the LG G5 was a flop last year, and Samsung had exploding phones that resulted in two recalls for the Galaxy Note 7. This will be a hugely important year for both.
LG is using an all metal and glass design with a bigger 5.7-inch screen. The bezels are tiny and the corners are rounded, something we expect Samsung to do as well. Additionally, the Galaxy S8 and S8+ will have huge screens.
Leaks suggest Samsung will use a very similar overall design as the Galaxy S7, only improve it in all key areas. Those being the camera, battery life, display, and bezels. Samsung will ditch the dedicated home button and fingerprint scanner. Instead, the scanner will be on back, cutting out the big chin of metal under the display. Take a look at the LG G6 in our image above, then add a little more size and curved edges and that's what the Galaxy S8 will be like. Amazing, right?
Samsung's Galaxy S8 will be big, thin, beautiful and water resistant. Just like the Galaxy S7. With the LG G6, we are getting something similar. It has a big screen along with a smaller body, IP68 water-resistant rating, three cameras, and will be more reliable.
Either way, these two phones should have a gorgeous design, although we're banking of Samsung having the slightly better overall package. Now that we've used the LG G6 though, this choice is going to be harder than many expected. LG came prepared this year.