How to Claim Your Free Gear VR with Galaxy S8
In case you didn't know we have some good news for those that pre-ordered the Galaxy S8 or Galaxy S8+. Samsung is giving all buyers a free Gear VR headset with a motion controller. Here's how to claim your free Samsung Gear VR today.
Last year with the release of the Galaxy S7 and S7 Edge everyone received a free Gear VR too, but this year is different. Not only is it a newer model, but it comes with a motion controller for an even more immersive experience. Additionally, buyers get a slew of free games and VR apps. This is only for those who pre-ordered.
Read: Best Samsung Galaxy S8 Deals
And while last year Samsung gave them out well past the release date, that isn't the case for the Galaxy S8. In order to be eligible you must pre-order between March 30th and April 20th 2017 to qualify. Although some carrier stores may extend this deal. Read on for more details, and how to redeem your free gift.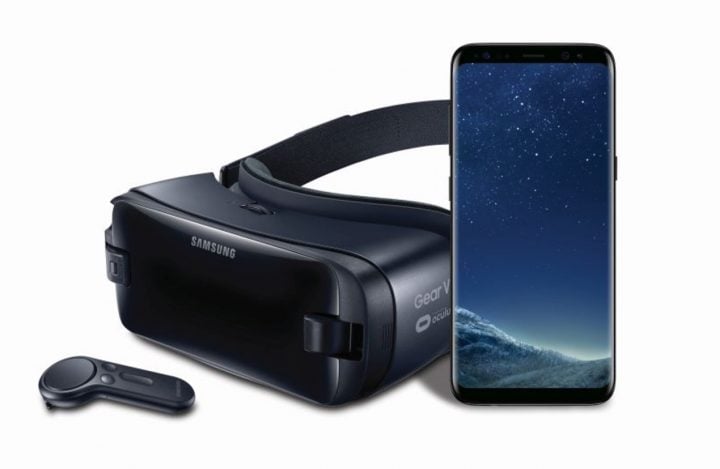 Technically this is what you get when you pre-order the Galaxy S8. Buyers will receive a free Gear VR with Controller plus bonus Oculus content. Not to mention platinum status with Samsung Rewards and Samsung Pay.
Then, for an additional $99, users can get an even better Gear VR experience by getting Samsung's new premium over-the-ear headphones by AKG and 256GB memory card. This is also a limited time deal, which can be found at the Samsung Promotions website.
How to Claim The Free Gear VR and Controller
Redeeming the free Gear VR with Controller and exclusive Oculus content is extremely easy. In fact, it's easier than last year because Samsung has an app dedicated to it.
Simply head to Samsungpromotions.com for more details.
Once you receive your Samsung Galaxy S8 or Galaxy S8+ you just have to fill in an order form with details provided on the receipt. Users will need to locate the "Shop Samsung" app on the phone, or download it from the Google Play Store.
Launch or download the dedicated "Shop Samsung" app and navigate to the "Discover" or "Offers" tab. In here is where you'll register and redeem the free Gear VR with all Galaxy S8 pre-orders. Look for "REGISTER NOW for the Samsung Infinitely Immersive Offer". Click there to get started.
Fill out the online form and provide a few details that should be included on your receipt. Information includes the device IMEI number, MAC Address, your name, number, email and physical address. Additionally, you'll be required to take a picture of your receipt and attach it to the claim form. It only takes a few minutes, and you're all set. Everything is done inside the app right on your new Galaxy S8. Samsung will not ship to PO boxes.
It looks like Samsung may offer a way to redeem the free headset online too, although we've yet to see it. The site mentions that those who use the Shop Samsung app will get 200 reward points for Samsung Pay Rewards absolutely free. Not to mention get platinum status with 4x points.
When To Register For the Free Gear VR?
According to the official terms and conditions report there are specific dates that all buyers must register by. Failing to submit your receipt and information will result in you missing out on this free gift.
Purchase period is March 20th – April 20th
Offer Claim Form must be submitted between April 10th – May 14th 2017
The May 14th date may be extended as long as gift supplies remain available
Other Details
Inside the Shop Samsung app users will have the option to select one of two different gifts. One is the standard free Gear VR with controller and Oculus games. The other is $99 and includes one Gear VR with controller (est. $129.99 value), Oculus Content (est. up to $50 value), one pair of Harman AKG Y50BT black headphones (est. $149.95 value), and a Samsung 256GB MicroSD EVO+ memory card (est. $249.99 value).
Personally for $99 you'll receive almost $600 worth of stuff, not to mention the 256GB microSD card alone is $249. That's the best deal, but most will just opt for the outright free Gear VR. No purchase is required inside of the app. The second bundle is optional.
Your free Gear VR with Controller gift may take anywhere from 6-8 weeks to ship from Samsung. Users can head to SamsungPromotions.com at the bottom left to check the status of their gift and delivery. That's it. Now just sit back and wait for your free gift or the bundle option if you chose that instead. While you're here, take a look at some of the best Galaxy S8+ cases from our slideshow below.
20 Best Galaxy S8+ Cases
Samsung Alcantara Case ($20)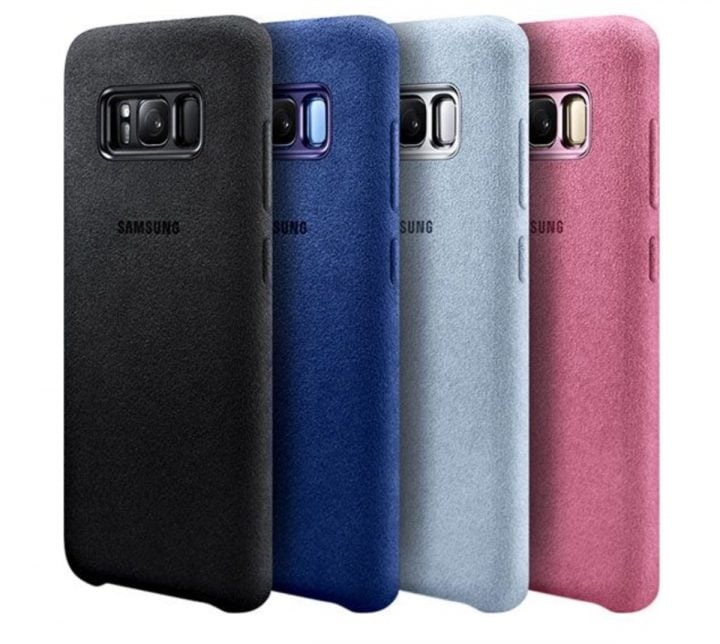 A neat case from Samsung for the Galaxy S8 is the Alcantara case. It's a beautiful and durable hard case that's covered in Suede-like material. It looks good, feels incredibly soft and is "stain-resistant" too. This is our first recommendation of many. Your phone will be safe, and look good doing it. Since it's a fabric the first few days it may shed, but that quickly went away on ours.
Samsung makes some of the best cases, of course, and this will be no exception. It comes in four different colors and looks pretty unique. Get one for your Galaxy S8+. For whatever reason, most of Samsung's best cases aren't available on their own online shop. If you want one, check out MobileFun.com for all your needs.