How to Find the iPhone 15 in Stock
If you have trouble securing the iPhone 15 model you want, you'll want to keep an eye out for new stock, check out alternative places to order, and look for stock in stores.
Every year, shipping dates for some iPhone models start to slip during the pre-order period. Often times, select storage sizes, colors, and carriers get pushed into October.
Shipping dates for the iPhone 15 Pro and iPhone 15 Pro Max have indeed slipped for select storage sizes, colors, and carriers. In some cases, they've been pushed into November.
Analyst Ming-Chi Kuo says demand for Apple's iPhone 15 Pro Max is "robust" and is currently outpacing last year's iPhone 14 Pro Max.
So, if you're able to find the model you want, and you want your new phone ASAP, it's a good idea to place an order right now.
While some models might not ship until October or November, you might be able to find them available for in-store pickup at Apple or another retailer.
If you're worried about getting your top choice, you'll want to track iPhone 15 and iPhone 15 Pro stock at Apple, carriers, and retailers to see if you can find what you want. If you're persistent, you should be able to come away with your ideal model/storage/color combination.
In this guide, we'll help you find an iPhone 15 in stock at Apple, your carrier, or your favorite retailer.
Check Apple
There are a few ways to quickly check for iPhone 15 or iPhone 15 Pro stock from your computer or your phone.
Perhaps the easiest way is to check via Apple's website or via the company's Apple Store application. The website and the app allow you to check on stock at individual Apple Stores.
Choose the iPhone 15 or iPhone 15 Pro model you want and enter your local zip code. The site or app will show you what's available for in-store pickup.
Some models may be unavailable for in-store pickup. That said, we expect new stock to emerge down the road so you'll want to keep your eyes peeled if you can't find what you're looking for today.
Check Your Carrier
If you are unable to secure the iPhone 15, iPhone 15 Plus, iPhone 15 Pro, or iPhone 15 Pro Max you want at Apple, and you don't want to wait weeks for your shipment to arrive, check your carrier.
Open up your carrier's app or click on the links below where you can then pick your model, color, and storage to see if you can get a quick delivery.
You should be able to see the iPhone 15 delivery date estimates before you check out. If the estimated ship date is too far out, you can try buying your phone from a retailer.
Check Retailers
Retailers like Amazon, Best Buy and Walmart might show you a much faster delivery date even though Apple's delivery estimates are far out.
Use an iPhone 15 Stock Tracker
You can also use a handy tool called iPhone Inventory Checker in your web browser to check iPhone 15 and iPhone 15 Pro stock across the United States.
4 Reasons Not to Install iOS 17.0.2 & 11 Reasons You Should
Install iOS 17.0.2 for Better Security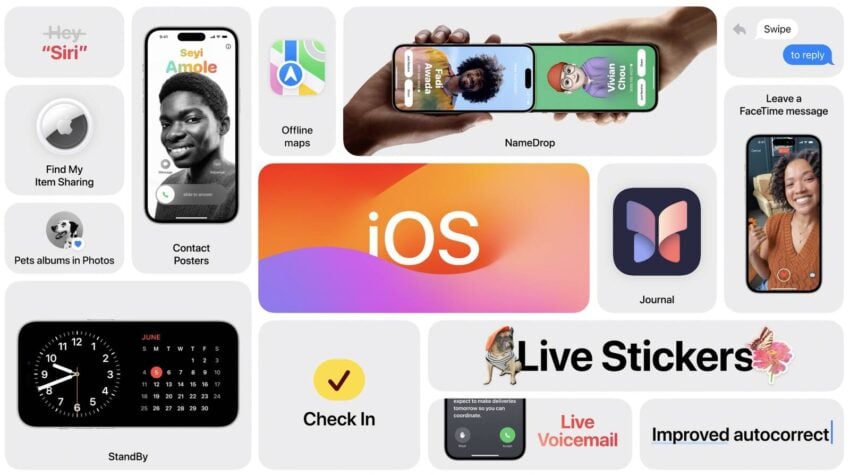 If security is important to you, think about installing Apple's iOS 17.0.2 update right away.
iOS 17.0.2 itself doesn't have any security patches on board. However, if you missed older versions of iOS, it will bring the patches from the updates you missed to your iPhone.
iOS 17.0.1 delivered three important patches to iPhone. If you're interested in the exact nature of these improvements, you can read about them over on Apple's security website.
As for iOS 17 itself, it brought 40+ new security patches with it. A staggering number to say the least. If you want to learn more about them, head over to Apple.
If you skipped older versions of iOS, like iOS 16.6.1, you'll get the security patches from those updates with your iOS 17.0.2 update as well.
In addition to those patches, iOS 17 brings some additional enhancements to privacy and security including improvements to Communication Safety beyond Messages.
It now includes content sent by AirDrop, Contact Posters in the Phone app, FaceTime, and the systemwide photo picker. You now have an option to blur out sensitive photos and videos before you choose to view them.
There's also an expanded Lockdown Mode which will help protect you against cyber attacks.
Apple's also improved sharing permissions and you now have more control over what you share with the apps on your device.
The company also notes that starting in iOS 17, Voice Memos encrypts the titles of recordings stored in iCloud, in addition to the recordings themselves.

As an Amazon Associate I earn from qualifying purchases.