How to Fix Galaxy Note 8 Autocorrect Problems
This guide explains how to fix and prevent Galaxy Note 8 autocorrect problems. Often times, autocorrect will type messages that people don't understand. This is especially true for those who type extremely fast. Not to mention you might accidentally hit the wrong letters on the big 6.3-inch screen, and it will correct it to the wrong word.
By changing your keyboard settings or installing a better Galaxy Note 8 keyboard these autocorrect problems can easily be avoided. A good keyboard will use the right word when it does correct your mistakes, too.
Read: 15 Common Galaxy Note 8 Problems & How to Fix Them
Whether you're coming from another Android device, a Samsung Galaxy, or the iPhone this will help you type faster and better on the Note 8.
How to Fix Galaxy Note 8 Autocorrect Problems
If you want to continue using Samsung's built-in keyboard make sure you configure the settings properly first. This is an important step for the best experience.
Open a text message or email so your keyboard opens on the screen. Once you see the keyboard, tap and hold on the microphone, then tap on the gear-shaped settings button. Next, find and turn on the Auto Spell Check switch. 
Out of the box, "predictive text" or autocorrect is already enabled, along with a few other helpful settings shown below. With both predictive text and spell check turned on you will type better and faster. The auto-corrected words will insert on their own or pop up above the keyboard for easy access and so you can choose what word you need. Tap any misspelled word that spell check catches, and you'll get a similar pop up to fix the spelling.
In the same settings menu, the first keyboard option in settings is "Predictive text" as shown above. This automatically replaces words as you type and is a major cause for Galaxy Note 8 autocorrect problems. Yes it's helpful, but it also causes issues for those that type fast.
To fix that, simply follow the same instructions above and turn off Predictive text.
How to Change the Galaxy Note 8 Keyboard
Another option is to install a better keyboard on your Galaxy Note 8 that won't have as many autocorrect problems and fixes most mistakes as you type. The first one that comes to mind is Google's own Gboard, previously called Google Keyboard.
Gboard has more options, themes, and even custom keyboard sizes to perfectly fit the big screen on your Note 8. Additionally, with Gboard installed, as you type all you need to do is hit the spacebar to automatically enter autocorrect words. Making the typing experience faster and easier than Samsung's.
Get started by downloading Google Gboard to your Galaxy Note 8. This is a free app from Google and it walks you through how to install it once you open the downloaded app. Or, follow the steps below.
When you first open Gboard it asks you to turn on the keyboard in the Galaxy Note 8 keyboard settings menu. Basically allowing your device to see it as a compatible keyboard. Ignore the warning that says this keyboard can collect what you type, except for passwords and credit card numbers. All keyboards say this, and coming right from Google means there is nothing to worry about.
Follow the on-screen prompts from Gboard, and we recommend giving it access to your contacts list so it automatically learns names you'll use often. Gboard then has another option in settings for "Next-word suggestions" which can help you type even faster.
The biggest difference between Samsung's keyboard and Gboard is how autocorrect works. With Gboard, when you tap the spacebar it instantly inserts the correct word, not a misspelled word like Samsung. And, you don't have to stop typing and find the right word above the keyboard. Give it a try today and while you're here, check out this list of the best Galaxy Note 8 cases.
25 Best Samsung Galaxy Note 8 Cases
Samsung Protective Kickstand Case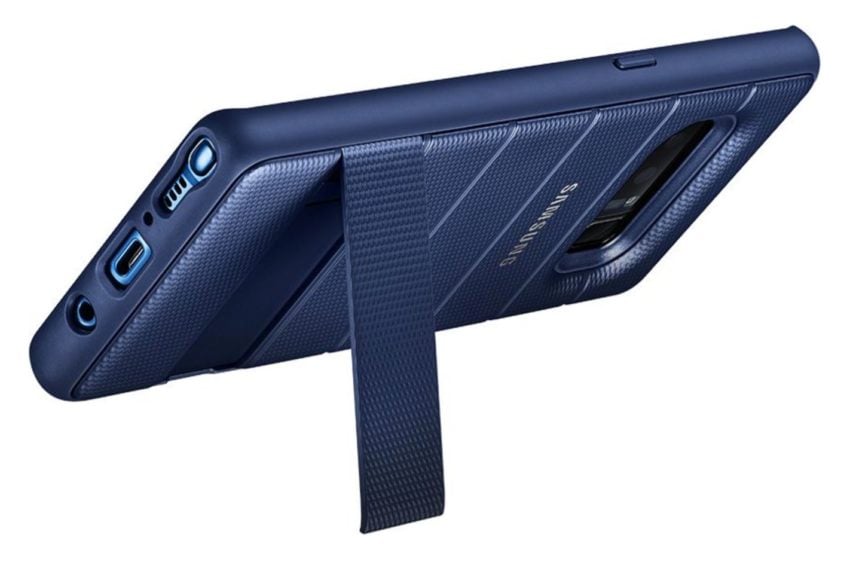 First up is a new case from Samsung themselves. The Rugged Protective Cover is Samsung's new military-grade case for the Note 8. Meaning it's certified for some serious tumbles like drops from 8-10 feet. Basically, this is one very durable case.
Then, to make things even better Samsung added a fold-out kickstand for hands-free viewing. The kickstand will also detach if you put too much pressure on it to prevent damage. Simply snap it back in and you're good to go. This is one of the first cases we recommend, as it's extremely durable and has extra features.
Buy it Now at Samsung for $39.99

As an Amazon Associate I earn from qualifying purchases.