How to Fix Galaxy S8 Autocorrect Problems
Samsung Galaxy S8 autocorrect problems mean you can easily type messages that people will not understand. This is especially true when you type quickly without tapping on the suggestion that appears at the top of the keyboard.
We will show you how to fix Galaxy S8 autocorrect problems by changing your keyboard settings and installing a better Galaxy S8 keyboard on your phone that will automatically use the autocorrect, instead of making you tap again to use the right word.
Read: 15 Common Galaxy S8 Problems & How to Fix Them
If you are coming from another Android phone or from the iPhone this will help you type faster and better on the Galaxy S8.
How to Fix Galaxy S8 Autocorrect Problems
The first thing you can do is make sure that your Galaxy S8 autocorrect settings are configured properly. By default, they should include autocorrect support, but not spellchecking.
With the keyboard on the screen, tap and hold on the microphone, then tap on the settings button. Now tap the button on the right to turn on Spell check.
With Spell Check and Autocorrect on, you will see options to type better, but you need to tap on the words to send the autocorrected version and you also need to tap on misspelled words to fix them.
This means if you are quickly typing a message and then tapping send like you can on an iPhone, you can easily send a garbled message that not even you understand.
Instead, you should install a better Android keyboard that will automatically fix the words as you type. With the Google Gboard installed, you can enter the autocorrected word by pressing the space bar instead of pausing to tap on the top.
Download Google Gboard to your Galaxy S8. This is a free app on the Google Play Store and as the name suggests it is made by Google.
Open the app and follow the directions to install the keyboard. This will ask you to turn on the keyboard in the Galaxy S8 keyboard settings. You will see a warning that this keyboard can collect your text, except for passwords and credit card numbers. This is a legit app from Google so there is no need to worry about nefarious purposes.
On the next screen, tap on English (US) Gboard. You will then be prompted to allow access to your contacts, which allows you to turn on an option to suggest contact names.
Unlike the Samsung keyboard, when you tap the spacebar, it will insert the autocorrected word instead of the mistyped word. This will fix most GalaxyS 8 autocorrect problems without spending any money or changing how you type.
One downside to this is that you no longer have the top number bar available at the top of the keyboard, but for better autocorrect on the Galaxy S8 it is a trade off we will gladly make.
20 Best Galaxy S8+ Cases
Samsung Alcantara Case ($20)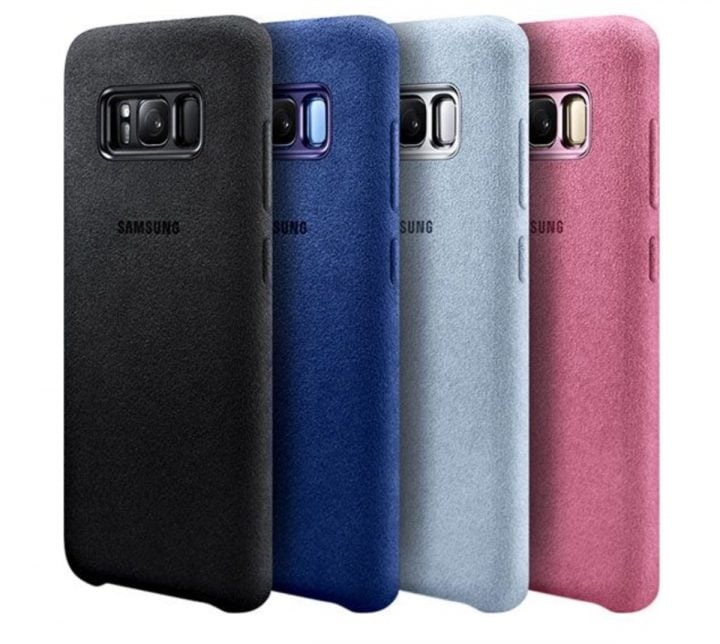 A neat case from Samsung for the Galaxy S8 is the Alcantara case. It's a beautiful and durable hard case that's covered in Suede-like material. It looks good, feels incredibly soft and is "stain-resistant" too. This is our first recommendation of many. Your phone will be safe, and look good doing it. Since it's a fabric the first few days it may shed, but that quickly went away on ours.
Samsung makes some of the best cases, of course, and this will be no exception. It comes in four different colors and looks pretty unique. Get one for your Galaxy S8+. For whatever reason, most of Samsung's best cases aren't available on their own online shop. If you want one, check out MobileFun.com for all your needs.

As an Amazon Associate I earn from qualifying purchases.