How to Fix iOS 13 Beta Performance
If your device's performance has taken a hit after the iOS 13 beta, you're not alone. iOS 13 beta users are complaining about a variety of performance issues including lag, reboots, crashes, and more.
While some users are seeing a bump in performance, others are complaining about a variety of issues with Apple's first iOS 13 beta. Some of these issues are minor, others are impacting day-to-day use.
While some of these problems might get fixed in an upcoming iOS 13 beta, others you'll need to address on your own.
If you start noticing performance issues after installing the iOS 13 beta, our list of fixes should help. These have worked for us in the past and there's a good chance you'll be able to troubleshoot your issue in minutes.
Restart Your Device
If you start noticing abnormal amounts of lag, try restarting your phone. A simple restart can have a tremendous impact on your device's performance.
Power it down, wait a few minutes, and then power it back on again and see if the lag has dissipated.
Install the Latest iOS 13 Beta
Apple will gradually improve iOS 13's performance over time and future betas will include bug fixes and performance improvements.
Keep your eyes out for new iOS 13 beta releases on Monday and Tuesday around 10AM Pacific. New betas typically come once every two weeks and then once a week as we get closer to the final release.
We expect the final version of iOS 13 to touch down in September alongside new iPhones.
Update & Delete Your Apps
App performance can sometimes take a hit on beta software and you might start noticing more frequent lockups and crashes. This is par for the course.
There's no way to ensure that you get a perfect experience on the iOS 13 beta, but there are a few things you can do to help your cause.
First, make sure you keep all of your apps updated. Most iOS 13 support updates won't arrive until Apple releases the final version in the fall, but the updates we see this summer could still help stabilize performance.
If you're running the latest version of the app and you're still seeing issues, try reinstalling the app causing the problems. Delete the app from your device (hold down the icon until you get the little X) and then re-download it from the App Store.
Free Up Storage
If your device is really struggling, check your internal storage space. If you're running out of room, you should do some cleanup. Reducing the amount of clutter on your device could improve performance.
Here's how to quickly get a handle on your storage:
Go to Settings.
Tap General.
Scroll down to iPhone Storage.
If you're in the right spot you'll see a bunch of information about the data you're currently storing on your device. iOS will also make some recommendations based on your utilization of your devic'es storage.
Use this information to make some decisions about the files you've got on your device. If you've got a ton of Messages you no longer read, but still want to keep them, you should think about using Messages in iCloud.
If you've got a ton of photos or videos you no longer want or music you no longer listen too on your internal storage, think about deleting them to free up space.
For more on quickly freeing up storage on an iPhone, take a look at our in-depth guide.
Disable Widgets
If you don't use widgets, try disabling them because they might be slowing your device down. Here's how to do it:
Swipe to the right while you're on your device's home screen.
Scroll all the way to bottom of your widgets and select Edit.
If you're on the right screen you should see your apps listed in a few different rows. The apps with red "-" signs next to them are your active widgets. The ones with a green "+" sign next to them are your inactive widgets.
To deactivate a widget, here's what you need to do:
Tap the red circle with the white line next to the widget you want to disable.
Tap Remove.
We recommend starting with widgets you never use. If that doesn't have a positive impact on your device's performance, you go down the list and disable the rest.
You can always turn them back on if you don't see any performance gains.
Clear Browser Cookies & Data
Clearing your browser's cookies and data will free up memory which could have a positive impact on your device's performance.
If you primarily use Apple's Safari browser go into your Settings, tap Safari,  and scroll down to where it says Clear History and Website Data and then tap it.
Tapping this will remove your browsing history, cookies, and other data from Safari. History will also be cleared from any devices signed into your iCloud account. If that's alright with you, tap Clear History and Data again.
If you're using Google's Chrome browser, you'll want to head into the app and tap the three horizontal circles in the bottom right corner. They're in the top right corner if you haven't updated to the new design.
Once you're in there, tap Settings, tap Privacy, and tap Clear Browsing Data. You can now select what you wish to delete. If you're noticing serious lag, you might want to start fresh.
If that's the case, select them all (you'll notice a red check mark on the right of the names once you've done this) and then tap Clear Browsing Data.
Stop Background Refresh
If you don't use Background Refresh, try disabling it and see if your performance improves.
When Background Refresh is enabled, many of the apps on your device will get updated with new information while they're idling in the background.
The feature can be a resource hog and shutting it down could ease the strain on the processor. Here's how to disable Background Refresh:
Go to Settings.
Tap on General.
Select Background App Refresh.
Toggle Background Refresh off.
If you'd prefer to keep the feature active for some of your apps, you can disable your apps on a case-by-case basis.
On the Background App Refresh screen you'll see a list of your applications. If Background App Refresh is toggled on, you'll be able to toggle apps on and off individually.
Reduce Your Animations
If you're seeing choppy UI animations and transitions, try toning them down.
iOS provides a sense a depth when you tilt your device and open and close your apps. It's a nice touch, but minimizing it could improve your device's performance.
Here's how you can reduce the Motion Effects on your device:
Head into Settings.
Tap General.
Tap Accessibility.
Toggle Reduce Motion on.
Before you do this, please note that reducing Motion Effects will disable some features like the bubble effect in your Messages app.
You should also try reducing transparency and blur effects on your device. Here's how to do this:
Head into Accessibility.
Tap Increase Contrast.
Tap the toggle to turn on the Reduce Transparency function.
Reducing these could help lessen the strain on your device's processor and improve overall performance.
Reset Network Settings
If you're starting to notice slower than normal download speeds on your device try resetting your network settings. Here's how to do this:
Head into your Settings app.
Tap General.
Tap Reset.
Tap Reset Network Settings.
This will cause your device to forget your Wi-Fi passwords so have those handy.
If this doesn't work, try resetting all of your settings from the same menu. Tap Reset All Settings. Doing this will restore your device's settings to their factory defaults so, again, have your Wi-Fi passwords handy.
Downgrade to iOS 12
If you can't find a manual fix and/or don't want to wait for the next version of the beta, you can downgrade to iOS 12.
Right now, you can downgrade back to iOS 12.3 or iOS 12.3.1, but we expect the iOS 12.3 downgrade path to close up in the near future.
For more on the downgrade, take a look at our walkthrough.
4 Reasons Not to Install iOS 13 Beta & 12 Reasons You Should
Install the Beta to Help Improve Apple Improve iOS 13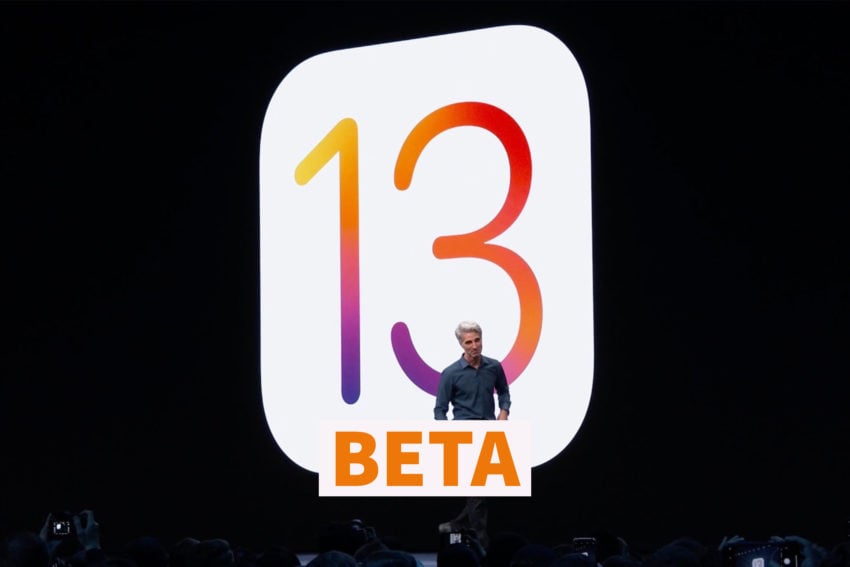 While trying new features is certainly exciting, remember that you're also helping Apple squash issues before they reach millions of iOS users around the world.
Your testing could help the company discover a nasty bug or performance problem ahead of the final release later this year.
If you're sick of dealing with issues or sick of hearing friends and family complain about problems, think about giving the iOS 13 beta a try.
If you decide to download the iOS 13 beta and find an issue on board, make sure you report it to Apple. This way, engineers can work on a permanent fix.

As an Amazon Associate I earn from qualifying purchases.