How to Fix Poor Samsung Galaxy Tab Nougat Performance
Some Samsung Galaxy Tab users are dealing with performance issues after installing the Android Nougat update. If you're seeing problems on your tablet, try these fixes before getting in contact with Samsung customer service or your service provider.
Samsung is currently rolling the Android 7.0 Nougat update out to the Galaxy Tab S2 in the United States and other regions around the world.
The roll out is still a bit limited but it's expected to hit other devices, like the Galaxy Tab A with S Pen, in the first half of 2017.
Those fortunate enough to have received the Android 7.0 Nougat update are reporting good things about the new software. The upgrade comes with a new blue light filter, some changes to Quick Settings, and some change to the user interface. Its also brought trouble to some Galaxy Tab owners.
Some Galaxy Tab S2 users are reporting Nougat problems including issues with the tablet's performance. Lag, lockups, random reboots, and more are plaguing the popular slate.
Your first instinct might be to contact Samsung but there's a good chance you'll be able to fix your problem in a matter of minutes from the comfort of your computer chair or couch.
Restart Your Galaxy Tab
If you start noticing user interface lag, choppiness, weird freezes, or random reboots, the first thing you'll want to do is a simple restart.
Hold down the power button, shut the tablet off. Leave it off for a minute and then power it back on to see if that helps improve performance on your slate.
Cleanup Your Tablet
If you've had your Galaxy tablet for a while there's a good chance you've collected a bunch of clutter on your device's hard drive. Examples include photos you no longer need, videos you no longer look at, apps you no longer use, music you no longer dig.
If you're noticing performance issues on your device, and you're nearing the threshold of your internal storage space, it might be a good idea to do some spring cleaning.
Dig into the files you're storing on your device and decide what to keep and what to move to an SD card. Or, if you're really serious, permanently delete.
Clearing up some space on your Galaxy Tab could give it the Android Nougat speed boost you've been looking for.
Use Download Booster
If you start noticing slow download speeds, try using the Galaxy Tab's Download Booster function to see if that helps.
When its enabled, Download Booster will download files larger than 30MB using Wi-Fi and cellular connectivity at the same time. If you're sporting a strong Wi-Fi signal, you should see blazing fast download speeds.
To enable Download Booster, go to Connections > More connection settings > Download booster and enable it.
The feature could eat up a ton of data so you'll want to use it on a case-by-case basis.
If Download Booster doesn't help, you'll need to investigate your router, your settings and your various connections.
Update Your Apps
If you're noticing performance issues with your tablet's applications, you'll want to check for bug fix updates.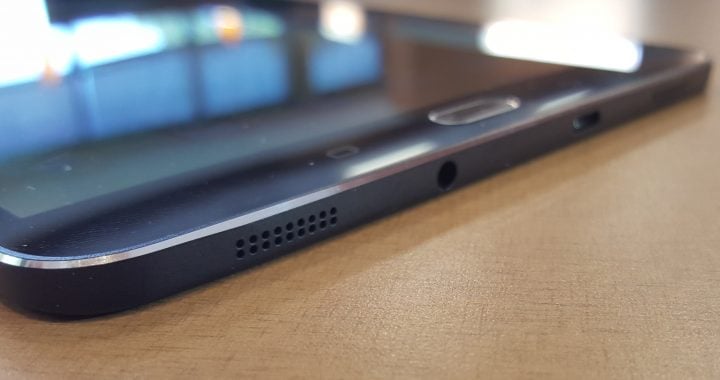 Developers continue to push out support updates and bug fixes for Nougat users so you'll want to check the Google Play Store/Samsung Store for updates you might've missed.
Before you update, make sure you read reviews from Nougat users (if there are any). These reviews will alert you to potential benefits, and dangers, of the app's current version.
Use Device Maintenance
The Samsung Galaxy Tab Nougat update comes with a new section in Settings called Device Maintenance.
Device Maintenance gives you more control over your device's battery consumption, your RAM, and your storage space.
If you tap on one of the sections in Device Maintenance you'll notice a subset of choices ranging from power saving modes to performance enhancements.
You'll want to dig into these and find a combination that works for you and your tablet.
Boot Into Safe Mode
You might also try booting your Galaxy Tab into Safe Mode. Booting the tablet into Safe Mode temporarily disables apps and services which can help you diagnose a performance problem.
If you notice improved performance with Safe Mode active, you'll want to investigate your third-party apps.
If you notice anything out of the ordinary, try uninstalling recently downloaded applications to see if that improves performance.
Start from Scratch
If nothing works, you might try wiping the device and starting from scratch. This step is time consumung but it's also a proven fix for performance issues.
To get this done on Android Nougat, go to your Galaxy Tab's Settings > General management > Reset > Factory data reset > Reset Device > Delete All.
Remember to back up all of your files before you do this because this will take your tablet back to the way it was when you first bought it.
Again, this should only be used as a last resort.
If you wipe your tablet, and you still see performance problems, it's time to get in contact with Samsung and/or your carrier.
3 Reasons Not to Install Galaxy Tab Nougat & 6 Reasons You Should
Install Nougat If You Want to Improve Your Security
If you value your security, you'll probably want to consider installing the Android Nougat update soon after it arrives for your Galaxy Tab.
The Samsung Galaxy Tab Android Nougat upgrade also brings the company's latest security update. Samsung's security updates are loaded with patches for potential exploits including patches from Google itself.
While the initial batch of Galaxy Tab Nougat updates arrived with the April patch, upcoming releases will bring newer versions. Google and Samsung roll out monthly patches to address potential exploits.
If you didn't get or simply failed to download a recent security update, you should also get those patches when your Android Nougat update arrives.

As an Amazon Associate I earn from qualifying purchases.