How to Force Restart or Hard Reset iPhone SE 2
If your iPhone SE 2 suddenly locks up and becomes unresponsive, you should be able to fix the issue with a force restart or hard reset.
The second-generation iPhone SE's performance continues to impress as we push deeper into 2023. That being said, the device isn't immune to problems.
iPhone SE 2 users are complaining about an array of issues and the list includes lockups and freezes. These are common complaints across all iPhones and fortunately they are, in most cases, extremely easy to fix.
If your iPhone SE 2 locks up and you're unable to shut it off normally, you should perform a hard reset. This process only takes a few seconds and it should return your phone to its normal state. This process won't wipe your phone's data, it simply reboots the phone.
If your iPhone SE 2 frequently locks up, you should try updating your applications via the App Store, update your phone to the latest firmware, or investigate other potential solutions. If this is a regular issues on your phone, you'll want to check out our guide to fixing common iOS 17 problems.
How to Hard Reset iPhone SE 2
If you upgraded to the iPhone SE 2 from a model that's older than the iPhone 8, you may not know how to force restart your device because it requires a different button combination.
Instead of the old process which required you to press and hold the volume down button and the Sleep/Wake button at the same time, you now need to press two buttons quickly and then press and hold a third button in order to force the phone to restart.
This process can be difficult to remember, but once you've done it a few times, you should be prepared if you run into issues again.
If your iPhone SE 2 isn't responding to touches and swipes, here's how to force restart your device:
Press on the Volume Up button located on the left side of the phone and let go.
Press on the Volume Down button and let go.
Press and hold the side button until the Apple logo appears on the screen.
You need to press the volume up and volume down buttons quickly, but you don't want to press them at the same time.
The side button is what Apple calls the power button on newer iPhone models. After a few seconds of holding down the side button, your phone should restart itself. You can release your finger once the Apple logo appears.
If this process fails to fix your issue, Apple recommends plugging the phone into a charger to let it charge for up to an hour. We also recommend reseting all of your phone's settings in the Settings app.
If you still see a black screen or you're still having issues with the touchscreen after that, you'll want to get in contact with Apple's customer support and take the next steps.
4 Reasons Not to Install iOS 17.0.2 & 11 Reasons You Should
Install iOS 17.0.2 for Better Security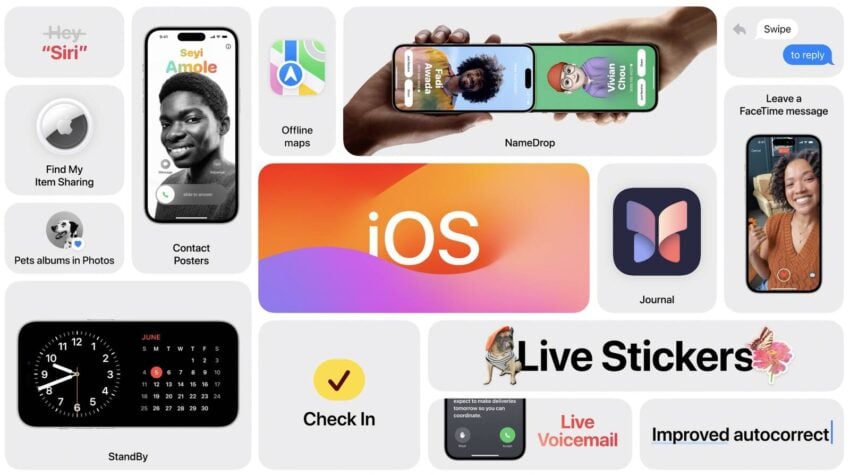 If security is important to you, think about installing Apple's iOS 17.0.2 update right away.
iOS 17.0.2 itself doesn't have any security patches on board. However, if you missed older versions of iOS, it will bring the patches from the updates you missed to your iPhone.
iOS 17.0.1 delivered three important patches to iPhone. If you're interested in the exact nature of these improvements, you can read about them over on Apple's security website.
As for iOS 17 itself, it brought 40+ new security patches with it. A staggering number to say the least. If you want to learn more about them, head over to Apple.
If you skipped older versions of iOS, like iOS 16.6.1, you'll get the security patches from those updates with your iOS 17.0.2 update as well.
In addition to those patches, iOS 17 brings some additional enhancements to privacy and security including improvements to Communication Safety beyond Messages.
It now includes content sent by AirDrop, Contact Posters in the Phone app, FaceTime, and the systemwide photo picker. You now have an option to blur out sensitive photos and videos before you choose to view them.
There's also an expanded Lockdown Mode which will help protect you against cyber attacks.
Apple's also improved sharing permissions and you now have more control over what you share with the apps on your device.
The company also notes that starting in iOS 17, Voice Memos encrypts the titles of recordings stored in iCloud, in addition to the recordings themselves.

As an Amazon Associate I earn from qualifying purchases.