How to Get a Fallout 76 Power Armor Edition Replacement Bag
If you ordered the Fallout 76 Power Armor Edition and you're upset about the quality of the bag included in the bundle, you can put in a request to get the bag you were supposed to get back in November.
When Bethesda announced its $200 Fallout 76 Power Armor Edition, this year's version of the Pip-Boy Edition, fans of the series were excited.
The Fallout 76 Power Armor Edition would come with a real Power Armor helmet, a glow-in-the-dark terrain map, collectible figurines, a steelbook case, bonus in-game items, and a military-style canvas West Tek duffel bag.
When the Power Armor Edition arrived in November, those who managed to buy the bundle got a helmet, a map, collectible figures, a steelbook case, bonus in-game items, and a bag. Just not the duffel bag the company originally promised with in the bundle.
Almost immediately we started seeing complaints about the quality of the bag which was made of nylon. A cheap replacement for the original. The switch came without warning and it led to a back and forth between Bethesda and those who rightfully felt cheated by the company's unannounced move.
It took a few weeks, but Bethesda is making things right. The company has confirmed plans to deliver replacement bags to anyone who bought the Power Armor Edition and wants the higher quality canvas bag.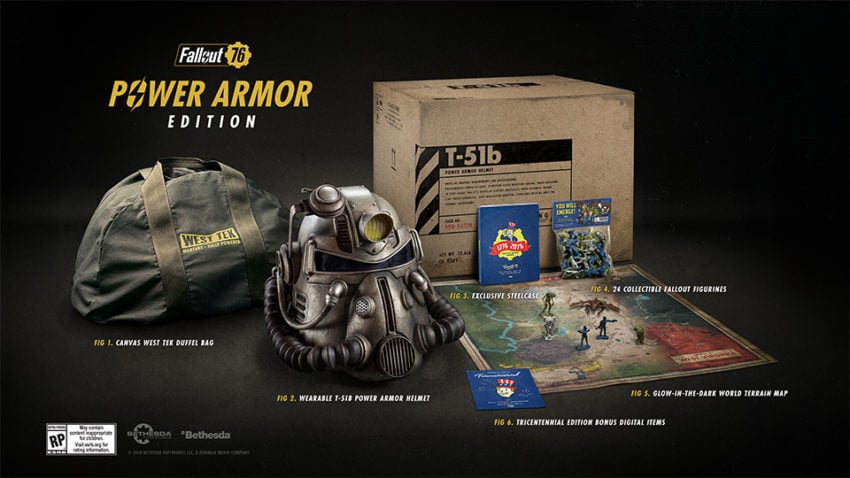 How to Get a Fallout 76 Power Armor Edition Replacement Bag
If you bought a Power Armor Edition and you want to receive a replacement canvas bag, there are a few steps you must take in order to snag it.
First, you need to track down your receipt and take a picture or scan a copy of your proof of purchase. You need to then write your full name, Bethesda.net username, and your email address on your receipt/invoice.
Once you've taken care of that you'll need to head to Bethesda's website and fill out a form (you'll need to submit your full name, shipping address, and phone number) and attach the image of your receipt/invoice to your submission.
Bethesda says it's currently finalizing manufacturing plans for the canvas bags and that it will start sending out replacement bags to those who qualify as soon as they're ready.
One caveat: You must submit your request for a replacement by January 31st, 2019. After that, you're on your own.
3 Reasons to Buy Fallout 76 & 7 Reasons to Wait
Buy If You Love Online Games & Fallout
If you like the sound of an online Fallout-style RPG, you might want to buy a copy of Fallout 76.
Fallout 76 is an online survival RPG inspired by games like Rust and DayZ.
It's much different than the Fallout games you're used to, but it still has quests, a leveling system, V.A.T.S. (though it's nothing like the V.A.T.S. from previous games) and tons of enemies to kill just like Bethesda's traditional single-player RPGs.
It also has base building (dubbed C.A.M.P.), something Bethesda introduced in Fallout 4 back in 2015. Fallout 76 allows you to build anywhere on the map.
Fallout 76 is more Fallout Online/Elder Scrolls Online than Fallout 5. If sharing an open, evolving Fallout world with friends sounds amazing, think about buying a copy of the game today, tomorrow, or sometime in the near future.