How to Install macOS Mojave
The macOS Mojave update is available to download and install now. This free upgrade includes a number of exciting new features and promises to run better than High Sierra.
These new features include a Dark Mode, the ability to use some of your favorite iPhone apps on the Mac and a dynamic desktop to name a few. Another cool new feature is being able to use your Mac to control your smart home.
How to Install macOS Mojave
Here's a rundown of our reasons to install macOS Mojave, and the reasons you shouldn't upgrade yet. We also have a list of things to do before you install macOS Mojave.
Additional required reading is what you need to know about macOS Mojave problems and how long the macOS Mojave update takes.
When you are ready to install macOS Mojave, here's what to do.
Open the Mac App Store
Choose Updates
Click on macOS Mojave
Download the update.
If you don't see the update, click here to find it in the Mac App Store. If you want to do a clean macOS Mojave install, stop and follow these directions instead.
Once the macOS Mojave download completes you can start the installation. If you do a normal install, you will keep all of your apps and data, but you should still have a Time Machine backup. Make sure you are plugged in for this process.
Once the macOS Mojave Installer appears click Continue.
Agree to the terms and conditions twice.
Choose a drive to install to (Macintosh HD for most users)
Login as an Admin
Wait for the initial installation to complete.
Restart the Mac when prompted.
Once the initial install is done, you will see a prompt to restart. Save your work, close your apps and restart. This will start the second part of the installation.
This can take 30 to 60 minutes to complete. If you are lucky the whole process will take less than an hour, but it could easily take up to two depending on download speeds and other issues while installing.
Once the computer restarts, login and begin using macOS Mojave. Check out these exciting new macOS Mojave features to get started with using the update.
4 Reasons Not to Install macOS Mojave & 16 Reasons You Should Install 10.14.6 Today
Install for Important Fixes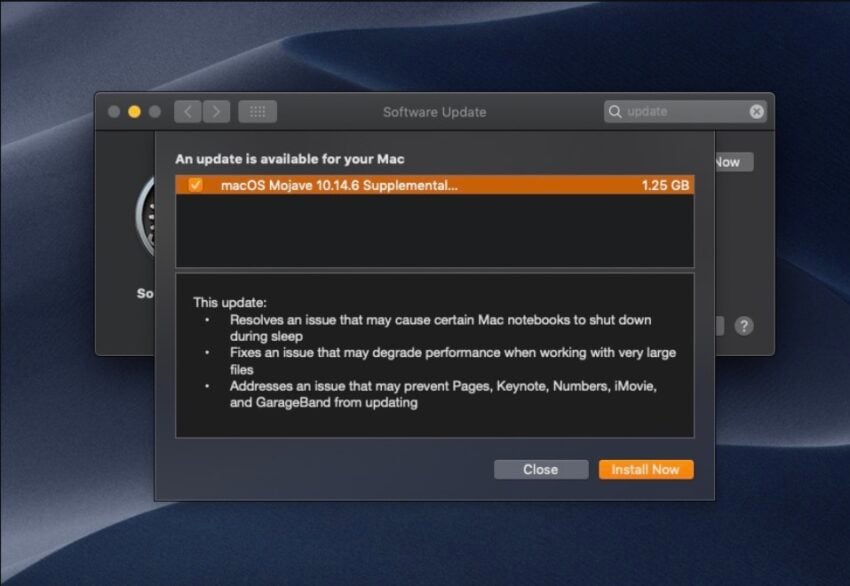 If you are running into issues with your Mac, you need to install this update on your Mac. The two supplemental fixes include security fixes and fixes for problems pestering many users.
The second supplemental update includes a fix for the problem where "A remote attacker may be able to cause unexpected application termination or arbitrary code execution." This is an important fix.
The previous supplemental update included the following updates, which you also get with this update if you hadn't installed the update yet.

Resolves an issue that may cause certain Mac notebooks to shut down during sleep
Fixes an issue that may degrade performance when working with very large files
Addresses an issue that may prevent Pages, Keynote, Numbers, iMovie, and GarageBand from updating
If you are having problems with this, you should install the supplemental update right now.