How to Perform a macOS Mojave Clean Install
While you can upgrade to macOS Mojave, many users will want to do a macOS Mojave clean install to speed up an old Mac, leave annoying problem behind and to get a fresh start.
This guide will show you how to do a clean install of macOS Mojave on any Mac that can run it. If you are on an older version of macOS, this is a great way to upgrade and avoid bringing older problems with you.
Apple changed the disk format from macOS Sierra to High Sierra, and goes full in on this with macOS Mojave. You don't need to make any changes though, as the installer will switch you to the newest version if you aren't already on it.
Even if you are doing a clean install, you should still complete these steps before installing macOS Mojave.
Should I Do a Clean Install of macOS Mojave or Update?
It's not a requirement to do a clean macOS Mojave install, but it is a good idea for some users.
If you are suffering with macOS High Sierra problems, or if you haven't done a clean install in years this is a good way to get rid of issues and potentially speed up your Mac.
This can also help free up space by getting rid of apps that you don't use and files that you have no use for.
When you do a clean install of macOS Mojave it erases everything, so you should make sure you have a good backup. When you are done, you can choose to restore a Time Machine Backup, or you can opt to start completely fresh.
What You Need to do a macOS Mojave Clean Install
You need a flash drive for the most common method of doing a clean install, the macOS Mojave installer from the App Store and potentially an adapter.
Download the macOS High Sierra installer from the App Store.
A 16GB Flash Drive that you can erase.
USB C Adapter if you have a MacBook
Time Machine Backup
The process erases the thumb drive, so make sure you don't need any files on it. There is a clean install option that doesn't use a thumbdrive, which we'll share below.
How to Make a Bootable USB macOS Mojave Installer
Download the macOS Mojave Installer from the Mac App Store. Once it downloads, do not run it. This is a large file and it will take some time to download. To close without installing click in the menu bar at the top of your screen.
Connect your USB drive to your Mac. You don't need to format the drive specially for this task, the app will handle all of that for you. This will erase the USB drive.
Download Disk Creator 2 and then Click on the App.
Choose the USB drive from the drop down.
If not selected click on Choose Installer and pick the macOS Mojave installer.
Click Create Installer.
Click Erase disk.
Wait for a confirmation that this is complete.
That's all you need to do, and you now have your bootable macOS Mojave installer.
How to Do a Clean macOS Mojave Install
Now that you have everything you need, you can start your clean install. This is an easy process, but you need to follow the steps exactly.
Plug the USB Installer In.
Turn your Mac off.
Reboot your mac while holding the option key.
Click on the Install macOS Mojave option.
Now click on Disk Utility.

Click on your mac hard drive and then on Erase. Use the default options here.
Name your hard drive Macintosh HD then click erase.
Wait for the drive to erase.
Click on Install macOS.
This starts the macOS Mojave installation on your empty drive and it will install over the next 30 to 60 minutes. This skips the other parts that make the macOS Mojave install take so long, but it's not fast by any means.
When this completes you need to enter your Apple ID and password and then you will need to restore from a Time Machine Backup or start from scratch by downloading apps and files you need.
4 Reasons Not to Install macOS Mojave & 16 Reasons You Should Install 10.14.6 Today
Install for Important Fixes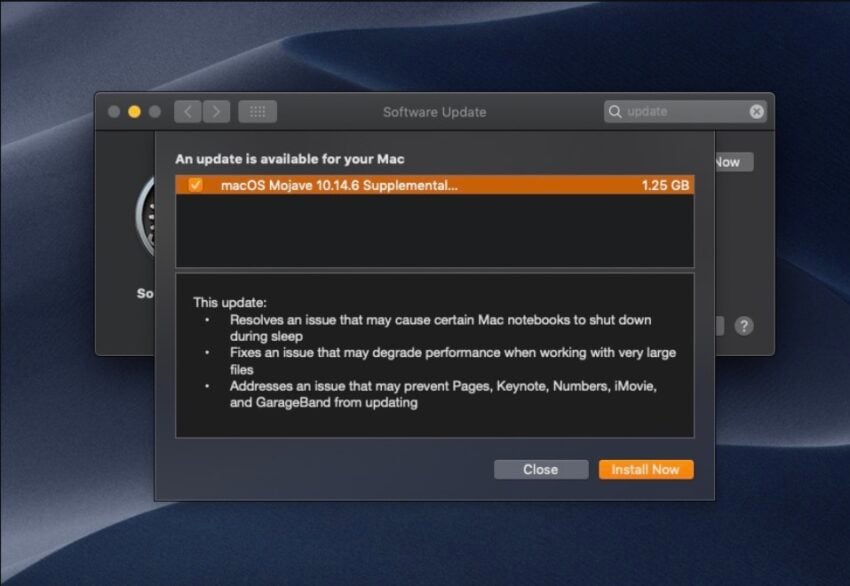 If you are running into issues with your Mac, you need to install this update on your Mac. The two supplemental fixes include security fixes and fixes for problems pestering many users.
The second supplemental update includes a fix for the problem where "A remote attacker may be able to cause unexpected application termination or arbitrary code execution." This is an important fix.
The previous supplemental update included the following updates, which you also get with this update if you hadn't installed the update yet.

Resolves an issue that may cause certain Mac notebooks to shut down during sleep
Fixes an issue that may degrade performance when working with very large files
Addresses an issue that may prevent Pages, Keynote, Numbers, iMovie, and GarageBand from updating
If you are having problems with this, you should install the supplemental update right now.