How Long the macOS Mojave Update Takes (10.14.6)
The macOS Mojave 10.14.6 update is an important upgrade and it's decently sized at over 2GB for our MacBook Pro. Here's how long it will take to download and install macOS 10.14.6. If you're prepared the upgrade should go smoothly and it won't take too long to install on your Macbook, MacBook Air, iMac, MacBook Pro or Mac Pro.
This smaller update does include important fixes for macOS as well as support for AirPlay 2 and a new Apple News+ feature.
The most common question we hear today is, "How long does the macOS Mojave update take to finish?" It's a reasonable question since you can't use the Mac while it is installing.
If you are already on macOS Mojave this upgrade will likely take about 30-45 minutes, but if you are on macOS High Sierra, it will be a larger download and take longer.
On a 400Mbps down internet connection, I was able to download macOS Mojave 10.14.6 in about 20 minutes. The installation took about 20 minutes, during which I could not use my Mac.
| | |
| --- | --- |
| Task | Time |
| Backup to Time Machine (Optional) | 5 minutes to a day |
| macOS Mojave Download | 10 minutes to an 1 hour |
| macOS Mojave Installation Time | 20 to 50 minutes |
| Total macOS Mojave Update Time | 30 minutes to an hour and 50 minutes |
We can't tell you exactly how long macOS Mojave will take to install on your Mac because download times will vary based on demand and on your Internet connection.
One of the biggest factors you can control is if you are prepared. If you have a current Time Machine Backup and are ready to roll, this process will be smoother. The table above shows you how long the major steps will take. The length of time it takes and other issues are one reason you may not want to install macOS Mojave yet.
Prepare for macOS Mojave
A Time Machine backup isn't required, but you'd be foolish to proceed without some kind of backup. This is one of the most important steps in our list of things to do before installing macOS Mojave.
It may add to the time to install macOS Mojave, but it is worth it to protect your files and data.
macOS Mojave Download Time
The wild card for everyone is how long the macOS Mojave download time is. Two factors are at play here; your connection and the number of people trying to download the update. If you have a fast internet connection, you may be able to download this update in about 10 to 15 minutes, but for some users, it will take longer.
macOS Mojave Installation Time
The macOS Mojave installation should take about 30 to 40 minutes if everything works right. This includes a speedy download and a simple install with no issues or errors.
We are already backed up to Time Machine, so we expect the download will complete in about 10 minutes if the servers can stand it, and then will budget another 20 minutes for the actual installation, during which time you cannot use the Mac.
4 Reasons Not to Install macOS Mojave & 16 Reasons You Should Install 10.14.6 Today
Install for Important Fixes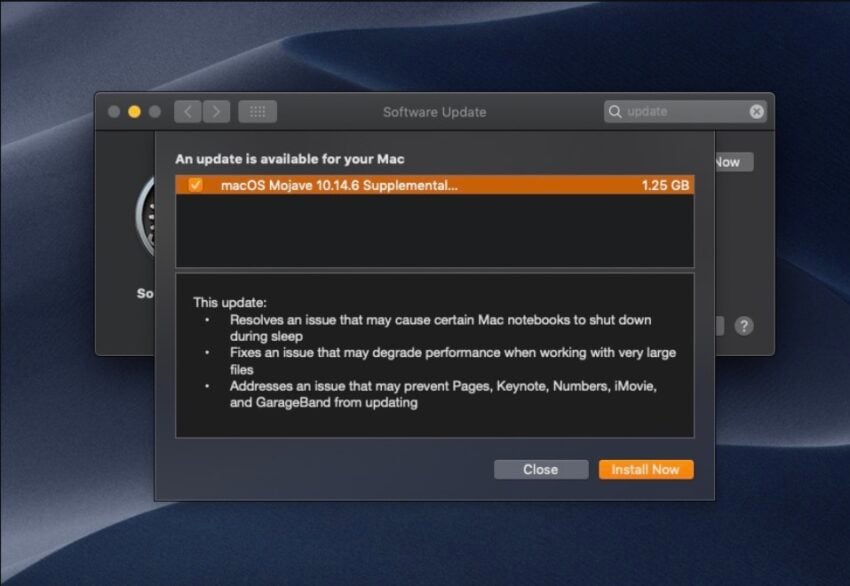 If you are running into issues with your Mac, you need to install this update on your Mac. The two supplemental fixes include security fixes and fixes for problems pestering many users.
The second supplemental update includes a fix for the problem where "A remote attacker may be able to cause unexpected application termination or arbitrary code execution." This is an important fix.
The previous supplemental update included the following updates, which you also get with this update if you hadn't installed the update yet.

Resolves an issue that may cause certain Mac notebooks to shut down during sleep
Fixes an issue that may degrade performance when working with very large files
Addresses an issue that may prevent Pages, Keynote, Numbers, iMovie, and GarageBand from updating
If you are having problems with this, you should install the supplemental update right now.