How to Lower Your AT&T Bill
No matter how much your AT&T bill is, you probably feel like you pay too much for your AT&T cell phone bill. We'll share five tips to lower your AT&T cell phone bill without leaving for a low-cost carrier or living without enough data.
The average cost of an AT&T bill is $141 a month according to a Cowen and Company report, and with fees going up and rates changing each month the odds are good that your AT&T bill is too high.
You don't need to spend a day yelling at a AT&T rep to save money on your cell phone bill. Here are the 5 things you need to do today to save money on your AT&T cell phone bill without making major changes to how you use your iPhone or Android.
With new AT&T Unlimited data plans and more competitive rates, you can pay AT&T less each month without changing how you use your phone.
Find the Right AT&T Plan
If you are still on the same plan that you signed up for years ago, you need to investigate your usage and see if you should leave your old unlimited data or aged plan to go to a new plan. There are a wide range of plans including Mobile Share Advantage plans and the new Unlimited plans.
Most of the AT&T plans include the personal hotspot feature at no extra charge, allowing you to share your phone's internet connection with a laptop or tablet, but
Not everyone should give up the old unlimited data or switch from an old plan to a AT&T Mobile Share Advantage plan, but if you are paying for more data, minutes or texts than you need the odds are good that you are overpaying.
If you don't want to do the comparison by yourself online, call or stop in to an AT&T store and ask what you can do to lower your AT&T bill. You may spend an afternoon or evening making changes, but remember that even a $10 to $20 change per bill is $120 to $240 after a year.
When you go online you can compare your current plan to other plans and you will see your current plan price (over 3 months to include overages) and the new plan as well as your annual cost savings.
Switching from an old 20GB a month plan with one phone to the AT&T Unlimited Plus plan saves me $480 over two years, which is almost enough to buy a new iPhone.
Control Data Usage
The fastest way to lower your AT&T bill is to use less data and to avoid overages.
If you stream music, see if there is an option to save your favorite playlists to your phone to save on data use.
Make sure you always connect to WiFi when you can. This will save significant data use over the course of the month.
Use built-in tools on iPhone and Android to see how much data each app uses and control those apps or limit to WiFi.
Make sure you get alerts when your data usage is too high so that you can figure out if it is cheaper to upgrade to a higher data plan for that month or to pay an overage.
AT&T offers a Stream Saver that lowers the quality of streamed video to help you save on the data you us. This could help you keep watching mobile video without using too much data.
Smart data usage decisions can help you drop at least one data plan for most of the year and significantly lower your AT&T bill.
You can change data plans on a Mobile Share online at any time without impacting your contract. AT&T often delivers promotional data rates that offer bigger savings. You can lock these in to save long-term. If you decide to switch, you will lose that rate, so make sure to compare all the details before you confirm changes.
Trim AT&T Features You Don't Use Anymore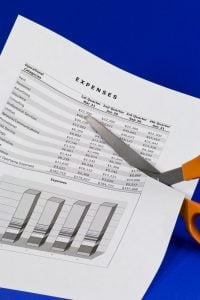 Did you add an international data plan for a trip you took last summer or are you still paying for ringback tones and child monitoring features on your AT&T bill?
Audit your bill every few months to see if you can drop features that you don't actually need anymore. If you are paying for a special feature or service you should spend 10 minutes to see if there is an app solution that is cheaper or free.
This is even more important now that many new AT&T plans includes unlimited calling and texting in Canada and Mexico without an added fee as well as International texting to over 120 countries.
If you only use a feature sporadically, make sure that you turn it off when you don't need it.
Share With Family
The fastest way to lower your AT&T bill is to use a family plan that includes more than just your immediate family, or if you are single to join up with a family.
A single smartphone on AT&T with 3GB of data is $60 a month. Add a second line and 3GB of additional data and the price is $100 a month. That's $20 cheaper than going separately.
If you can join up with friends or with a bigger family that you trust to pay on time and regularly, this is an excellent way to save. This works out especially well for keeping parents or grandparents connected at a reasonable rate.
Check for Discounts
AT&T offers discounts to employees of many companies and to military members. You can save significantly on your bill without changing any features on your plan.
Enter your work email to check for AT&T employee discounts at the AT&T business center. This includes large and small businesses, government employees and college and university faculty and staff. The discount varies by employer. If you don't have a work email you can also ask at a local store.
Military members, DoD employees and veterans can get a 15% discount on AT&T wireless service. Vets need to go to a local AT&T store with a DD form 214, AmVets membership card or Veteran's ID card and to mention FAN code 4085530 to enroll. Check out more details about this option to lower your AT&T bill.
You can even link your AT&T wireless account to your DirecTV account and save up to $25 a month on your TV.
The Best Budget Apps for 2020
Mint Budgeting App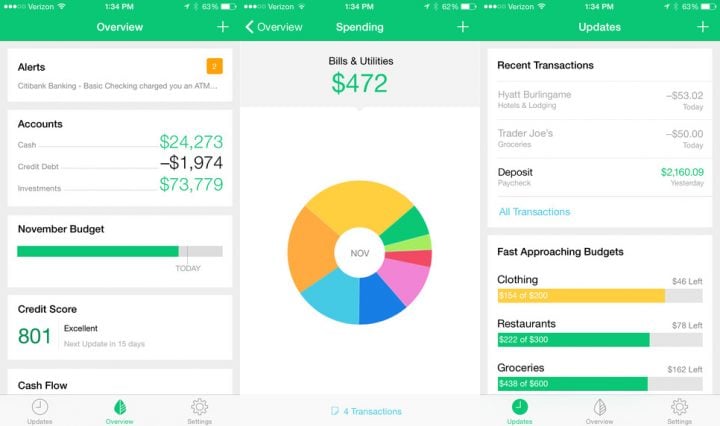 Mint is one of the best budget apps because it takes the hassle out of making a budget. You connect the Mint app to your bank and the app can use your details to help create a personalized budget. We love this budget app because it can help you quickly identify where you are spending your money, so you can see where to trim your current expenses as you make a budget.
It's a very easy app to get started with, so you can take the hassles out of starting a budget for 2020.
The Mint app uses the same security as banks and the team behind this service also makes TurboTax and Quicken, so you can trust that they take all possible steps to secure your accounts and your data.
Mint will send you alerts to unusual charges and helps identify tips customized to your spending that can help you reduce the money you spend on fees and on other bills. Mint also includes your credit score, so you can see a big-picture view of your budget and your personal finances. The base subscription is free, but there is an optional in-app purchase of Mint Live for $24.99.
With the Mint apps for iPhone, iPad and Android you can see your budget anywhere and there is also an online component to look at from your computer and a bill pay component to help you manage and pay your bills in one place.

As an Amazon Associate I earn from qualifying purchases.