How to Share Amazon Prime Shipping Benefits
If you have an Amazon Prime membership, here's how you can share the shipping benefits with family members this holiday season and throughout the year.
Amazon Prime is a great service to have if you use Amazon a lot. The $119/year service gives you free two-day shipping on Prime-eligible products (and cheaper next-day shipping), access to Amazon's Instant Video streaming service, access to its Prime Music streaming service, exclusive deals, discount on access to the Washington Post digital edition, and access to the Kindle Lending Library, where you can borrow ebooks for free. With this the person you share to gets early access to Amazon Black Friday deals too.
It's definitely a service that's worth its yearly cost if you use all off its features, but most people really just want free two-day shipping (especially since we're approaching the holiday season). Sometimes, though, the free shipping alone isn't quite worth the $100 per year that you'd pay for the privilege.
However, if you have a family member that has an Amazon Prime membership, they can share their free two-day shipping with you. Or if you have a Prime membership yourself and are wanting to share the free two-day shipping with a family member, we'll show you how to do it. Keep in mind, though, you'll need to have the regular $119/year Prime membership, as a student Prime membership can't be shared. If it is available in your area, this also shares Prime Now and Amazon Fresh.
Amazon lets you share your free two-day shipping with one other adult. It used to be much more open, but now you can only share with one adult, and you can share the Prime Shipping benefit with teen accounts, but this isn't a good way to share your Prime shipping with people outside of your family.
When you share Amazon Prime benefits with someone you both have access to each other's payment options. This is done to cut down on randomly sharing your Prime benefits with someone outside of your family. Once you add someone to your family they get the benefits immediately. If you remove them neither you or the other person can join an Amazon household for 180 days. Here's how to share your Amazon Prime shipping benefits with Amazon households.
How to Share Your Amazon Prime Shipping Benefits
To add family members or friends to your Amazon Prime account and share your shipping benefits with them, just follow these simple steps:
Go to Amazon.com and sign into your account.
Next, click on Your Account in the upper-right corner of the web page.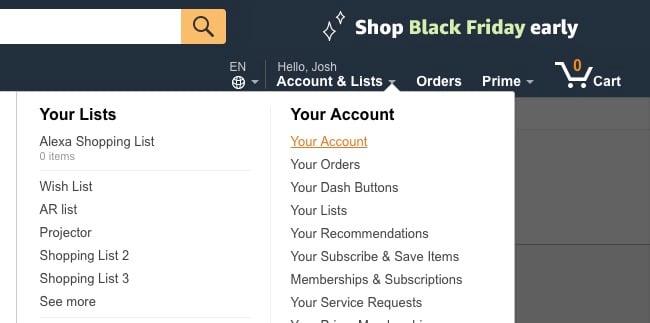 Scroll down and click on Amazon Household.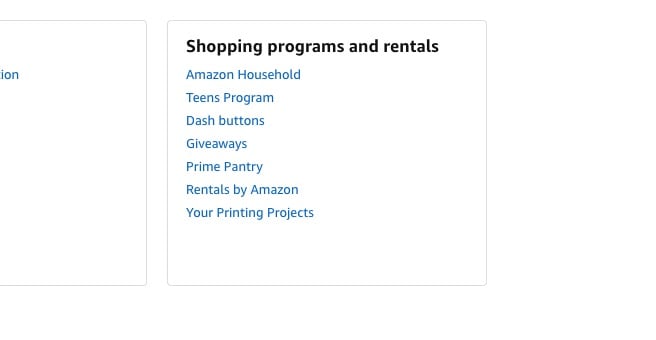 Scroll down to the Start Sharing Today section and click on Add Adult.
Login to the other adult's Amazon account.
Confirm that you want to share payment methods with each other through Amazon.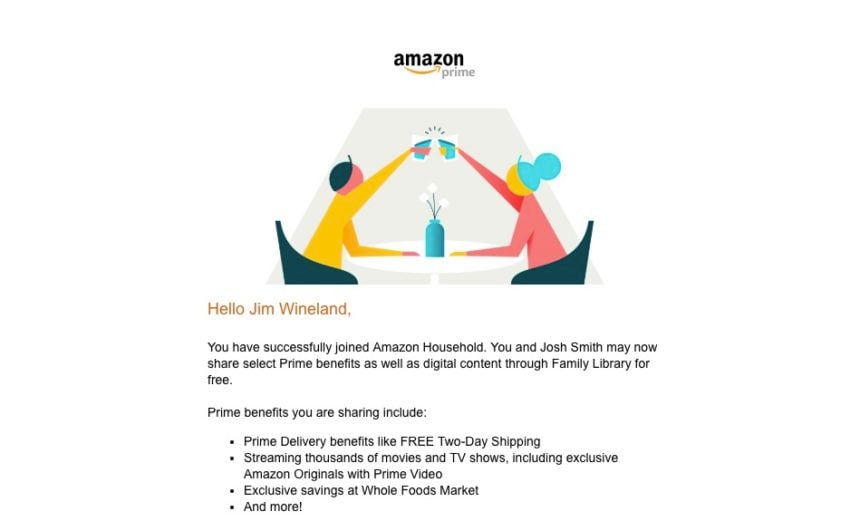 That's all you need to do to share Amazon Prime shipping benefits with a family member. You can only share to one family member and it's much more restricted than it was in the past.
Now the other adult can login to their Amazon account, shop for items and pay with their own card and still get free Prime shipping. This includes free two day shipping and cheaper overnight shipping. They also get Amazon Prime Video and savings at Whole Foods. You cannot share Amazon Prime Music with this option.
If someone you know needs Amazon Prime and you can't share your account with anymore people, you can give the gift of Prime. You may also want to explore the Student Prime options which are $59 a year.
9 Reasons Students Need Amazon Prime & 4 Reasons They Don't
Free Two Day Shipping, Same Day Delivery & Prime Now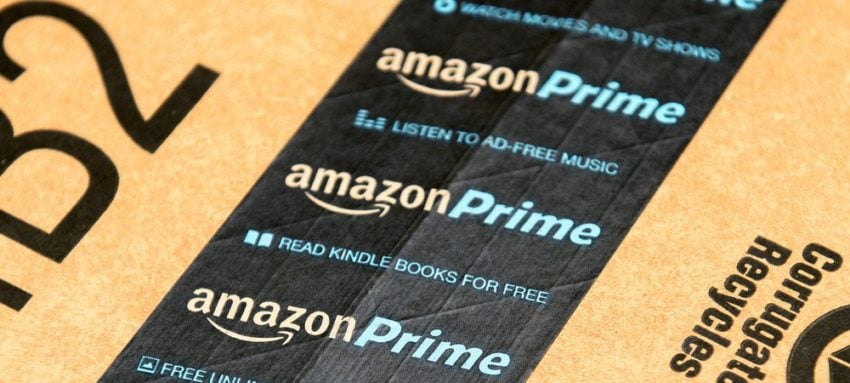 One of the biggest benefits, and the most well known, is free two-day shipping with Amazon Prime. Lesser known are the options for same day delivery and prime now delivery in select areas.
This is an excellent benefit or students who may need to order class items, health and beauty items and even snacks for quick delivery while on a busy week. It can also help with getting things delivered to your dorm or room without long waits or without messing around with public transit for bigger items or big shopping trips.
In some areas you can even get same day delivery or Prime Now delivery for faster delivery options. In select zip codes you can order from a selection of items and get free same day delivery with orders over $35.
Prime Now offers super fast deliver with in two hours free for Prime members, or within an hour for a fee. This is only available in select areas and not all items are eligible, but there are a lot of options. You can also get free delivery from your local Whole Foods including produce, meat, seafood and more.

As an Amazon Associate I earn from qualifying purchases.