How to Turn Off or Restart the Galaxy S8
When you get the Galaxy S8 or Galaxy S8+ there is a lot to learn and new users can get overwhelmed. If you're a beginner and this is your first smartphone, our guide below will explain how to turn off or restart the Galaxy S8.
One of the first steps we recommend when users experience Galaxy S8 problems is to restart the phone. This clears the temporary memory and closes any running apps. It can also improve performance and battery life by giving the phone a fresh start.
It's useful to know how to turn off your phone before going into a meeting, flying or going to the movies. There may also be circumstances where you need to turn it off to save battery life. Owners looking for a "reset" or "power off" button in settings will not find one.
How to Turn Off or Reboot the Galaxy S8
All owners need to do is find the power button on the right edge of the phone. It's located near the top. Now, push and hold the power button for 1-2 seconds. You can quickly power off or restart the phone from the options displayed on the screen.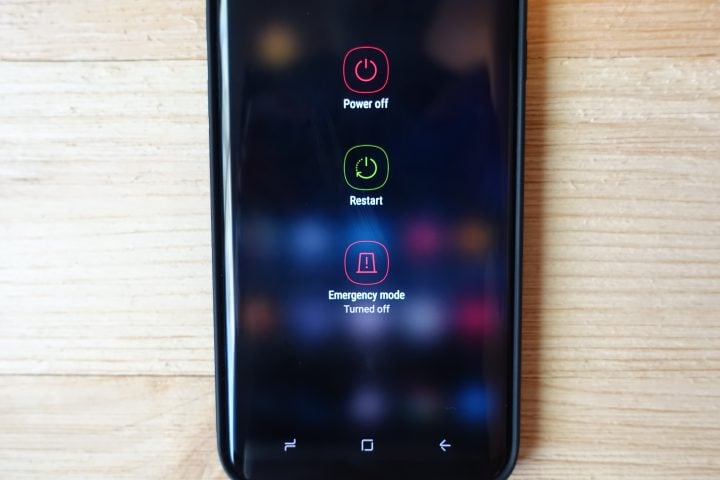 Select from Power Off, Restart, or Emergency Mode, and then you'll be instructed to tap a second time to complete the task. From here the phone will close all running apps and power down.
Next, just press and hold the power button for 2-3 seconds to restart your phone. After it restarts you'll be able to enter a password, pin or use your fingerprint to unlock your Galaxy S8 for use.
If you don't want to turn off your Galaxy S8, you can get out of this screen by tapping the back button on the bottom of the screen.
Restart a Frozen Galaxy S8
Another time you may need to restart the Galaxy S8 is when it's completely frozen or unresponsive. This can happen when apps aren't working right, it gets too hot, or too many things are running and it hasn't been restarted for a long time.
If your Galaxy S8 is completely unresponsive, is press and hold down the power button for 7-8 seconds. This will do what's known as a "hard restart" and force the phone to turn off and back on. Expect to see some odd things on the screen and after a short wait it will reboot and now everything should be fine.
This does not erase any information and only closes open apps or browser windows. Nothing gets deleted, the phone will simply reboot and start fresh.
We'd recommend new users change these 10 settings when they first get their phone, then buy a case from our roundup of the best Galaxy S8+ cases below.
20 Best Galaxy S8+ Cases
Samsung Alcantara Case ($20)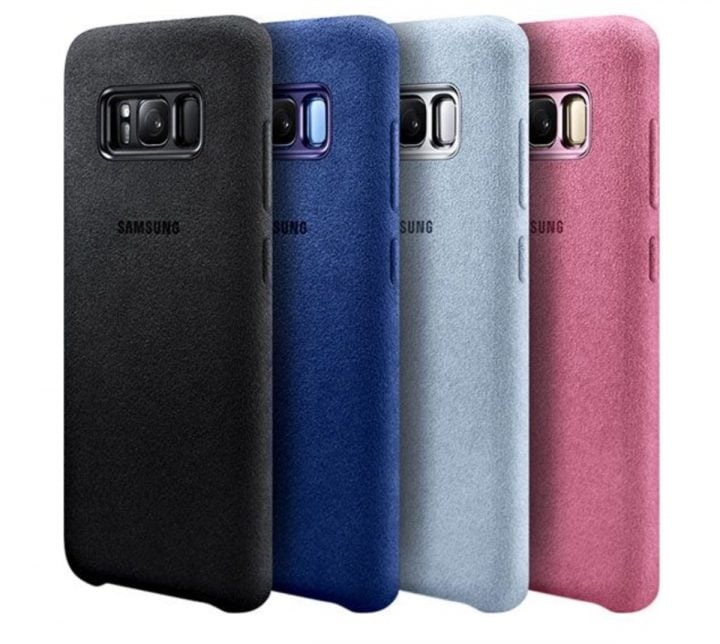 A neat case from Samsung for the Galaxy S8 is the Alcantara case. It's a beautiful and durable hard case that's covered in Suede-like material. It looks good, feels incredibly soft and is "stain-resistant" too. This is our first recommendation of many. Your phone will be safe, and look good doing it. Since it's a fabric the first few days it may shed, but that quickly went away on ours.
Samsung makes some of the best cases, of course, and this will be no exception. It comes in four different colors and looks pretty unique. Get one for your Galaxy S8+. For whatever reason, most of Samsung's best cases aren't available on their own online shop. If you want one, check out MobileFun.com for all your needs.

This article may contain affiliate links. Click here for more details.