How to Use Gesture Controls in Android 9 Pie
In this guide we'll show you how to turn on and use the new gesture navigation controls in Android 9 Pie. Google's latest operating system introduces a brand new way to control our Android phones using swipes and gestures. Similar to the iPhone X. Here's what to know about gestures in Pie, how to use them, and more importantly, how to turn them off.
Following a long beta period Google released Android 9 in early August of 2018. By default, no phone uses the gesture navigation system. Instead, it's optional and owners must turn it on. That said, starting with the Pixel 3, and any phone that comes with Android 9 out of the box, gesture navigation controls will be on out of the box.
Read: Android 9: Everything That's New in Pie
This is a major change to how we interact with our Android phones, which is why Google left it disabled in the beta and on the Pixel. If you want to try it, you have to manually enable Android 9 gesture controls. Here's how to get started.
How to Turn on Android 9 Gesture Controls
These new controls will take some getting used to, that's for sure. This is the future of Android though, so you might as well start right now. Here's how to turn them on, or off.
Head to Settings in the app tray or tap the gear-shaped settings button in the notification bar
Scroll down and tap on System
Now select Gestures
Tap on the 4th row labeled Swipe up on Home button 
Flip the switch to ON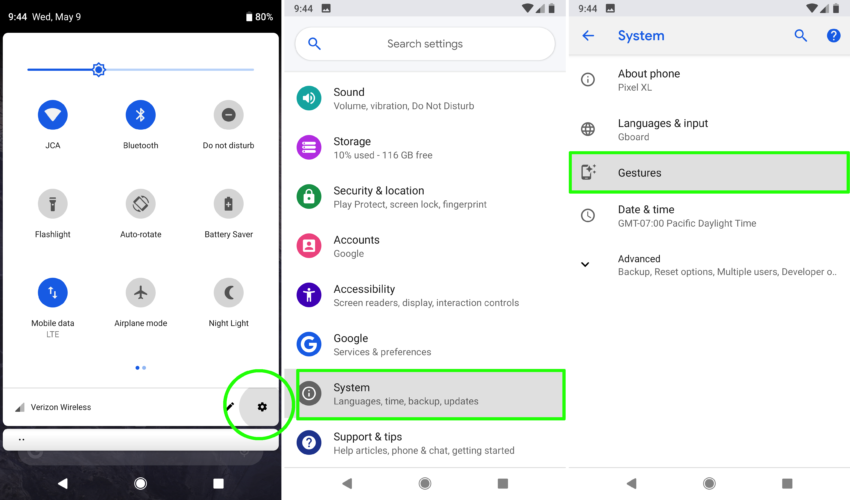 In here you'll see a few different gesture control options, and most of them aren't anything new. You can swipe on the fingerprint scanner to open the notification bar and do a few other things.
However, the "swipe up on home button" is new and once you enable that you'll instantly see a difference. You'll lose the back, home, and recents button on the bottom of your phone. Now, there's a single "pill-shaped" icon that controls everything.
How to Use Gesture Controls
This is the new gesture navigation controls in Android 9 Pie and moving forward. Again, you don't have to use it right now, but in the future, it'll be the only way to navigate Android devices.
For the most part, everything works the same way as before. The pill-shaped icon is still the home button. Just like the old circle home button you can tap to go home, or long-press for the Google Assistant. When you're inside an app a "back" button will appear to the left, but only when the OS actually needs a back button.
Swipe up from the pill button about halfway up the screen to enter your recent apps list. This is how you can easily multitask and switch between running apps or Google Chrome tabs. Swipe up faster (or further) and you'll open the application tray just like you do on Android 8.0 Oreo.
Try holding and sliding the pill-shaped home button, which will scroll through all of your running apps easily and quickly.

As a bonus tip, you can instantly switch back to your last used app by swiping to the right quickly. Say you're writing an email and you leave the message to check the date or reply to a text message. From the home screen or any screen, quickly swipe the button to the right. It will immediately open the last app you were using.
If you don't like these new Android 9 navigation gesture controls you can get rid of them on some phones. Follow the same steps above and go to Settings > System > Gestures > and turn off Swipe Up From Home. With the launch of the Google Pixel 3 these will be the only way to control the phone, so get familiar with them. As screens get bigger and bezels shrink there's no room for buttons. Gesture controls are the future.
Android 9 Pie vs Android 8.0 Oreo Walkthrough: What's New
Redesigned Quick Settings Menu
There are a lot of changes to Android 9, but the one you'll probably notice first is the redesigned Quick Settings menu in the notification pulldown bar. Basically, when you swipe down from the top to quickly access WiFi, Bluetooth, or to head to the settings menu.
As you can see above, Google completely overhauled this entire area. The clock is on the left instead of the right, and everything is rounded. It looks a bit like Samsung's interface on Galaxy phones, to be honest.
The left is Android Pie while the right is Android 8.1 Oreo. Google rounded all of the icons, rounded notifications, and added some color to each quick setting. You'll notice later that these completely change to a different color based on your background wallpaper image. It's like built-in automatic themes.

As an Amazon Associate I earn from qualifying purchases.