How to Use Galaxy S8 and Galaxy S8+ Emoji
The Samsung Galaxy S8 and S8+ are loaded with tons of neat features. From big Infinity screens, water-resistance and much more. That isn't all though, the company also delivered over 600 Galaxy S8 emoji options for users. If you use emoji more than words, this is the phone for you. With that said, here's how to use Galaxy S8 emoji.
On the Galaxy S6 or S7 last year running Android 6.0 Marshmallow there were a little over 200 to choose from. With the Galaxy S8 the emoji game improved by leaps and bounds. To start, here's a changelog of the new emoji, then read on for more details.
Read: How to Get Better Galaxy S8 Battery Life
To be exact, the Galaxy S8 has all the latest updates for emoji and over 640 characters or images to choose from. Meaning owners can express themselves in more ways than ever possible. These are easy to find, available right in the stock keyboard, and no downloads or setting changes are required.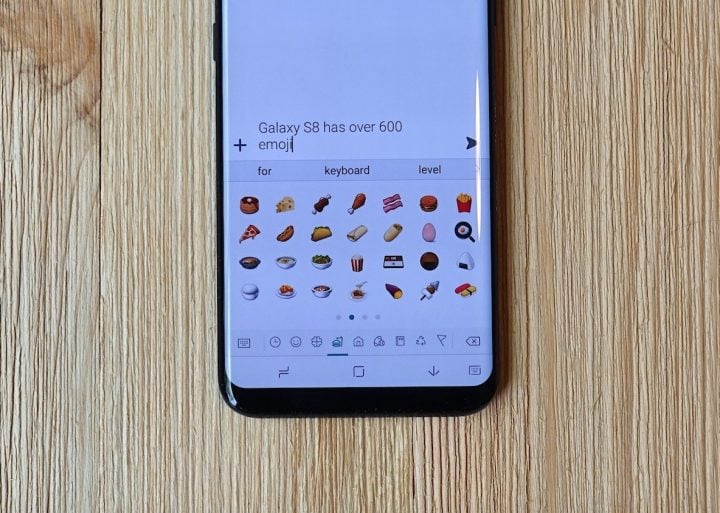 There are dozens of emoji keyboards available on the Google Play Store. Not to mention add-on apps that combine additional emoji options to popular text message apps like Textra. Some even allow for iOS emoji to be added. However, Samsung Galaxy S8 owners won't need to do any of that. We have one of the biggest collections pre-installed right on the device.
Whether you're texting a friend or posting a message to Facebook, the options are the same. There's a small dedicated key right on the keyboard that gives instant access to over 600 emoji on the Galaxy S8 or S8+.
How to Use Galaxy S8 Emoji
If you've ever used emoji before on a Samsung device you'll feel right at home. The overall look and feel of the keyboard changed a little bit, but the steps remain the same. Meaning two buttons left of the spacebar is where all the emoji are ready and waiting.
You get all the features of the stock Samsung keyboard and emoji all in one. Like gesture typing, word prediction and more. Here's how to find them in messages, Facebook Messenger, Google Hangouts and more.
Instructions
Simply start by opening a text message or Facebook post, and open the keyboard if it isn't already. Those using Samsung's stock messaging application will see a "smiley face" right by the send button and input field. Tap that and you're all done.
Alternatively those using another text application or Facebook will need to open it a different way. Near the bottom left, just to the side of the comma is a button with an emoji smiley face and a small microphone for voice commands.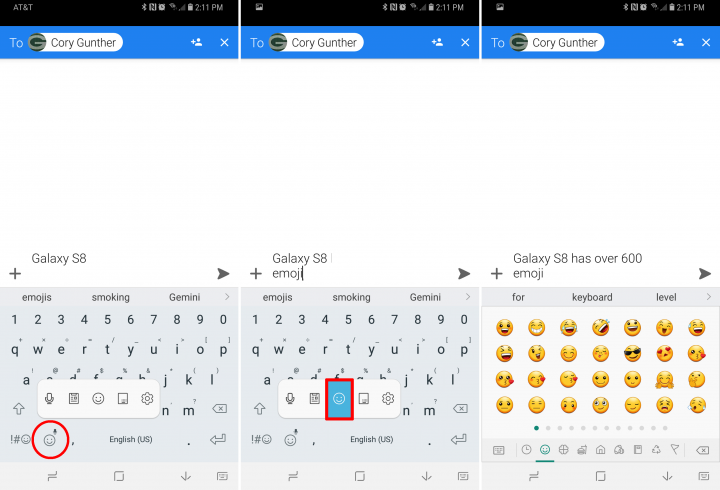 Tap this smiley-face button to open the emoji keyboard, or long-press for even more options along with emoji. Once you tap this the entire collection of emoji is available. Each page will have a full collection, and swiping left or right will navigate through them.
You'll know how many pages of that specific emoji style are available from the dots under the images. There are also shortcuts to choose a different style below the selection. Swipe from right to left to scroll through all of the available Galaxy S8 emoji.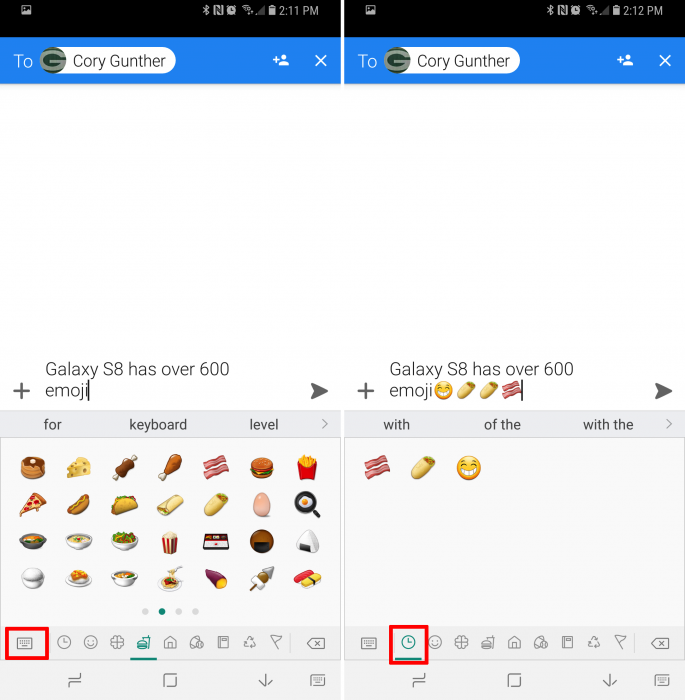 Other Details
For those unaware, the second icon on the Galaxy S8 emoji keyboard is a clock. This actually stands for "recents" which shows all recently used emoji. Perfect for those who always stick to the same few emoji over and over again. Making it quick and easy to use your favorites.
Once you're done, simply hit the little rectangle keyboard icon on the bottom left. This will switch back to a regular keyboard so you can finish composing a message or email.
That's all there is to know about it. For 2017 Samsung added over 640 different emoji to the Galaxy S8. Complete with gender specific emoji for working men and women, animals, middle finger, new foods like a taco or burrito and more. There's even a collection of men and women using Samsung-branded laptops. All said and done this update brings Samsung in line with Emoji 4.0 standards, plus a few extras. Now get to typing and using fun emoji on your new phone.
16 Best Official Galaxy S8 Accessories
Samsung ClearView Standing Cover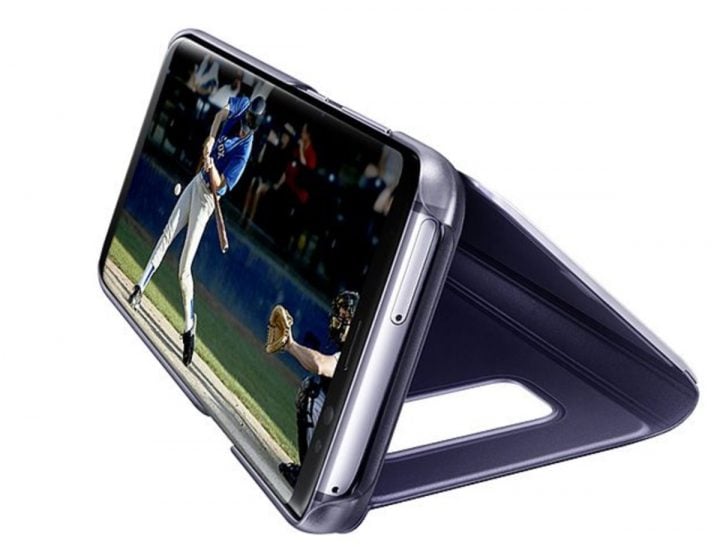 For the Galaxy S8 Samsung has a few different styles of cases. The first one in our list, the ClearView Standing Cover, has a kickstand built-in. This is a clear case that uses the always-on screen to display information even when the screen is off. The flip cover protects the screen and can fold backward and double as a kickstand. Good for watching YouTube or Netflix hands-free.
The ClearView Standing Cover comes in four colors and is now available.