How to Use Samsung Secure Folder on the Galaxy S8
The Samsung Galaxy S8 and Galaxy S8+ can protect private photos, apps and more in a secure folder. This secure folder is easy to use and can help keep sensitive information safe. In this guide, you'll learn how to use the Galaxy S8's secure folder and how to get the most out of it.
The Galaxy S8's secure folder uses Samsung's Knox security platform, encrypting data in a manner that's impossible to recover without a iris scan, face scan, fingerprint scan, or PIN. This is an extra layer of security on top of the PIN or other method you use to log into the phone itself.
If you take or keep private photos or videos on your Galaxy S8, it's a good idea to use the secure folder. It's also a safe place to keep sensitive information, such as bank statements, loan applications and tax returns that you may need to access on the go from time to time.
https://www.youtube.com/watch?v=Eq5ve0P1L70
While there are several third-party apps and services for securing files and photos, Samsung's secure folder is built into the S8 and can do one thing others can't: hide entire apps. You don't necessarily want friends or family to launch social apps like Snapchat and dating apps like Tinder when they're borrowing your phone or swiping through recent pictures.
How to Use the Galaxy S8 Secure Folder
Open Settings (gear shaped button in the notification pulldown bar)
Tap Lock screen & Security
Scroll down and tap Secure Folder
Hit next and then click Start
Sign in or create a Samsung Account
Add a password, pattern or pin
Then add a second layer of security with a Fingerprint, or Iris Scanner
Tap Done and the Secure Folder has been created
Users can now open the app and hit Add Files to easily or manually move content to the secure folder. Then as we mentioned above, you can select Add Apps to either hide an application, or install it twice. Yes, like having two Facebook accounts with one hidden.
By default users will see a second camera and gallery application, which will allow you to quickly take photos that are instantly hidden and secured. Instead of manually moving them later.
Customize the Secure Folder
Next we can customize the name and icon, mainly because something called the "Secure Folder" is rather suspicious looking. This is so you don't appear to be hiding anything. Name it Vacations, Games, or anything.
Additionally, Samsung has an option to remove this folder from the home screen so it's only in the settings menu. Or even move it to the notification pulldown bar quick access apps at the top.
While inside the Secure Folder tap the 3-dots menu key near the top right. Head into Settings and customize it to fit your needs, or for added privacy.
Last but not least, is a secure cloud-based backup option. If enabled in settings, everything inside the secure folder will backup to your Samsung Account. Which can be retrieved at any moment in case of loss, theft, or when upgrading to a new device at a later date.
16 Best Official Galaxy S8 Accessories
Samsung ClearView Standing Cover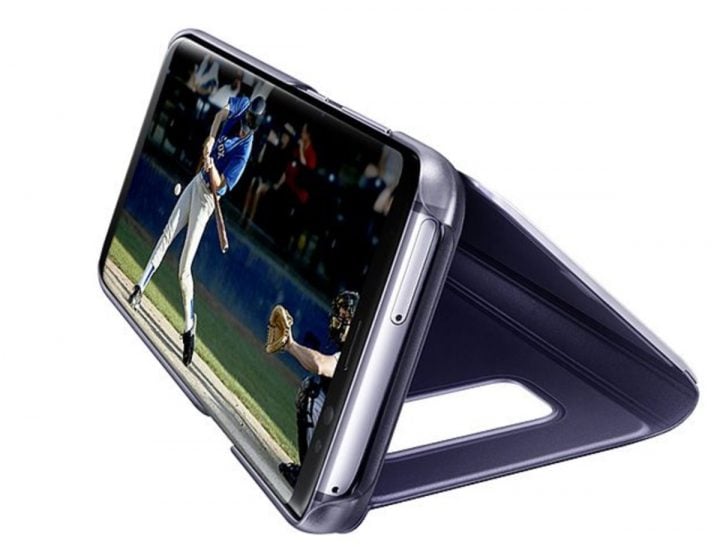 For the Galaxy S8 Samsung has a few different styles of cases. The first one in our list, the ClearView Standing Cover, has a kickstand built-in. This is a clear case that uses the always-on screen to display information even when the screen is off. The flip cover protects the screen and can fold backward and double as a kickstand. Good for watching YouTube or Netflix hands-free.
The ClearView Standing Cover comes in four colors and is now available.