How to Win a Free Fallout 76 Xbox One X
Huge fan of the Fallout series? Looking to upgrade your console? How would you like to win a free, custom-made, Fallout 76 version of Microsoft's Xbox One X console?
Bethesda's officially announced Fallout 76, a new online game in the Fallout universe that puts players into the shoes of a Vault Dweller from Vault 76. The game is a prequel to the previous games and it's set in the mountains of West Virginia.
As expected, Bethesda's game comes with enhancements for Microsoft's Xbox One X. Enhancements include 4K Ultra HD and HDR support. You won't get these features if you're playing the game on the original Xbox One.
With many games now coming with support for Sony's PS4 Pro and Microsoft's Xbox One X, you might be considering an upgrade in 2018.
Before you go out and spend $300+ on a new Xbox One X, you'll want to enter Bethesda's Fallout 76 sweepstakes.
Bethesda's announced a sweepstakes to help build its social media following and the grand prize is a brand new Fallout 76 Xbox One X.
The hardware inside the console is the same as the one you'd find at your local retailer, but it looks a little bit different than the standard model. If you're a collector or you simply want a new console, here's how you can enter yourself in the Fallout 76 Xbox One X sweepstakes.
How to Win a Free Fallout 76 Xbox One X
First, the caveats.
You must be 18 years old, or older, to throw your name into the hat. The account you're entering from must be public, not private. And you must enter the contest before Friday, June 15, 2018 at 11:59:59 PM EDT. Once the clock strikes midnight, you're out of the running.
You can enter the contest on Facebook, Instagram, or Twitter. If you wish to enter on Twitter, here's what you need to do:
Follow the official Fallout Twitter page with the Twitter account used to submit the entry into the sweepstakes.
Retweet the tweet that references the custom Fallout 76 Xbox One X
To enter via Facebook, follow these steps:
And if you want to enter via Instagram, here's how to get that done:
Bethesda says it will select three winners (one from Twitter, one from Facebook, and one from Instagram) on or around Monday, June 18th.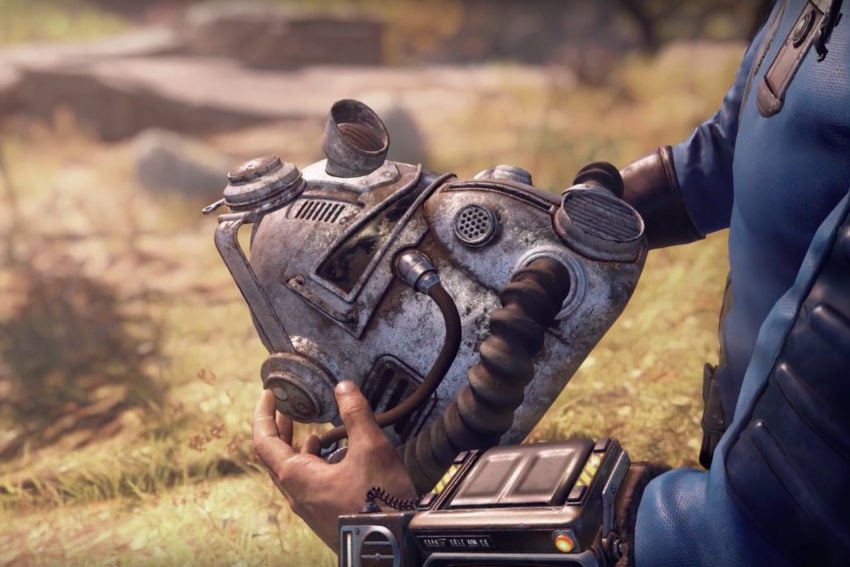 Fallout 76 comes in three editions which include the standard version, a Deluxe version that features some additional in-game bonus items, and a Power Armor Edition that features a real Power Armor helmet and other collectibles.
It arrives November 14th after a beta this summer.
3 Reasons to Buy Fallout 76 & 7 Reasons to Wait
Buy If You Love Online Games & Fallout
If you like the sound of an online Fallout-style RPG, you might want to buy a copy of Fallout 76.
Fallout 76 is an online survival RPG inspired by games like Rust and DayZ.
It's much different than the Fallout games you're used to, but it still has quests, a leveling system, V.A.T.S. (though it's nothing like the V.A.T.S. from previous games) and tons of enemies to kill just like Bethesda's traditional single-player RPGs.
It also has base building (dubbed C.A.M.P.), something Bethesda introduced in Fallout 4 back in 2015. Fallout 76 allows you to build anywhere on the map.
Fallout 76 is more Fallout Online/Elder Scrolls Online than Fallout 5. If sharing an open, evolving Fallout world with friends sounds amazing, think about buying a copy of the game today, tomorrow, or sometime in the near future.

This article may contain affiliate links. Click here for more details.