HQ Trivia App: 9 Things You Need to Know
The HQ app, better known as HQ Trivia or Trivia HQ is the hottest social app of the month and possibly one of the biggest apps of the year. Unlike most apps that you can play anytime, there is an HQ Trivia schedule that you need to follow if you want to play, and unlike most apps on the app store you can actually make money with the free app.
Here's what you need to know about this insanely popular app, wether you're looking for the HQ Trivia Android app or just trying to figure out what everyone is talking about during Christmas.
What is HQ Trivia?
HQ Trivia is a live Trivia game that you play on your iPhone. You can win real money and you can only play it during specific time slots when a host is live asking questions. There is no Android app yet, but it is coming soon.
There is a live host that appears on your screen to ask you questions. You play alongside other players for a cash prize. You can watch one of the HQ Trivia games below.
Once the Trivia HQ show starts, you can play through a series of questions. You will need to answer a series of questions that start out with softballs and get harder as you go. The pool of players is culled with each question. There are 12 questions to each game, and the players who are left at the end split the pool of cash.
How to Play HQ Trivia
You need to download the free HQ app from the App Store. Enter your phone number and verify your account. Now you need to choose a username and get ready.
Check the HQ Schedule to play the HQ Trivia game when it goes live. You cannot play a practice round, but with daily matches you can learn in one session and plan to win the next.
You will need to pick the right answer for each question by tapping on screen before the time runs out. The timer is very short, so it's tough to look anything up by cheating at Trivia HQ, so you may need to guess at some point.
You can get an extra life that will allow you to keep going. You can unlock these when someone uses your code. So help me out and use code JoshSmith13 when you sign up. You can also use an HQ Trivia cheat to get a free life.
How to Get an Extra Life in HQ Trivia
You earn HQ Trivia lives by having people sign up for the service with your referral code. Mine is JoshSmith13 as you can see in the image above.
You can also earn a free extra life with a simple HQ Trivia cheat or hack.
Open the app on your iPhone.
On the main screen put two of your fingers on the screen a little bit apart.
Swipe up with both fingers repeatedly very fast.
In about a second you'll get a free life.
I was only able to do this once, so you don't need to try it multiple times, but it is something I plan to try again tomorrow.
HQ Trivia Android Release Date
The HQ Trivia Android app release date is not here yet, but it is coming soon. Originally set for Christmas, the first release came as a beta.
The team has now come out and stated the Android HQ Trivia app release date is January 1st. Hey, you. Android user. Use code joshsmith13 when you sign up. Thanks!
Can I Make Real Money with HQ Trivia?
Yes, The HQ Trivia app gives you real money when you win a game. This is only for the winner or winners and it is split between the remaining players. You cannot win with an extra life, but you can win if you used an extra life to get past an earlier mistake.
Once you have at least $20 in your account, you can transfer the money to your PayPal account. Sounds easy enough. But it's tougher than you think to get to the last question.
In one game this week there were nearly 400,000 players at the start and just under 50 winners.
HQ Trivia Schedule
The HQ Trivia schedule is easy to follow and as long as there are not major problems, you can expect a an easy to remember time slot to play.
Weekdays there is a game at 3 PM Eastern.
Every day there is a game at 9 PM Eastern.
During the week that it two chances to win each day and on the weekend only one. Simple as that. Every now and then there is an extra game due to problems, so you may want notifications turned on.
Is the HQ Trivia App Free?
The HQ Trivia app is free to download and free to play. There are no in-app purchases or ways to get ahead by spending real money on the game. This is a nice change from games that just want you to buy more lives and chances.
The HQ prize money comes from Intermedia Labs, and also sometimes from affiliates, marketers and promoters.
Is Trivia HQ Safe For Kids?
Kids can play HQ Trivia, but according to Apple you need to be 17 to play the game. If you are a kid who is playing you need a PayPal account to cash out and PayPal requires users be 18 or hav a paren't assistance. If you plan to play HQ Trivia and you are under these age limits you will need a parent to help you cash out if you win.
The content of the game isn't awful, but it can be a little on the mature side. Specifically Apple warns parents that the game includes,
HQ Trivia Problems
There are HQ Trivia problems that many users complain about. The biggest problem is lag. Even with a fast Internet connection some users report that the app lags and you cannot see the host. This can also cause you to not be able to answer a question.
You can try restarting the app before a game, but due to the fast paced nature, if you experience lag or if HQ freezes while you are playing you may not be able to get back in on that game.
Users who have trouble can send an email to [email protected] to ask for more support or reach out on Twitter.
20 Best Apps to Make Money in 2020
Google Opinion Rewards - Make Money By Answering Questions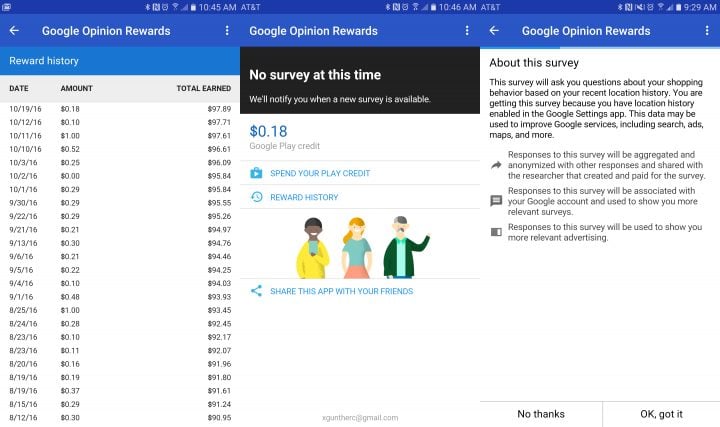 You can make money answering survey questions on your smartphone with Google Opinion Rewards. Also known as Google Surveys by many users, this free app rewards you for sharing your opinion. This works on iPhone and Android, but the best way to make money is on iPhone.
A member of the Gotta Be Mobile team earned over $100 with Google Opinion Rewards. All you need to do is answer questions and you'll earn anywhere from a 10 cents to a dollar. You can also answer Google Opinion Rewards surveys in stores to really earn more money.
The money that you make works for Google Play Credits on Android that you can use to buy apps, movies, books, and even spend on in app purchases for games like Clash of Clans without spending your cash.
iPhone users get the credit sent to PayPal when they have a balance of $2, which can happen every two or three weeks depending on how many surveys you qualify for. It's easy to earn when you start, but surveys may become less frequent as you go.
Download Google Opinion Rewards for Android and Google Opinion Rewards for iPhone.