8 Huawei Android Oreo Release Date Tips
The Huawei Android Oreo update is available now or coming soon to multiple popular smartphones. While the company recently released the Mate 10 Pro with Oreo, other phone owners are waiting for it to arrive. Here, we'll go over everything we know, what to expect, and some Huawei Oreo release date tips.
Huawei is currently testing Android 8.0 Oreo for the P10 and several Huawei and Honor smartphones. Most of these beta tests aren't available in the U.S. but will come soon enough.
At the same time, Android Oreo just arrived for the Huawei Mate 9 Pro on January 31st, 2018, and we're expecting more phones to receive a similar update in the coming months.
Some of those include the Huawei P10, Mate 10 Lite, Mate 9, P9 models, GR3, NOVA2, and several Honor smartphones. In fact, the Honor 8 Pro and Honor 9 just started getting Oreo in February.
Huawei Android Oreo Release Dates & Details
So when will your Huawei or Honor phone get an update to Android 8.0 Oreo? Well, that's a hard question to answer. Android manufacturers are slow to make announcements, keep details close to their vest, and rarely share exact dates. That's because they change and evolve as new bugs get found or fixed.
While we've seen announcements from Sony, Motorola, HTC, Samsung, and others, Huawei is staying mum on details. The only actual information we have is from Huawei's sister brand, Honor, who announced a few updates on Twitter.
That said, the international Huawei P10 and P10 Plus just got the Android 8.0 Oreo beta, at least in select regions. This is a good sign. It means that the company has worked hard behind the scenes, and updates are nearing completion. Multiple devices are in the final testing phase, and updates will begin sometime in February or March.
Things are subject to change, but with betas rolling out, we expect official updates for select phones before the end of February. Otherwise, look our for software upgrades in early March at the latest. Well, depending on which device you own.
Huawei's version of Android 8.0 Oreo is loaded up with new features and enhancements including the company's new EMUI 8.0 Experience. That's just the name for its software overlay built on top of Oreo. The exciting additions are AI built-in to each phone, not in the cloud. Along with gesture controls, a floating navigation bar, dynamic wallpapers, and a battery saving feature known as Battery launch, to name a few.
Each Huawei device Android Oreo changelog will be a little different. That's because some phones will get all of Oreo's features, while others won't. For example, the Honor 8 will get EMUI 8.0 and all of its features, but not the actual update to Android 8.0 Oreo. Depending on the phone you have, the features will be a little different. That said, almost everything included in Android 8.0 Oreo from Google will make its way into the software.
Read: Android Oreo vs Android 7.0 Nougat Walkthrough: What's New
You can't try the Huawei Android Oreo update right now unless you're one of the lucky few with the Mate 9 Pro. That, or you're lucky enough to live where the beta is available for the P10 and other beta devices.
What this means is we can't provide you with exact information for each Huawei Android 8.0 Oreo update, release date, or features, but we can help you prepare for it in multiple different ways.
This guide outlines some tips that we think will help you get the most out of Android 8.0 Oreo and help protect your Huawei or Honor phone from problems during the update process. We'll also highly some of the best new features.
Start Preparing for Android Oreo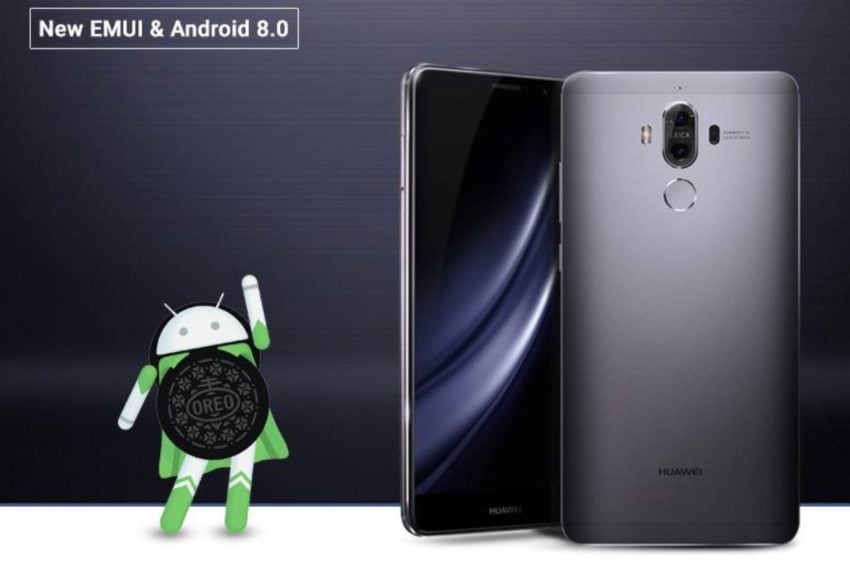 Again, we don't have an official Android 8.0 Oreo release date for most smartphones from Huawei, but that doesn't mean you can't be prepared ahead of time.
Use this time to prepare for the update so you're ready once it's released. That way you're not scrambling to delete old files and making room for the update, or backing up your device in case something goes wrong. Take your time and do things right, while you have the time to do so.
Some of these steps and ideas might seem silly, mainly to Android enthusiasts, but they'll prevent problems and headaches for everyone else. You should backup your device, clear out files you no longer need or uninstall apps you don't use anymore. Same goes for photos and video.
Clearing out this space will improve your device performance overall, and have you in a better position once Oreo arrives. Especially if you only have a 16 or 32GB smartphone.
We expect it to be a pretty hefty download. You should also start backing up your phone ahead of time, or on a fairly regular basis. Here's a quick guide that will help you backup your Huawei phone. This way you'll be ready in case any problems arise, or just to restore your information at a later date.