iOS 12.3: 5 Things to Expect & 4 Things Not To
Apple's upcoming iOS 12.3 update is a milestone upgrade which means it's far more exciting than your standard iOS release. We've been getting a ton of questions about the software and today we want to help you set proper expectations as we push through April.
Apple first confirmed the iOS 12.3 update back in late March when it dumped the upgrade into its beta programs for testing.
The iOS 12.3 beta is still ongoing and developers and the general public continue to poke and prod the software for bugs and performance issues ahead of its highly anticipated release.
iOS 12.3 looks like it'll be smaller than the iOS 12.2 update. The change log isn't official yet but we know quite a bit about iOS 12.3's features, problems, fixes, and performance thanks to the beta.
With the release on the horizon we want to take you through everything you can expect from Apple and the iOS 12.3 release.
Don't Expect an iOS 12.2.1 Update
iOS 12.2 patched up some annoying bugs, but it brought some problems of its own. The list of iOS 12.2 problems continues to grow as we push further away from its release date.
We've spoken to many users struggling with dropped calls, poor battery life, UI lag, and various other issues and many of them are hoping for a quick iOS 12.2.1 bug fix update before the release of iOS 12.2.
Anything is possible, but we aren't expecting a surprise iOS 12.2.1 update at this point.
These days, Apple tends to put updates into beta before it releases them to the public. There are exceptions, iOS 12.1.4 is a great example, but most upgrades, even tiny bug fixers, usually make a stint in the beta process.
There are iOS 12.2 problems, but we haven't heard about any widespread issues impacting millions of phones and that's typically what forces Apple's hand. In most cases, the company takes its time.
iOS 12.3 will likely be the next version of iOS 12.
Expect More iOS 12.3 Betas
Earlier this week Apple pushed the second iOS 12.3 beta to developers and those in the free Beta Program. iOS 12.3 beta arrived two weeks after the first iOS 12.3 beta.
The release was staggered with developers getting it first followed by those in the Beta Program a day later. This is important to note.
In the early going we typically see a new beta every two weeks. As it makes progress, Apple usually releases a new beta every week. When that happens, we usually see the developer and public betas arrive on the same day. We're currently in the former stage which means you can expect more beta releases.
At this point, we'd expect Apple to release three to four more iOS 12.3 betas before it pushes the final version to millions of users around the world.
Expect the iOS 12.3 Release in May
iOS 12.3 is a milestone upgrade so iPhone, iPad, and iPod touch users want to know when the update will roll out for their device. Apple hasn't confirmed the iOS 12.3 release date but we have a pretty good read on the update's release window.
At its March 26th launch event, Apple said it would roll out a software update with upgrades for the Apple TV application in May. It didn't provide a specific date.
These upgrades are currently on board the iOS 12.3 beta which means it will probably arrive sometime next month.
Don't Expect An iOS 12.3 Release Date Announcement
Apple hasn't confirmed a specific iOS 12.3 release date and we probably won't get one ahead of time.
The only time we get iOS release dates ahead of time is when Apple confirms them at press events. Apple's next big media event will likely be the WWDC 2019 keynote in early June which means we'll probably be in the dark as we push into May.
Don't Expect to See It Right at 10AM Pacific
By now you probably know Apple releases iOS update in and around 10AM Pacific. You can expect the same from iOS 12.3, but don't panic if you don't see it at 10:00 or 10:01AM sharp.
It used to be that the update would roll out to everyone all at once. This used to cause a ton of issues as Apple's servers got jammed up with requests.
These days the release is a little more staggered and often times we see updates emerge 10 to 15 minutes after the 10AM Pacific mark.
Expect a Big iOS 12.3 Download
Given it stature, we expect the iOS 12.3 update to require a fairly hefty download for all compatible iPhone, iPad, and iPod touch models.
We won't know the exact size until the company releases the final version but the Gold Master/final iOS 12.3 beta will give you an idea.
That said, you can expect the download to be larger than your standard iOS release. This is important to keep in mind as we approach the release date.
It means you might encounter lengthy download times on release day as tons of users slam Apple's servers with requests. It also means some of you might need to temporarily delete files in order to make room for iOS 12.3. If your device's storage is nearing its threshold, think about doing some cleanup ahead of time.
The exact size of your iOS 12.3 update will depend on your device and the version of iOS you're currently running. If you're already running iOS 12.2 you'll see the smallest download size.
If you're on an older version of iOS 12 or you're still running iOS 11, you're going to encounter a larger download due to the updates you skipped.
Expect Bugs & Performance Issues
Apple's done its best to regain customer trust after the disastrous iOS 11 release. The iOS 12 update has performed admirably on most of our devices and the company's fixed most bugs in a timely manner.
That said, iOS 12 still has its fair share of issues and we expect issues to plague the iOS 12.3 update as well.
The iOS 12.3 beta has already caught a bunch of potential issues, but problems are lurking in the latest beta. Some of these will likely carry over into the final version.
The list of iOS 12.3 problems will also include common issues include severe battery drain, lag, crashes, connectivity issues, and problems with first and third-party apps.
There's no way to predict iOS 12.3's performance on your device so now would be a great time to get familiar with the most common iOS problems and fixes.
Expect New Versions of macOS, watchOS and tvOS
Look for Apple to roll out new versions of macOS, watchOS, and tvOS at the same time as iOS 12.3.
Apple and its army of beta testers are currently testing macOS Mojave 10.14.5, watchOS 5.2.1, and tvOS 12.3. These updates will bring enhancements to Mac, Apple Watch, and Apple TV.
The company hasn't confirmed release dates for any of these software upgrades but they'll arrive alongside iOS 12.3.
Don't Expect an iOS 12.3 Jailbreak
Its been pretty quiet on the jailbreak front and an iOS 12.1.3-iOS 12.2 jailbreak is still MIA as we push deeper into the year.
Interest in jailbreaks have waned over the years but a lot of people still like to jailbreak their devices and many are hoping for a new iOS 12 jailbreak in 2019.
Anything can happen, but at this point we aren't expecting an iOS 12.3 jailbreak anytime soon. If we're lucky, jailbreak developers will release something for older versions of iOS 12, but even those odds are slim at this point.
iOS 12.4 Release Date: Tips & Tricks
Prepare for the iOS 12.4 Release Date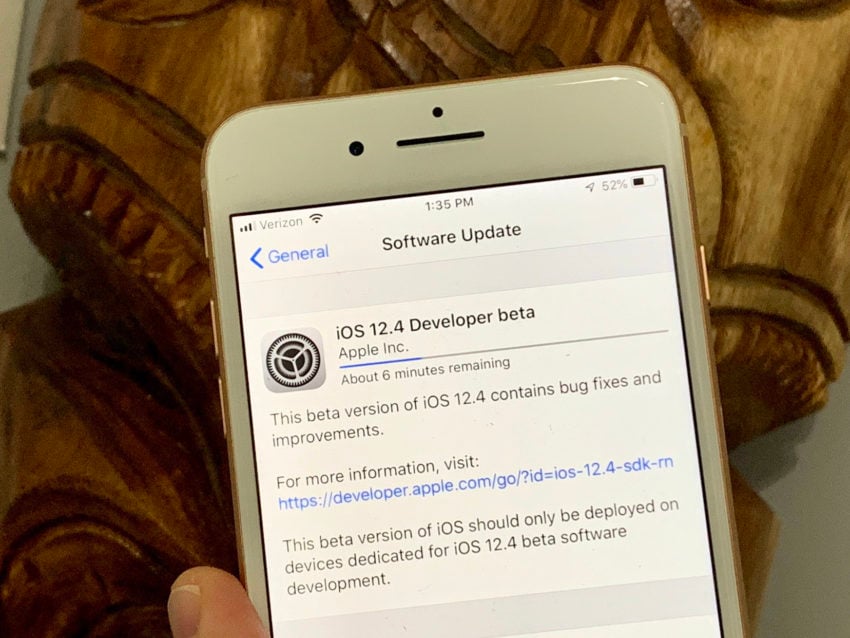 The iOS 12.4 update is getting closer and some of you might want to start preparing for its arrival.
iOS 12.4 will likely require a nice chunk of space on your internal storage. If you don't have enough, iOS will temporarily remove some downloadable parts of the apps installed on your device. Occasionally, this isn't enough and you'll be forced to manually delete files.
If you're low on storage, use this time to cleanup the storage on your device. Go into your device's storage and delete the files (photos, apps, etc) you don't need anymore. Cleaning up your device could also improve your device's performance and it'll help make room for the iOS 12.4 download.
You should also start backing up the data you store on your device(s). If you don't know where to start, you'll want to dig into our guides covering iCloud backups and iTunes backups. Data loss issues are pretty rare, but there's always a chance something gets lost in the shuffle as you transition to a new version of iOS.
If you're moving from a newer version of iOS 12, iOS 12.4 probably won't log you out of your apps and services. That said, we recommend having your Apple ID/iCloud/third-party app login information handy just in case.
This might seem tedious, but a little prep work will help you avoid issues before, on, and after the iOS 12.4 release date.

This article may contain affiliate links. Click here for more details.