Is Madden 17 Deluxe Worth Buying?
The Madden 17 release date is here, and EA is offering a new special edition that includes a lot of extras for Madden Ultimate Team. This year it is a $20 price jump, leading more players to ask if the Madden 17 Deluxe Edition is worth buying.
We'll walk you through what you get with the $79 Madden 17 Deluxe Edition and the $99 digital edition to help you decide if it is worth you spending the extra $20 or $40 for your copy of Madden 17.
Even with the best Madden 17 deals you will still pay $20 extra for the Madden 17 Deluxe edition. and $40 for the Madden 17 Super Deluxe digital edition. This guide focuses on the Xbox One and the PS4 versions.
When you go to Best Buy, Amazon or GameStop you will only see Madden 17 and Madden 17 Deluxe for sale on disk, but you can buy the Madden 17 Super Deluxe edition digitally, and in some stores you can buy a code for this version.
[contextly_sidebar id="GPrXdobpITuYAXSLaix9kT3JBbpqv8ri"]
The Madden 17 release date is August 23rd, and you can pre-order Madden 17 now. While there is typically enough stock of the Madden 17 Deluxe Edition, if it is the one you want it is worth the pre-order.
The Deluxe and Super Deluxe editions include extras that can help you on your way to building a better Ultimate Team or give you a boost in Ranked Draft Champions. If you don't play, or anticipate playing, these modes there is little reason to spend more than the $60 for the base version of the game.
Madden Ultimate Team is essentially a create your own team mode that is part Fantasy football and part Madden. You need to buy and earn packs of player cards that you can add to your team to improve your overall skill and match your style of play.
The Ranked Draft Champions mode requires you use three tickets to enter a ranked match where you go through a fast paced fantasy draft and then you play with that team. It's a shortened, quicker version of playing Ultimate Team that doesn't require as much commitment to the players you choose.
With the Madden 17 Deluxe Edition you get 30 Ranked Tickets and Up to 10 Madden 17 Ultimate Team All-Pro packs. That's a $50 value for $20 in cash and it's significantly more than you get with the base game. The standard version of Madden 17 includes 9 Ranked Tickets and Up to 6 Pro packs. That's enough for 3 Draft Champions games instead of 10 and you get fewer packs that include lower ranked players.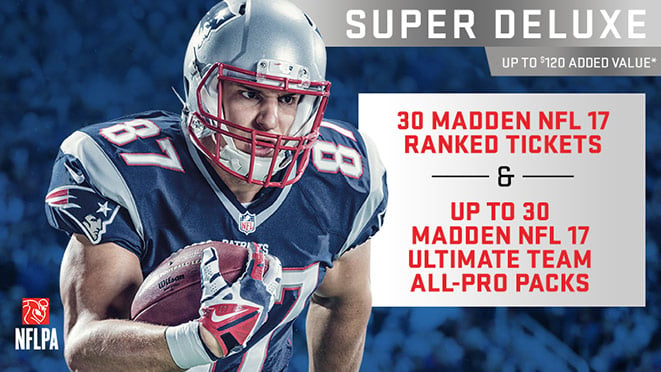 The Super Deluxe Madden 17 edition includes 30 Ranked Tickets and up to 30 All-Pro packs for a $120 in added value.
EA says "Up to" in the wording because you don't get the Madden 17 Pro Packs or All Pro Packs all at once. You get them weekly until they are all delivered and you need to log in each week to get your pro packs. The packs arrive each Tuesday starting on August 30th.
If you know you will play Madden 17 Ultimate Team mode, this is a good deal, since you get $35 worth of All Pro Packs and $15 worth of Ranked Tickets. This will help you get a better start to your team without buying All Pro Packs with real money.
We typically buy the Madden 17 Deluxe Edition since it helps us build a better team quicker. The new price is tougher to swallow, but with 20% off at Best Buy and Amazon it's not that bad.
The Madden 17 Super Deluxe is a tougher sell since you can only buy it digitally. This means you cannot get any in-store discounts on the game at Best Buy or use Amazon Prime discounts to save on the game. If you know you would spend the $40 on in game items, then buy the Super Deluxe and get a lot more for your money. If you are on the fence, look for deals on the Madden 17 Deluxe edition and consider trading in Madden 16.
Madden 17 vs Madden 16: What's New
Madden 17 Running Upgrades & Special Moves
When you pick up the controller and try to put the juke on your friends this fall, Madden 17 has a major change in store.
The first thing you need to know about Madden 17 special moves is that the player rating and player style will impact how well they perform each move. Ea explains that, "Bruising backs have better trucks & stiff-arms while smaller backs have better jukes & spins," so you better play like that player if you want to bust out a special move and go all the way. There are also all new animations for the special moves.
The special move ratings and body weight will impact the animation and the chance of success will vary based on player ratings. There are elite moves for the best players, OK moves for those rated 70's and 80's and lumbering moves that you will see if a huge player recovers a fumble.
When a player's stamina is down, in Madden 17, the special moves will drop one level. Be careful how much speed boost you use in the lead up to a special move.
There are also upgrades to the fakeouts in Madden 17. If you time your special move correctly you can deliver a multi-player fakeout, allowing you to get past multiple player with a single move. You will need perfect timing and to know which special moves this runner is best with. Your position also has a very important role in pulling off a perfect fakeout in Madden 17.
After you figure all that out, you'll need to know what your player is capable of and what his best moves are to really show off what you are made of.

As an Amazon Associate I earn from qualifying purchases.