Kirby Star Allies Release Date, Details & Pre-Orders
When the Kirby Star Allies release date finally arrives this spring, Nintendo Switch owners will have yet another single and multiplayer title that other gamers can't get.
Nintendo first revealed Kirby Star Allies at the Electronic Entertainment Expo in June 2017. It's an all-new adventure game set to come only to the Nintendo Switch. Even owners of the Nintendo 3DS are left out. Like previous Kirby games, it's the player's job to use Kirby's abilities to get them to the end of each level.
Star Allies takes its name from two new features. In this game, you can throw hearts at up to three characters and turn them into friends. You can also combine different elemental powers for more devastating attacks. Kirby has two new copy abilities too, artist and spider.
Here's everything you need to know about Kirby Star Allies, including the game's release date and all the Kirby Star Allies pre-order details.
Read: 7 Best New Nintendo Switch Games Coming in 2018
Kirby Star Allies Release Date
The Kirby Star Allies release date is March 16th, 2018. On that day, anyone with a copy of the game can begin playing. This is a worldwide release, so it doesn't matter what region you live in.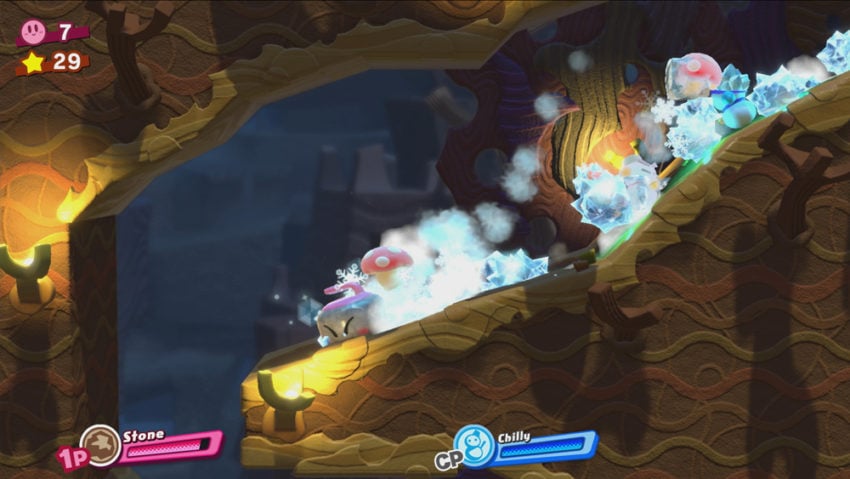 Count on purchasing a Nintendo Switch to play Kirby Star Allies if you don't already have one by then. This game is exclusive to Nintendo's newest console, so you can't play it on the Nintendo 2DS or Nintendo 3DS. Nintendo sometimes bundles free copies of new games with the Switch, but the company hasn't said if a Kirby Star Allies bundle is coming before release. For now, there aren't any bundles.
Read: Nintendo Switch Buying Guide: Bundles, Games & Accessories
Kirby Star Allies Gameplay
If you've never played a Kirby game before, you can expect a very newcomer-friendly experience with problem-solving and lots of puzzles. If you have played a game in the series before, there are still plenty of new things to experience.
Besides being the first Kirby game for the Nintendo Switch, Kirby Star Allies is also the first game in the series to take full advantage of a high-definition television. When your Nintendo Switch is docked, the game has 1080p visuals. In handheld mode, the game uses 720p visuals, which is the maximum resolution the Nintendo Switch's built-in display can handle.
Read: 10 Nintendo Switch Tips & Tricks
There are lots of new gameplay elements for Star Allies. Throwing hearts at three enemies turns them into your friends. They'll cooperate with you as you attempt to solve puzzles and reach the end of levels. Kirby learns two new copy abilities too, Artist and Spider. These join Sword, Fire, Water, Bomb, Cleaning from previous games in the series. You can combine new and old copy abilities for attacks.
If more than one person in your family is a Kirby fan, both of you can play the game together. Two players can enjoy the game on a single switch by detaching the Joy-Con controllers from the side of the console. Using System Link, up to three people can play Kirby Star Allies with you at the same time. The extra two players will need a second Nintendo Switch and a second copy of the game.
Kirby Star Allies Trailers
Kirby Star Allies Pre-Orders
Amazon, Best Buy and GameStop are all taking Kirby Star Allies pre-orders now. There aren't any special editions of the game, so plan on spending $59.99 at most stores. At Amazon, pre-orders are $54.82. Ordering from these three stores should get you your copy of the game on release day.
Kirby Star Allies has a store page in the Nintendo eShop, but it only links to store pages for physical copies. Expect the eShop to also offer digital downloads closer to the March 16th release date. If you do buy the game through the Nintendo eShop, be sure to have a reliable internet connection and a MicroSD card on release night. The MicroSD Card is if your console runs out of storage downloading the game.
Read: 6 Best Nintendo Switch MicroSD Cards
Kirby Star Allies Deals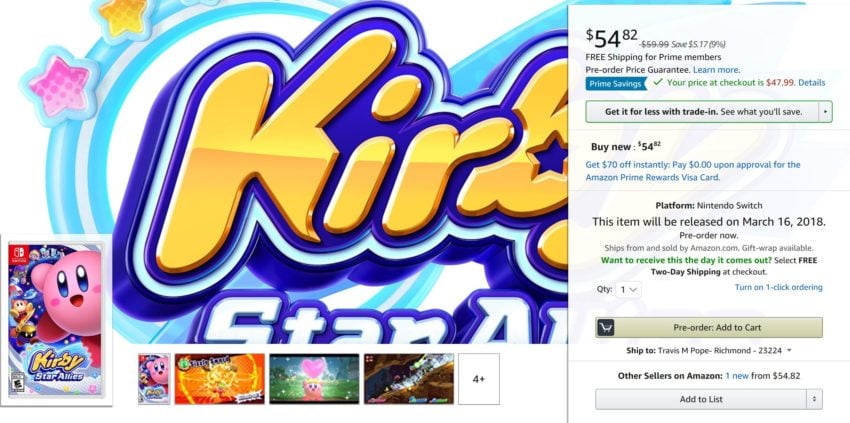 So far, Amazon is the only retailer offering a Kirby Star Allies deal. Again, the site is selling physical copies of the game for $54.82. Everywhere else, the game is $59.99.
The shortage of outright deals doesn't mean there aren't other ways to save on the upcoming Nintendo Switch game. With a Best Buy Gamers Club Unlocked or Amazon Prime subscription, you get a 20% discount on all physical games that you pre-order. So, expect to pay just $47.99 at either store if you have their qualifying subscription. An Amazon Prime subscription costs $10.99 a month or $99.99 a year. Best Buy Gamers Club Unlocked costs $30 for two years of savings.
The Best Nintendo Switch Cases & Covers
Hori Tough Pouch for Nintendo Switch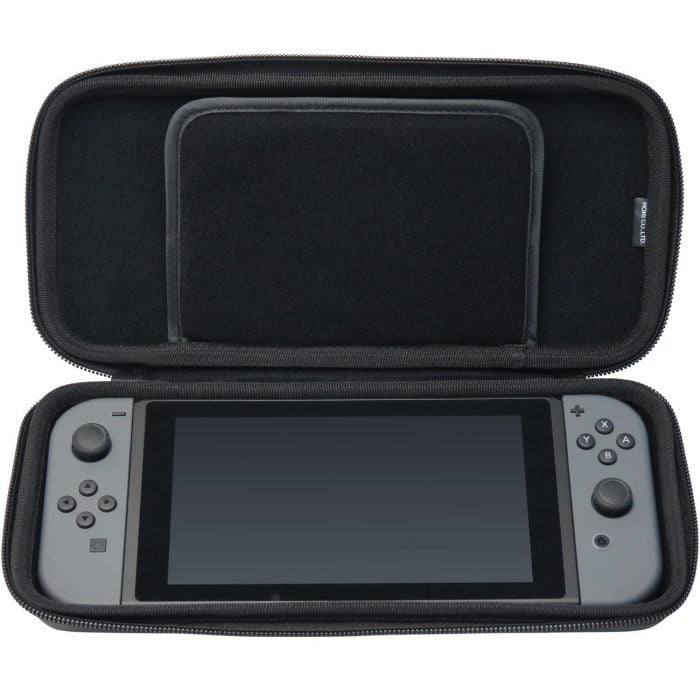 The Hori Tough Pouch for Nintendo Switch protects your device between gaming sessions without much effort. A flap inside shields the console's touchscreen. Its shell is reinforced to handle impacts from other things in your bag,
Also, unlike some other cases, the Hori Tough Pouch strikes a gentle balance between protection and convenience. Because you only put your Switch into it when you're done playing, it doesn't change how you grip the console or its Joy-Con controllers.
Amazon has the Hori Tough Pouch for Nintendo Switch available for $17.99. Because it's an officially licensed accessory, the front is embossed with the Nintendo Switch logo.

As an Amazon Associate I earn from qualifying purchases.