Lutron Caséta Smart Fan Control Review: Turn Any Ceiling Fan Into A Smart Fan
The Lutron Caséta Smart Fan Control is a smart switch that turns any ceiling fan into a smart fan that you can control with your voice, your phone or on a schedule. It's an easy upgrade that takes about 15 minutes and it's an integral part of my smart home office that will keep me cool as temps climb this summer.
Instead of replacing your perfectly good ceiling fan with a smart fan, which can be expensive and time-consuming, you can replace the switch and upgrade your existing fan. I took the circular knob style switch out and put the Lutron Caséta Smart Fan Control in to upgrade the fan in my office. With this installed I can still control the fan with an in-wall control, and also get the smart control options.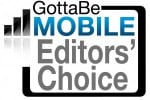 The Lutron Caséta Smart Fan Control earns a Gotta Be Mobile Editor's Choice Award for ease of use and for upgrading your existing fan to a smart fan in minutes.
This switch only controls the fan, but I already have a Lutron Caséta smart switch in to control the lights, so I can now control the fan speed, turn the fan on and off and control my lights with Caséta switches. This connects to the Caséta Bridge I use for all my Lutron Caséta lights and my Serena Shades for voice and phone control.
The Lutron Smart Fan control is $59.98 at Amazon, and $60 at Home Depot and Lowes. To get the full benefit of this, you will want the bridge, and likely a switch for the lights on your phone. If you don't already have a bridge, pick up the Lutron Caséta starter kit for $80 at Amazon or Best Buy. The bridge is compatible with HomeKit, Google Assistant and Alexa.
Lutron Caséta Smart Fan Control Installation
I'm not a fan of replacing ceiling fans. I've done it, but it can be a challenge and it is definitely a two person job in my house. With the Lutron Caséta Smart Fan Control I was able to easily replace the switch and be back up and running in about 15 minutes. If you can replace a normal fan switch, you can handle this installation since the in-wall part is the same as a dumb switch.
This is something most homeowners can handle without much trouble and you can get by with screwdrivers and a pair of wirestrippers. Since I installed this in a wall right next to a light switch, I had to snap off some breakaway pieces on one side and I bought a two gang Claro wall plate for about $6 so that everything looks nice. You can use any rocker style switch plate, but I wanted to keep the same style as I use on other switches in my home and office.
If you have a three-way switch for the fan or the lights, you can still use Lutron Caséta, you just need a Pico remote and an adapter for the other switch. You can see this in use in my Lutron Caséta review focusing on the lights.
Once you hook up the three wires and the ground, you are good to go. The Lutron app connects it to the bridge so that you can use your voice to control the fan. Overall the process takes 15 to 20 minutes including any troubleshooting and doesn't require much skill.
Is the Lutron Caséta Smart Fan Control Worth Buying?
I love using the ceiling fan in my home office to cool things down without running my air conditioner all summer. With the Lutron Caséta Smart Fan Control I now have the fan come on automatically when I use Alexa to start my "Work" routine that also controls Lutron and Hue lights in my office.
It's way more affordable and easier to install than a new ceiling fan, and I get the same benefits as a standalone smart fan. I like that I can control the fan with my voice using any of the assistants I am testing and that is how I control it most of the time. The app is easy to use as well, but when voice is available or the switch near my door, it makes sense to simply talk to control it.
One nice part about using this in a smart home office is that I can quickly turn it off if I get a phone call or video call where the fan noise would be distracting without getting up or leaving my desk.
For $60, the Lutron Caséta Smart Fan Control is a good value. The upgrade can be costly if you also need to replace the light switch and you need the Lutron Caséta Bridge, but you only need one bridge for the house, and overall replacing switches is cheaper than light bulbs in most cases.
I haven't used it yet, but I may add this to a schedule to cool down the office automatically in the morning. I use a schedule to lower my Serena Shades in the office at the end of the day and I also use one to control my outdoor lights with Lutron Caséta switches. If I installed one of these in our bedroom I would definitely use a schedule to turn the fan on 30 minutes before bed and then off in the morning.
12 Best Smart Home Gadgets for 2019
Lenovo Smart Display with Google Assistant
The Lenovo Smart Display with Google Assistant is an awesome new way to use the Google Assistant in your home -- and with a screen.
Essentially the Lenovo Smart Display is a vastly better version of Amazon Echo that looks like it should be in your home and with loads of features that Alexa doesn't deliver.
The Smart Display is a Google Home with a screen, that comes in 8-inch and 10-inch sizes. In addition to standard Google Assistant controls, you can also interact with touch, and you can see your results on the screen. This works great with YouTube and other video results, recipes, directions and other activities.
The Lenovo Smart Display with Google Assistant built in is $199 for the 8-inch model and $249 for the 10-inch model with Bamboo back. The Smart Display arrives in early Summer 2018.