May Star Wars Battlefront Update: What's New
Changes to Heroes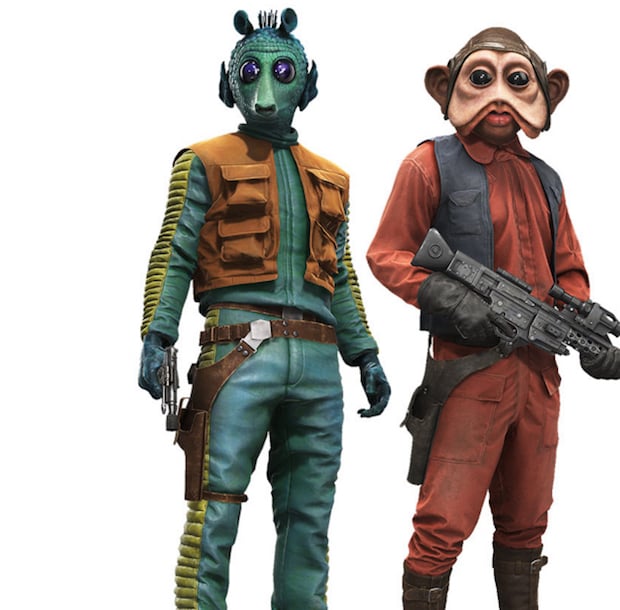 There's also an assortment of changes to Heroes/Villains including some pretty important tweaks for Greedo and Nien Nunb, the two heroes that arrived in the Outer Rim DLC.
There's also a notable UI change that comes into play when you're a hero. The change log notes that "hostile orbital strikes will no longer appear in the blue color while playing as a hero." Instead, a red color is now used.
Here's the rest:
- Darth Vader: Players killed by Darth Vader's deflection will now correctly see his image in the kill card.
- Darth Vader: Players who are currently being choked will not be able to interact with ingame objects, such as uplinks.
- Darth Vader: Increased the damage output on Darth Vader's Force Choke ability. It also now removes the effect of Adrenaline Stim.
- Leia: Trooper Bane ability will now pass through shields.
- Greedo & Nien Nunb: Other players are now unable to spawn on them when they are being attacked.
- Greedo: Resolved an issue in the UI for the confidence ability which didn't update correctly once the confidence decreases.
- Greedo: Changed Confidence 1 damage multiplier from 1.4 to 1.3. Confidence 2 damage multiplier from 1.9 to 1.7. Confidence 3 damage multiplier from 2.8 to 2.4
- Nien Nunb: Increased Proximity mine cooldown from 8 to 9s
- Nien Nunb: Decreased Rapid Pulse Canon damage multiplier to AT-AT from 150% to 100%
- Nien Nunb: Increased turret Lock Time from 0.8 to 1
- Nien Nunb: Increased Turret Unlocking Time from 0.2 to 0.25
- Nien Nunb: Decreased Augmented Turret damage from 22 to 20
- Nien Nunb: Decreased Turret damage from 15 to 14
- Luke: Increased Health from 925 to 1050
- Luke: Increased Blocking time from 4 to 6s