New Madden 18 Scams Target MUT Player's Wallets
If you are playing Madden 18, you will need to watch out for Madden 18 scams targeting Madden Ultimate Team players looking for coins and for free Madden 18 Legends.
As you try to build a better team in Madden 18's Ultimate Team mode you will find yourself hurting for Legends and for coins. You'll soon find a number of people telling you where to buy Madden 18 MUT coins and selling you information on how to get Madden 18 MUT Legends.
Read: Madden 18 Tips & Tricks
We will help you avoid paying for free Madden 18 MUT Legends and let you know about the potential issues from buying MUT Coins in Madden 18 outside of the game.
The first problem we are seeing is people selling information on how to get free Madden 18MUT Legends on eBay and other services. These listings charge $1.49 and up for information on how to get these legends. It's not technically a scam since you will get the information, but you don't need to pay for it.
The listings are just selling you the information to get the Twitch Prime MUT Legends. Here's a walkthrough of how you can get these Legends on your team without paying anyone for information. You need Twitch Prime or Amazon Prime, or a trial for one of these. Here's how to get 25 free MUT Legends with this promo.
The next thing you need to watch out for is paying for coins. This isn't a scam because in most cases you will get the coins you pay for, but you run the risk of being banned by EA for buying Madden 18 MUT Coins.
EA outlines the reasons that you cannot buy MUT Coins including that it's definitely against EA's rules. Other reasons not to buy MUT coins include;
It Raises Auction Prices
It Slows the Overall Growth of Other Players
It Unlevels the Playing Field
EA warns that your personal information may be at risk as some sellers use this as a phishing scheme. Specifically EA states, "Buying Coins, selling Coins, or promoting Coin Selling violates the Terms of Service and can result in actions against an account, up to and including a MUT and/or console ban."
Read: Madden 18 Problems & Fixes
While many sites claim that no one has been banned for buying coins, that's not true. Some MUT Coin selling sites will warn you that using their service could result in account termination, which is a fair warning.
A lot of players buy MUT coins without getting banned or without handing over personal information, but there is a chance using this Madden 18 cheat will leave you banned from MUT.
Madden 18 vs Madden 17: 11 Exciting New Madden 18 Features
Madden 18 Graphics Upgrades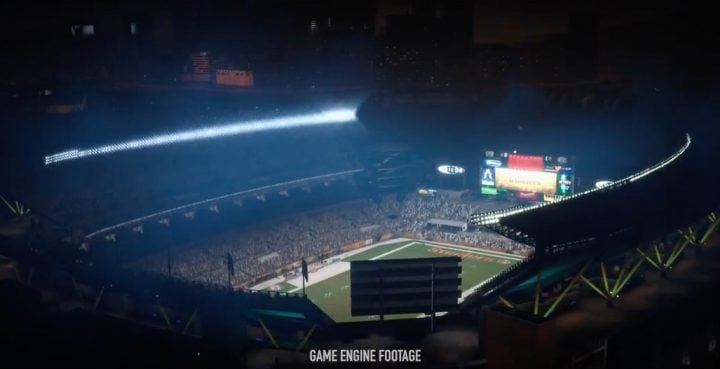 You can count on Madden 18 graphics upgrades thanks to the switch to the Frostbite engine. EA switched FIFA to Frostbite last year and this year it's time to upgrade Madden.
We get to see game engine footage in the Madden 18 teaser trailer below, but we don't see any head to head gameplay that reveal the changes you will see when you play.
The Madden 18 graphics upgrades we know about include better-looking stadiums inside and out. With Frostbite we will see city skylines and stadium exteriors. EA promises that you can, "watch the spectacle of NFL game day come to life in our most photorealistic game to date." Frostbite can deliver better-looking player faces as well. This is one of the places where FIFA upgrades were most noticeable.
EA promises more to come, but specifically, calls out the fireworks that you see in the video above, player runouts and "stunning" weather elements. Frostbite delivers impressive weather in Battlefield 1, and we hope that this means we will see more realistic weather elements in Madden 18.

As an Amazon Associate I earn from qualifying purchases.