14 Common Madden 18 Problems & How to Fix Them
Madden 18 is finally here and with it new Madden 18 features that will change how you play. We are also seeing Madden 18 problems that frustrate gamers who want to enjoy a competitive game of football on the PS4 or Xbox One. EA is still working on some Madden 18 bugs including missing G.O.A.T. edition content.
Here are the most common Madden 18 problems and how you can fix them on your own. Keep in mind there are some Madden 18 server problems that will prevent you from playing against friends, and for those you will just have to wait it out. There are also going to be some Madden 18 problems and Madden 18 bugs that you cannot fix. The good news is that the first Madden 18 update is planned for soon after release, so you can count on fixes coming through that in early September.
With new Madden 18 game modes, play styles and changes across the board, there are bound to be some bugs and issues once the game rolls out to millions of players. The aggressive catch is toned down even more this year and there is a new passing mode that you may have trouble adapting to.
Gamers typically complain about a variety of Madden 18 problems including missing MUT packs, slow downloads, Madden 18 EA Access problems and of course server problems and online party issues.
This is what you need to know about these Madden problems and how to fix them if you can do it without waiting for EA. Want to win more Madden 18 games? Check out our Madden 18 tips and tricks.
How to Fix EA Access Madden 18 Problems
The EA Access Madden 18 trial starts on August 17th. That's confirmed by EA, even if EA Help on Twitter has no clue about it. You can start playing on the 17th. We don't know the exact time, so if you don't see a download available, you may need to wait a little while longer.
That said, if other players are able to download the EA Access Madden 18 trial and you don't see it you can refresh the Madden 18 Store page by pressing LT + RT + Y multiple times until you see the trial.
If you start the download and you cannot play the EA Access Madden 18 trial, you may need to wait for the full game to download. EA recommends a complete download before you play.
You cannot get more time if your Madden 18 EA Access trial ends early. This is a 10 hour limit, and if you leave Madden 18 open, your time may expire. To prevent this, make sure you quit Madden 18 and if you want to be sure, open another game before you turn off your Xbox One.
If you cannot find the PS4 EA Access Madden 18 trial, your only problem is that Sony doesn't want EA Access, so you cannot play Madden 18 early on the PS4.
Madden 18 G.O.A.T. Pre-Order Shows as Standard
Most Madden 18 pre-order issues are related to Amazon not stocking the G.O.A.T. edition on the PS4 in disk form, but if you pre-ordered Madden 18 G.O.A.T. from the ad inside of Madden 17 with the 10% off discount you may only see that you pre-ordered the standard edition.
@EAHelp I pre-ordered Madden 18 GOAT edition from the ad in Madden 17, however I still got the normal game design. Do istill get everything? pic.twitter.com/8CdCz5nSPk

— IanThomasSZN (@MonkGOAT) July 22, 2017
EA is aware of the issue and is working on the problem. That means you don't need to do anything at this time. It is likely that EA will fix this before the release date arrives on August 22nd. If you see this, you are not alone, but there is no need to be concerned about missing out on your Elite G.O.A.T. player yet. You can send @EAHelp a message about it, but for the time being just wait a little longer.
How to Fix Madden 18 Download Problems
No matter what edition of Madden 18 you buy, you may run into problems downloading the game. This is especially true with the EA Access trial that requires you to download the full game, even if you plan to buy the game on disk. The Madden 18 download size is 36.49 GB, which means you will need to wait a while and you may see some slow downloads.
If your Madden 18 download is slow or it looks like your download stops the best thing to do is pause it and restart. If you have a network cable, you may see better download speeds using a wired connection.
On the PS4 this is super easy.  Go to downloads and press X to pause the download. Wait a second and then restart. On the Xbox One, go to the Games & Apps and then choose Queue. After that select the Madden 18 tile and choose pause installation. Wait a little bit and then re-install.
How to Fix Madden 18 Installation Problems
We expect to see some Madden 18 installation problems. Most often this is not a problem with your Xbox or PS4, or even with your network. When this happens you may see the Madden 18 Xbox One install stuck at 0% for a long time. If that happens you need to change some settings on your system. That said, make sure you have enough storage on your console or on an external hard drive.
You'll need to clear your Xbox One local save games. As long as you store the saves on Xbox Live, you son't lose any progress. Go to Settings -> All Settings -> System -> Storage -> Clear local saved games. Once this is done, go to Settings -> All Settings -> Network -> Network Settings -> Go offline. Now restart your Xbox One by holding the power button for 10 seconds. Put Madden 18 back in and install the game again before you go online again.
On the PS4, you may need to clear your PS4 cache to fix Madden 18 installation problems. Turn your PS4 off, unplug it for a full minute and then plug it back in. If that doesn't work, delete Madden 18 from your PS4 and start the installation over.
How to Fix Cannot Choose Most Madden 18 Game Modes
If you get the alert that you can start playing Madden 18, but then you cannot choose all of the Madden 18 game modes, the game is not likely completely downloaded or installed. Often you can play parts of a game while the rest downloads and installs. If you can't choose all the options, you will need to wait and try again when the download completes.
How to Fix Missing Madden 18 MUT Codes
Both of the Madden 18 editions include MUT codes that allow you to unlock MUT packs so you can build up your Madden Ultimate Team. You may see this code on your receipt or it may be bundled in the game. Either way, you may run into problems redeeming your MUT codes in Madden 18, at least during the first week.
Any missing pre-order bonus needs to be taken up with your retailer directly. Try customer service online or on social media, as many stores may not be able to generate the code needed. If you ordered online, check your SPAM folder.
How to Fix Missing Madden 18 G.O.A.T. Content
EA offers the following fix for missing G.O.A.T. edition content. "We know some of you have tried this already, but if you still haven't gotten your G.O.A.T. Edition packs: try hard rebooting your console by unplugging it, waiting 30 seconds, then plugging it back in again. Check to see if you've got your packs now."
If you don't see them yet, keep wiating as there is a rolling reset that may take 12-24 hours. EA shared this update on August 23rd.
If you bought Madden 18 G.O.A.T. and there was no code in the game box or the code did not work, you need to try it a second time. If that fails, contact EA support.
How to Fix This item has already been removed from your collection error in Madden 18
If you go to open a pack in Madden 18 and you see the error, "This item has already been removed from your collection," you should still have the content, it's just hiding in your binder.
EA says, "If you get this error when you open a Pack, you should still have gotten the items from it. Check your Item Binder. All unopened Packs can be found on your Packs screen."
How to Fix Madden 18 Online Problems
Madden 18 online problems and Madden 18 server problems can stop you from enjoying the game. If you cannot play online, you should check to see if there are any Madden 18 server problems or an outage. You should see a Madden 18 server status page appear here in the near future.
The first thing to do is restart your console. This can help fix many problems, and you should also check your local internet connection. From there, you can check to see if your console sees the Internet and online gaming services.
On PS4 – Go to Settings -> Network -> Test Internet Connection.
On Xbox One – Go to Settings – All Settings -> Network -> Network Settings -> Test network connection.
From there, check out basic connection troubleshooting including clearing the cache, disabling firewalls and restarting your network and console. If you still have Madden 18 connection problems, you may need to add exceptions for ports that Madden 18 uses. Here are the UDP and TCP ports that you need to adjust for Xbox One, and PS4. These should remain unchanged for Madden 18.
How to Fix Madden 18 Framerate & Audio Problems
When you see odd framerate and audio glitches in Madden 18, it's time to restart your console. We haven't seen this one yet, but it was a common issue in Madden 17, and you should know how to fix it if you run into any of these issues.
If you see any kind of lag in graphics or glitches, restart your console and see if that fixes it. In most cases, this will solve the problem without the need to make any other changes.
How to Fix Cannot See the Ball in MUT Squads
While playing MUT Squads there may be times when you cannot see the ball. This is by design as the camera is focused on the controlled player. So if there is a throw or run to the other side of the screen, you may miss out on it.
You can press up or down on the d pad to change the camera to one that shows you more of the field.
How to Fix Not Being Able to Play Modes and Features in MUT
EA changed up MUT in Madden 18, and you may find that you cannot play some modes or use some features in Madden Ultimate Team right off the bat. If this happens to you, it is because you are not leveled up enough. You need to play some challenges to level up more. You gain XP by completing objectives and playing games.
How to Fix Cannot Get EA Account Verification Codes in Madden 18
Some users cannot get an EA Account Verification Code in Madden 18 when signing in on a device that isn't trusted yet. There is a workaround for this. EA offers the following steps:
Log in to your EA Account on origin.com.

If your computer is not a trusted device already, you'll get a code sent to you. Use that code on your Xbox to verify your account and get signed in.

If your computer is already a trusted device, go in to your EA Account and Billing Settings.
Click on the Security tab.
Click View next to your Backup Codes.
You'll get a code sent to you to use to view your Backup Codes. Use that code on your Xbox to verify your account and get signed in.

If you haven't written down your Backup Codes and put them in a safe place yet, now's a good time to do that. You can always use a Backup Code to get signed in to your account when you're in a pinch like this.
How to Fix Annoying Madden 18 Problems
If you still cannot fix your Madden 18 problems, you may need to uninstall Madden 18 from your console and re-install. This can be a lengthy process if you bought the game digitally, but it often fixes stubborn problems. Other than that, the next best thing is to restart your console.
We expect a fast Madden 18 update that will address bugs and other problems that pop up in the first two weeks of Madden 18 gaming, so once that arrives you will need to install it to fix some Madden 18 problems.
Madden 18 vs Madden 17: 11 Exciting New Madden 18 Features
Madden 18 Graphics Upgrades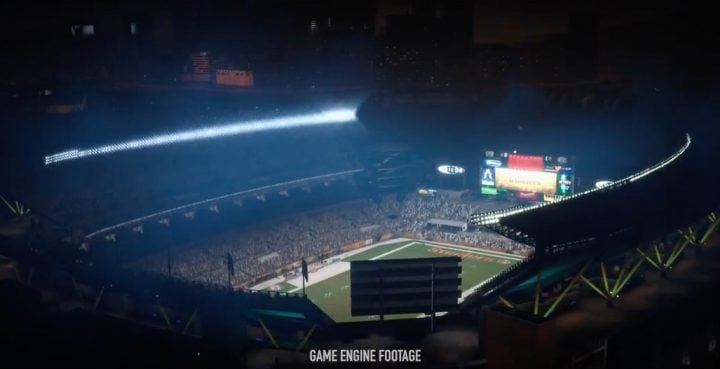 You can count on Madden 18 graphics upgrades thanks to the switch to the Frostbite engine. EA switched FIFA to Frostbite last year and this year it's time to upgrade Madden.
We get to see game engine footage in the Madden 18 teaser trailer below, but we don't see any head to head gameplay that reveal the changes you will see when you play.
The Madden 18 graphics upgrades we know about include better-looking stadiums inside and out. With Frostbite we will see city skylines and stadium exteriors. EA promises that you can, "watch the spectacle of NFL game day come to life in our most photorealistic game to date." Frostbite can deliver better-looking player faces as well. This is one of the places where FIFA upgrades were most noticeable.
EA promises more to come, but specifically, calls out the fireworks that you see in the video above, player runouts and "stunning" weather elements. Frostbite delivers impressive weather in Battlefield 1, and we hope that this means we will see more realistic weather elements in Madden 18.

As an Amazon Associate I earn from qualifying purchases.