Samsung Galaxy Android Oreo Beta Promises Early Upgrades
It looks like Samsung is cooking up an Android 8.0 Oreo beta for Galaxy devices and if we're lucky, it could touch down for two popular devices in the near future.
Google's promised a number of Android Oreo updates from third parties before the end of the year. While some companies have been outlining their plans in detail others, like Samsung, remain silent. That could change soon.
Samsung is reportedly working on Galaxy S8 Android Oreo updates and it looks like the two upgrades could make an appearance before they're officially released.
Samsung-enthusiast site SamMobile has dug up new Oreo firmware versions for the Galaxy S8 and Galaxy S8+. Those versions are G950FXXE1ZQI7 and G955FXXU1ZQI7.
The device names are in there, G950 (Galaxy S8) and G955 (Galaxy S8+), but the key component is the letter "Z" the company's tacked onto these updates.
Samsung uses the letter "Z" in its test firmware and the letter was present in the Android Nougat releases for the Galaxy S7 and Galaxy S7 Edge.
Samsung's Galaxy S7 Android Nougat beta program started in November and ended in December ahead of a public release in early 2017. Samsung hasn't unveiled a timeframe but we could see the Galaxy S8 Android 8.0 Oreo update arrive much sooner.
Android Oreo introduces a new feature called Project Treble which Google says will make it "easier, faster and less costly for manufacturers to update devices to a new version of Android."
A Galaxy Android Oreo beta isn't confirmed but the rumors make sense.
Last year, Samsung used its Galaxy Beta Program application on the Galaxy Apps store to launch the Galaxy S7 Nougat beta and we could see it use a similar process this year.
The company also limited the Galaxy S7 Nougat beta to a few devices in a few different regions. In the United States, only those on major carriers were allowed to test the pre-release software. The company also excluded the Galaxy S7 Active.
An Galaxy S8 Android Oreo beta would allow Samsung to use testers to discover bugs and issues ahead of a widespread release. In turn, it would allow Galaxy S8 users to use Android Oreo features before everyone else.
Samsung hasn't revealed its version of Android Oreo Nougat though it continues to popup ahead of the company's official announcement.
The Galaxy S8 Android 8.0 update recently popped up in benchmarks, a sign that it's in testing behind the scenes, and the company is reportedly planning to put Android Oreo on its rumored Galaxy S9 flagship. The Galaxy S9 release is rumored for early next year.
While devices like the Galaxy S8, Galaxy Note 8, Galaxy S7, and Galaxy S9 will almost certainly run Android Oreo at some point, there's no guarantee other popular devices will.
Phones like the Samsung Galaxy S6 and Samsung Galaxy Note 5 fall outside Samsung's standard two years of support which means they'll probably stick around on Android Nougat.
They might not get upgraded to Android Oreo but software support for those devices, and others, probably won't end anytime soon.
Samsung and its carrier partners around the world usually extend bug fixes and security patches to devices well beyond the two-year mark. The Galaxy Note 4 and Galaxy S5 recently got new security updates and they're still on Android Marshmallow.
With Android Oreo on the horizon the chances of a widespread Android 7.1.1 Nougat for older Galaxy phones and tablets appear to be slim.
Samsung's new Galaxy Note 8 is the first Galaxy device to run Android 7.1.1 Nougat.
3 Reasons Not to Install Galaxy S7 Nougat & 8 Reasons You Should
Install Nougat If You Want Better Security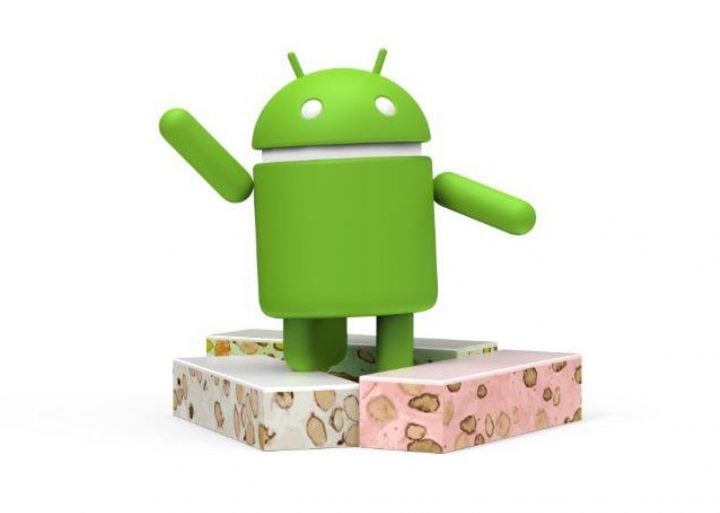 Let's start with some basics.
If you value your security, and most of you probably do, you'll want to think about installing an Galaxy S7 Nougat update soon after it arrives for your device.
Every month, Google and Samsung release important security patches for Android devices. Your Galaxy S7 and Galaxy S7 Android Nougat update should bring the latest security patches to your device.
Samsung's initial batch of Galaxy S7 Nougat updates delivered the company's January security update but the latest updates deliver newer security patches. You can read more about them over on Samsung's website.
If you failed to download or receive an older security update (May, June, etc), you'll also get those patches when you install Android 7.0 Nougat for the first time.
On top of the patches, Samsung's Galaxy S7 Nougat update brings Samsung Pass, a way to secure your identity using biometric data rather than entering your password or ID.
Samsung Pass is like a master key for your various logins and it relies on Galaxy S7's fingerprint scanner. The biometric data is encrypted and stored safely by Samsung Knox.

As an Amazon Associate I earn from qualifying purchases.