Sift Untangles Credit Card Benefits, You Save Big
We all know about credit card rewards and cash back, but there are tons of hidden credit card benefits that most people don't even know are included. These include extended warranties, price drop protection, return protection, a lot of travel insurance benefits and much more. You don't need to read through pages of fine print to know what your credit card can do to help you save money — you just need to install Sift.
The Sift app is a free tool that will help you identify and use all of the hidden credit card benefits that are linked to your cards. You simply need to install the Sift app, link it to your credit cards and then it will help you make sure you get all the benefits you are already paying for with your credit card. The Sift app is iPhone only right now, but we have a list of additional budget apps you can use to help make your money last longer.
We've long recommended using a credit card to protect your gadget purchases, and with price protection, you can even save on gadgets you've already bought. The odds are very good that you have many of these benefits already — even on free basic credit cards. Some of these include;
Automated price protection: Monitoring for price changes in a product and automatically securing refunds if a merchant or credit card have a price protection policy.
Damage and Theft protection: Offering up to 90 days of coverage in case your cell phones, electronics and high value items get damaged or stolen.
Free extended warranties: Providing free extended warranties for items including televisions, laptops and other electronics.
Extended Return protection: Extending the timeframe for returning merchandise that is unsatisfactory.
Trip cancellation protection: Get money back from your travel bookings in case something sudden happens and you need to cancel or delay your trip
Free car rental insurance: No need to spend extra money on car rental insurance as Sift lets you know which card to use so that you are covered by your credit card
Flight delay protection: Get reimbursed if your flight is delayed
Lost luggage protection: Get reimbursed if your luggage is lost
Sift can track and help you take advantage of the credit card benefits for 90% of all credit cards in the US. Knowing what your card offers and how to use it can help you save money after your purchases, as well as avoid wasting money on extended warranties and insurance options you don't need. The video below shows how the Sift app works.
The Sift app tracks your purchases to show you the benefits that apply to that purchase including any warranty or price protection and then makes it easy for you to file a claim if you need to. Sift already helped users get $200,000 in refunds from price drops when the app was in testing with a small number of users.
It's not complicated to use the service. Sign up, Shop like you normally would and then use the app to see what benefits apply to the purchases you've made. It should take you less than a minute to make your credit card work for you. You can download Sift on iTunes.
20 Best Apps to Make Money in 2020
Google Opinion Rewards - Make Money By Answering Questions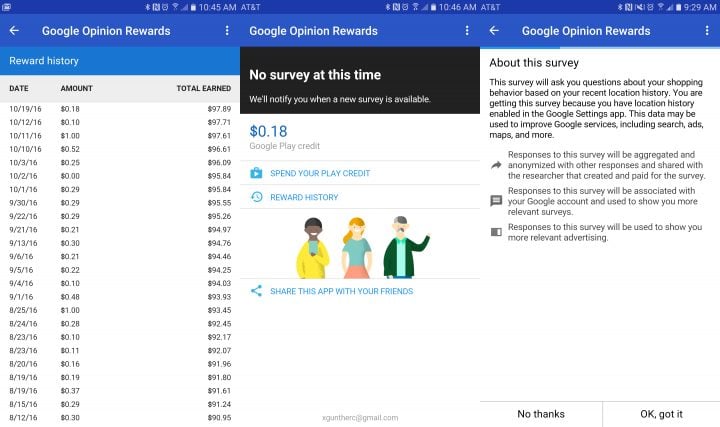 You can make money answering survey questions on your smartphone with Google Opinion Rewards. Also known as Google Surveys by many users, this free app rewards you for sharing your opinion. This works on iPhone and Android, but the best way to make money is on iPhone.
A member of the Gotta Be Mobile team earned over $100 with Google Opinion Rewards. All you need to do is answer questions and you'll earn anywhere from a 10 cents to a dollar. You can also answer Google Opinion Rewards surveys in stores to really earn more money.
The money that you make works for Google Play Credits on Android that you can use to buy apps, movies, books, and even spend on in app purchases for games like Clash of Clans without spending your cash.
iPhone users get the credit sent to PayPal when they have a balance of $2, which can happen every two or three weeks depending on how many surveys you qualify for. It's easy to earn when you start, but surveys may become less frequent as you go.
Download Google Opinion Rewards for Android and Google Opinion Rewards for iPhone.