The Real Reasons Smartphones and Poverty Go Together
Why does someone on welfare need an iPhone or a smartphone at all? This is a question we hear fairly regularly online and in person, as people observe someone using an iPhone while checking out with WIC, food stamps or some other form of welfare.
While it is a controversial subject, there are a number of important reasons that someone who is living in or near poverty carries a cell phone — even an iPhone. It is easy to judge someone else who needs help, but before passing judgment on the type of phone that someone is holding while they use food stamps or welfare there are plenty of factors to keep in mind.
We spoke to individuals who've been in that situation, social workers and employers to find out why people need a smartphone, and why people who are on some form of welfare might need a smartphone more desperately than people who aren't on welfare. We found that for many people living in poverty or near poverty, a phone isn't a luxury; it's a lifeline to a new job, training, contact with family and access to many of the services they'll need to get off welfare and back into the working world.
The most important thing to remember about someone who is on public assistance while using an iPhone is that circumstances can change very quickly. Just because someone loses a job or needs help doesn't mean they can get out of a multi-year contract for their iPhone or smartphone without a hefty cancellation fee that they cannot afford right now.
It is also just as possible that this is a completely paid off iPhone that has no cellular service but can still take calls and send emails when connected to WiFi.
Here is a closer look at why you shouldn't judge someone who needs help that owns an iPhone or smartphone of any kind.
Melanie Carlson, a social worker who works with victims of domestic violence and those experiencing homelessness shares why a smartphone is an essential tool for anyone, but maybe even more important for someone facing these problems.
"Many low-income clients need smart phones for the same reasons higher income people do, but their need is far greater. Primarily, because they don't often have computers in the home and rely on smartphones to connect to the web."
In the second half of 2016, a CDC study published in Forbes found that a large number of adults living in poverty (66%) or near poverty(59%) only have a cell phone to take calls on. By comparison, higher income adults are only 49% mobile only.
Carlson argues that when we evaluate the worthiness of access to the Internet and technology based on income, race, gender ethnicity and other factors we marginalize people. Carlson refers us to a report on the digital divide that is incredibly important in finding a job and simply living in the current environment.
"The digital divide is typically proposed as a lack of information and communication technology (ICT) access. The underlying warrant framing the digital divide as a "problem"—that information is a public good—positions information technology/access as a resource that all must have but some "have-not."
Carlson sums it up best in her conclusion to Gotta Be Mobile, stating, "Internet access is a human right."
One common thread noticed when discussing the need for people on welfare or food stamps to have a smartphone of some kind is that many times this is a device that does not include a cellular connection. While working with people in need, Carlson shared the following information about why a smartphone is arguably more essential to a person experiencing homelessness or in need than it is to someone who also owns a laptop and other devices.
"My clients often didn't even have data plans on their smartphones, but would go down the street to McDonalds and use their free Wi-Fi. My clients often experienced a lot of housing instability, which contributed to frequent address changes or a lot of house hopping. A common way to keep their lives in order was to maintain the same phone number and e-mail address. Increasingly, not only are most job applications online (of which low paid jobs often require lengthy personality tests), but also most states are moving towards centralizing the administration of benefits through online databases."
This is just a portion of why everyone needs access to the conveniences and advantages of owning a smartphone. We also learned about other reasons a smartphone is an essential tool for anyone to own.
Weather Alerts
Active Shooter Alerts
School Closings
Accidents
Real Time Public Transportation Information
The need to connect to the Internet does not stop when we lose a job or lose a home. In these situations, the loss of connectivity is an even bigger issue in recovering from a downturn.
Even though selling a used iPhone might raise some cash, this pales in comparison to the benefits that connectivity, even limited to public WiFi, delivers to users.
Employers are also very vocal about the need to connect with potential job seekers. Steve Silberberg of Fitpacking Weight Loss Backpacking Adventures, tells Gotta Be Mobile,
"As an employer, I want to hire the most skilled individuals possible. A person who doesn't have a smart phone (or doesn't know how to use one) is less skilled than someone who does. Furthermore, much of my business correspondence is electronic, so it's vital for someone who may not have a computer to have a way of electronically communicating via smartphone. Without a smartphone a person trying to improve their situation is crippled."
For people who are trying to find work, make ends meet or just raise enough money to get to a better situation access to a smartphone can make the difference in getting and keeping a job. The opportunities for short-term work that owning a smartphone provides can also play a role in earning extra cash. Sarah Blecher Partner and Director of UX at Digital Pulp tells Gotta Be Mobile,
"Finding and keeping a job is extremely challenging in today's world especially for those who don't have consistent living situation. Employers are less likely to hire or continue to employ people they can't reach reliably via phone and now via text message.
For those who can only work part-time a smart phone would allow them to earn money through services like care.com and taskrabbit.com that connect individuals with small jobs. The phone also would provide access to free online job training from coursera.com and codeacademy.com as a way to rise out of an impoverished situation. And with new employers services like GetSling.com promising the ability to schedule your non-desk employees seamlessly, a job may be out of reach if you can't afford a smartphone.

There are so many essentials to securing a keeping a job including the basics of reliable transportation, inexpensive food, and appropriate clothing but if freely available a smartphone could be a powerful tool for those struggling to make ends meet to get educated, find jobs, and stay employed."
David Bakke of MoneyCrashers outlines another important aspect of why someone on public assistance needs a smartphone, and why they might have a relatively new iPhone. Bakke tells Gotta Be Mobile, "close to 20% of those who receive welfare via the Aid to Families with Dependent Children program use it for fewer than seven months, meaning that their situation which requires assistance is usually only temporary."
When it comes to finding a job, a smartphone is an essential tool and more so for someone who might not have a laptop and home internet connection. Bakke explains, "According to Pew Research, households which earn less than $30,000 each year use their mobile device to look for information on jobs at double the rate of those who earn $75,000 or more, and are over four times as likely to send in a job application via their smartphone."
In an updated Pew Research Study we learn that nearly half of people in a household making under $30,000 a year don't have high-speed internet or a traditional computer at home, which means a smartphone is their only Internet connection.
The study further found that "In 2016, one-fifth of adults living in households earning less than $30,000 a year were "smartphone-only" internet users – meaning they owned a smartphone but did not have broadband internet at home. This represents an increase from 12% in 2013. In contrast, only 4% of those living in households earning $100,000 or more fell into this category in either year."
After speaking with experts and employers it's clear that a smartphone is an essential tool for everyone, even if they are currently homeless or receiving financial aid to make ends meet after a sudden change in their financial situation.
With the rise of apps to make money, and the benefits that come from using budget apps, there are very important reasons to have a smartphone, even if someone needs a hand.
The Best Budget Apps for 2020
Mint Budgeting App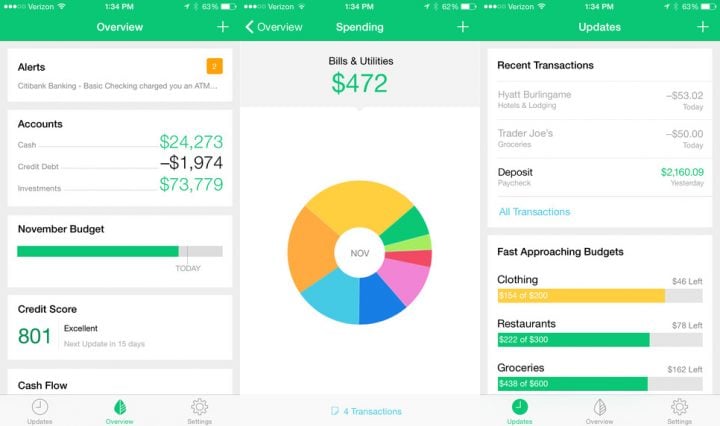 Mint is one of the best budget apps because it takes the hassle out of making a budget. You connect the Mint app to your bank and the app can use your details to help create a personalized budget. We love this budget app because it can help you quickly identify where you are spending your money, so you can see where to trim your current expenses as you make a budget.
It's a very easy app to get started with, so you can take the hassles out of starting a budget for 2020.
The Mint app uses the same security as banks and the team behind this service also makes TurboTax and Quicken, so you can trust that they take all possible steps to secure your accounts and your data.
Mint will send you alerts to unusual charges and helps identify tips customized to your spending that can help you reduce the money you spend on fees and on other bills. Mint also includes your credit score, so you can see a big-picture view of your budget and your personal finances. The base subscription is free, but there is an optional in-app purchase of Mint Live for $24.99.
With the Mint apps for iPhone, iPad and Android you can see your budget anywhere and there is also an online component to look at from your computer and a bill pay component to help you manage and pay your bills in one place.

As an Amazon Associate I earn from qualifying purchases.