Splatoon 2's October 2017 Splatfest Start Time & Details
The Splatoon 2 October 2017 Splatfest is finally here and, for a limited time, you can try a new stage in the multiplayer game for Nintendo Switch.
Splatfests are giant celebrations for everyone. Inkopolis Square gets a stage and, for one day, you can compete in Turf War battles with the rest of the game's community. Nintendo usually adds new stages and weapons to Splatoon 2 for each event and the October 2017 Splatfest is no different.
Here's everything that you need to know about the upcoming event for Splatoon 2 players.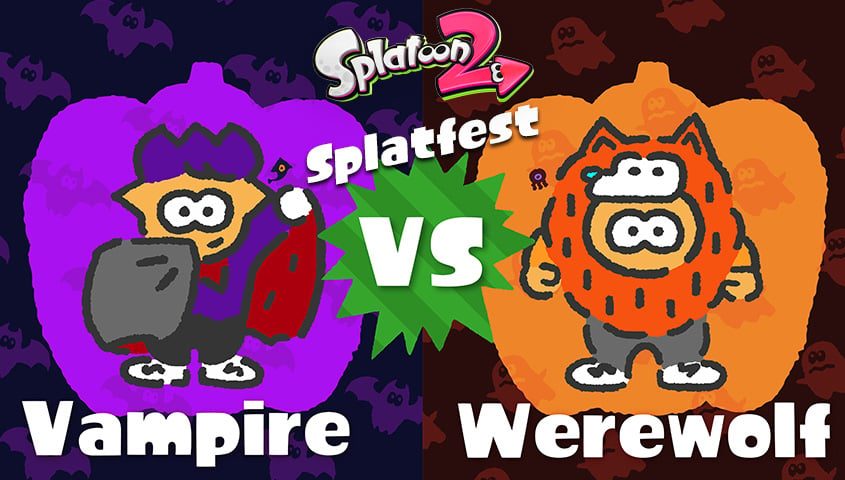 Read: 7 Nintendo Switch Tips & Tricks
When is the October 2017 Splatfest?
The Splatoon 2 October 2017 Splatfest starts at 9 PM Pacific Time on Friday, October 13th and ends on Saturday, October 14th at 9 PM Pacific Standard Time. This means the Splatfest begins at Midnight, October 14th Eastern Standard Time.
As with earlier Splatfests, this event is only for gamers in the United States. Other regions hold their own Splatfest events.
Read: Nintendo Switch review
The October Splatfest Battle Topic
The October 2017 Splatfest is all about Halloween. Each Splatfest, Nintendo gives gamers a topic. Players choose a side and battle for supremacy. Nintendo wants to know whether you prefer vampires or werewolves for this Splatfest. Vampires will sport purple ink and werewolves will shoot orange ink.
What's New for the October 2017 Splatfest
The October 2017 Splatfest has a small amount of new content for gamers in the United States.
During the event, you can buy two new paint weapons. Invest your currency wisely because you get to keep these two weapons long after the Splatfest ends.
At 7 PM Pacific Time and 10 PM Eastern Standard Time, you can buy the Custom E-liter 4K and the E-liter 4K Scope. These are both Chargers, which means they require you to charge them up before you can use them effectively. You can't cover as much of a stage with these weapons as you can with Sloshers and automatic paint weapons, which is important. Your team needs to cover as much of the level as possible in their ink to win a Turf War. To get these weapons, go to the Ammo Knights shop in Inkopolis Square.
An update earlier this week added the new Snapper Canal map to the game. You don't need to spend real money or in-game currency to get access to Snapper Canal. The game's multiplayer will offer it automatically.
Read: How to Find Splatoon 2 Amiibo in Stock & What They Do
How to Play in the October 2017 Splatfest
To play in the October 2017 Splatfest, you need a solid internet connection and a copy of Splatoon 2 for Nintendo Switch. It doesn't matter if you have a digital copy or physical copy of the game. All online multiplayer is free until 2018, so you don't need a Nintendo Switch Online paid membership either.
Read: 10 Splatoon 2 Tips for Winning Turf War & More
Once the October 2017 Splatfest has started in your time zone, open the game and let it check for any updates or tweaks. Look for the stage in the center of Inkopolis and choose a side to fight for. The side that has the highest personal wins and team wins has won the Splatfest, so be sure to do your best. Expect to earn in-game currency and XP the better you perform.
Read: How to Voice Chat in Splatoon 2
10 Best 2017 Nintendo Switch Games Coming
Sonic Forces
Featuring three protagonists, Sonic Forces will offer platforming and an all-new story when it arrives on video game consoles – including the Nintendo Switch – in 2017.
We know that Sonic Forces lets gamers create their own characters. Players must base this character on one of seven different classes that come with their own advantages and abilities. Sonic Team calls these custom characters "Avatars," and there are hundreds of cosmetic items for Sonic Forces players to add some style to their creation.
You can skip the custom character mode and enjoy two generations of Sonic game play: 2.5D and 3D. The 2.5D mode offers the classic side-scrolling Sonic experience from your childhood. 3D Mode plays more like Sonic Unleashed. All game worlds and characters are three-dimensional, just like they would be in a modern game.

As an Amazon Associate I earn from qualifying purchases.