8 Splatoon 2 Tips for Winning Turf War & More
Splatoon 2 is unlike any third-person shooter game that you've played recently, and that's why you need some Splatoon 2 tips to help you master it.
Like the original game, this new title for the Nintendo Switch encourages you to do things that you wouldn't normally do in a shooter. You win a Turf War by covering more of the level in your team's ink than the other team. You can target another player, but splatting them as many times as you can doesn't guarantee you victory. There are no vehicles in Splatoon 2. However, transforming into a squid lets you reload your ink canisters and move quickly through territory you've already conquered.
Start your Splatoon 2 career the right way. Use these Splatoon 2 tips to quickly get up to speed with the game's features and stack wins in Hero Mode and multiplayer.
Read: Splatoon 2 Release Date, Features & Details  
Ink the Level When There Are No Enemies Around
Again, it doesn't matter how many times you splat an opposing team member and send them back to the start area. Turf War wins go to the team that covers more of the level in their ink.
Begin planning your strategy the moment a Turf War begins. Paint walls and the floor in your team's ink. Search for places that haven't been touched, and remember to steal coverage from the other team by painting over their ink. Also, don't focus on the same area as the rest of your team members. Cover areas where other players aren't to build your team's percentage without much opposition.
Use Squid Mode to Move Quickly
Don't forget to turn back into a Squid when you can. This allows you to gather more ink and continue your assault on other players. Your character can quickly move through areas you've already covered in your team's ink when in squid form. This is one of the most important Splatoon 2 tips there are.
Buy the Nintendo Switch Pro Controller
If you aren't comfortable using the Nintendo Switch Joy-Con Controllers in a fast-paced game, buy the Nintendo Switch Pro Controller.
Amazon, GameStop and Best Buy all sell the Nintendo Switch Pro Controller for $69.99. The accessory ditches the quirky thumb stick configuration of the Joy-Cons for an arrangement that's more like the controller for Microsoft's Xbox One console. Because it's wireless, you can use this controller when playing Splatoon 2 on a table top or on your television.
Read: Best Nintendo Switch Cases Covers & Skins
The Splatoon 2 Nintendo Switch Pro Controller is available in the United States for a limited time for $74.99. This controller's paint job matches the game's case and color palate.
Use Your Ink to Slow the Other Team Down
Ink is for more than just winning. You need the ground covered in your team's ink to easily refill your weapons and move quickly. This also applies to your opponents, and you can use that to your advantage.
If a teammate is fighting off a rival, try covering the ground around that rival in your team's ink. This prevents them from quickly refilling their weapons to splat you. It also keeps them from easily getting away from you.
Use the Right Weapon for the Right Situation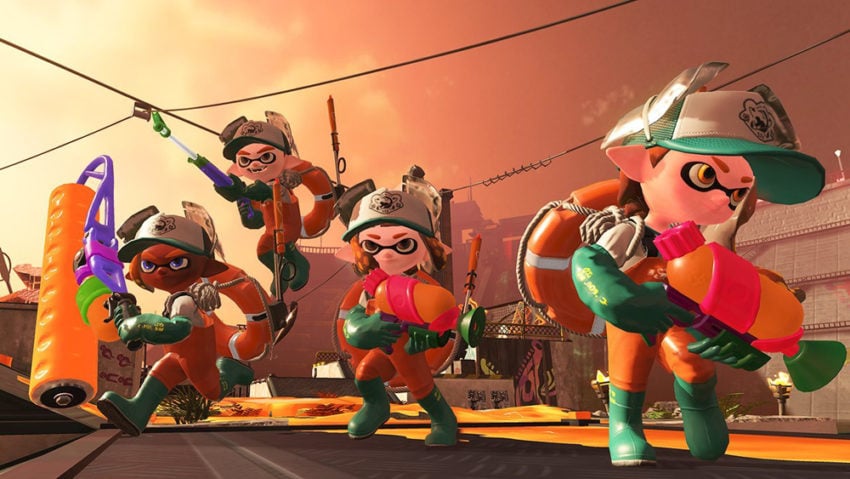 Splatoon 2 has many weapons, and you need to choose the right one for your play style and objectives. When choosing your weapon, pay attention to its mobility, range and handling ratings.
Shooters are basically rifles. They balance your ability to splat rival team members with your need to paint the level in your team's ink. The Shooter's Blaster subclass is slow to fire and capable of a lot of damage.
A player with a Roller can inflict lots of damage and cover a lot of surface area with ink. Brushes, the Roller's subclass, inflict a lot of player-on-player damage. On the other hand, a character that's carrying a Brush can move very quickly.
Chargers deal big damage over a long distance, and their Splat Bomb subclass give you a damage advantage.
Splatlings weigh your character down, which isn't good for mobility. Their range helps offset that disadvantage. The Sprinkler subclass can cover a large area in ink quickly.
Sloshers aren't guns at all. They're a bucket filled with paint that can cover a pretty big surface area. Their subclass, Suction Bombs, can also cover a large surface area with paint.
The last weapon type is the most exciting weapon added in Splatoon 2. Splat Dualies boost your mobility, and their Burst Bomb subclass helps balance their limited damage and range.
Change Out Your Gear for New Abilities
Use the in-game currency you earn to begin building out your Splatoon 2 character's wardrobe. As you do, be mindful that the items you purchase can have a big effect on how your character performs in Turf War or any other game mode.
Read: Splatoon 2: 5 Fun Things to Know
The glasses, clothes, shoes and hats that your character wears all unlock a different ability for you. Players with the game's 18K Aviators glasses unlock the Last-Ditch ability, for example. This Last-Ditch increases the amount of ink you can collect for the last 30 seconds of a battle. Splatoon 2 has 26 different abilities, according to Inkipedia.
Use the Nintendo Switch Online App for Voice Chat
Without talking to everyone else, it's hard to coordinate strategy in a Turf War, which makes this Splatoon 2 tip very important for multiplayer lovers. You should download the Nintendo Switch Online app to voice chat with other Splatoon 2 players.
Download the Nintendo Switch Online app from the iTunes Store and Google Play Store now. The app is the only way you can set up private matches for the other players in your friend list. You can with everyone before a match begins, and the app switches to team chat when you start a Turf War. It's the only way to check your career stats for Splatoon 2 as well.
Read: 13 Nintendo Switch Problems & Fixes
The Nintendo Switch Online app is free to download. Nintendo will begin charging users for online play in Splatoon 2 and other Nintendo Switch titles in 2018.
Play the Splatoon 2 Story First
If you've never played Splatoon 2 before, don't jump into the game's multiplayer first. Online play is brutal, and the gamers that play online daily have a big advantage over you. Instead, take your time and go through Splatoon 2's single-player experience.
Going through the story mode first gives you an opportunity to learn how the game's mechanics work. You will quickly identify your favorite techniques too. After an hour or so, go to multiplayer and use what you have learned to more effectively fight off rival teams.
10 Best 2017 Nintendo Switch Games Coming
Sonic Forces
Featuring three protagonists, Sonic Forces will offer platforming and an all-new story when it arrives on video game consoles – including the Nintendo Switch – in 2017.
We know that Sonic Forces lets gamers create their own characters. Players must base this character on one of seven different classes that come with their own advantages and abilities. Sonic Team calls these custom characters "Avatars," and there are hundreds of cosmetic items for Sonic Forces players to add some style to their creation.
You can skip the custom character mode and enjoy two generations of Sonic game play: 2.5D and 3D. The 2.5D mode offers the classic side-scrolling Sonic experience from your childhood. 3D Mode plays more like Sonic Unleashed. All game worlds and characters are three-dimensional, just like they would be in a modern game.