TurboTax Tax Return App: 5 Things to Know Before You File
The TurboTax Tax Return App is one of the most popular apps right now as many Americans rush to get their taxes done and get their return. Before you start doing your taxes in the TurboTax app, you need to read this information about how the app works, what the TurboTax Tax Return App costs and what you need to know about the safety of filing your taxes through an app.
What is the TurboTax Tax Return App?
The TurboTax Tax Return App is a tax return app that allows you to do your own taxes by walking through the steps and taking a picture of your W2 to simplify the process. It is free to get started and it is from a trusted brand.
The app is available on the iPhone, iPad and on Android. You can also work on the computer if you prefer to use it there. One nice thing about the TurboTax Tax Return tool is that you can easily switch between iPhone and computer.
This tool is designed with a W-2 in mind, but it includes tools to help you find deductions in your industry if you are self employed and it also includes an option to get live help from a professional who can see your screen.
Is the TurboTax Tax Return App Safe?
You may be hesitant to take a picture of your W2 with an iPhone or Android app and to enter personal information in an app, but as long as you make sure you are using the official version of an app like the TurboTax Tax Return app you are safe.
Speaking to Gotta Be Mobile, TaxACT spokesperson Jessi Dolmage says the first step to making sure your iPhone tax app is safe is to, "Make sure the app is from a reputable company and read the reviews." Dolmage also recommends making sure the app doesn't store a picture of the W2 to your camera roll where you might share it accidentally on social media and to always use a strong password. Here's more on how to tell if a tax app is safe to use.
Intuit, the maker of the TurboTax Tax Return App has a very good record and this app generally has good reviews.
How Does the TurboTax Tax Return App Work?
The TurboTax Tax Return App works by walking you through a series of questions about your financial situation. You can also take a picture of your W2 to scan that information in so that you don't need to manually enter it. This simplifies the process and it can help you avoid typos.
When you are using the app you you will on screen instructions and the app checks for common mistakes as you go, to help make sure you do things right and get the maximum refund.
You can use the SmartLook feature to get . TurboTax specialist on a chat and they can walk you through the process, including drawing on your screen to show you want you need to do. This feature costs extra.
Once you are done, you can e-file from your phone or use the web and you can pay right from the app or website.
How Much Does the TurboTax Tax Return App Cost?
The TurboTax Tax Return App is free to download and it is free to start doing your taxes. If you actually want to file your taxes it will cost money depending on the options and complexity of your filing. If you have simpler needs there are many great free tax apps for 2018.
While you will not see the price until you use the app and enter your information, you can get a good idea about it by looking at the TurboTax pricing breakdown online. TurboTax offers five options when you start on a computer and you can access most of these in the app. They are;
Free Edition – $0
Deluxe – $39.99
Premier – $59.99
Self Employed – $89.99
TurboTax Live – $149.99
Those prices represent the federal filing only and stat filing is extra. You may see different prices in the app, compared to online pricing.
TurboTax Tax Return App Reviews
Overall the TurboTax Tax Return App reviews are good with a five star rating on the iPhone App Store with over 100,000 ratings and a 4.3 star rating on Google with 49,500 reviews.
One common complaint is from users who end up with the wrong plan, or who don't agree with the end result and ended up having to file an emended tax return. It's a good idea to pay very close attention to the plan you select and what fees are associated with the app.
Now that you've handled your taxes, check out our best budget apps to stay on top of your finances in 2018.
The Best Budget Apps for 2020
Mint Budgeting App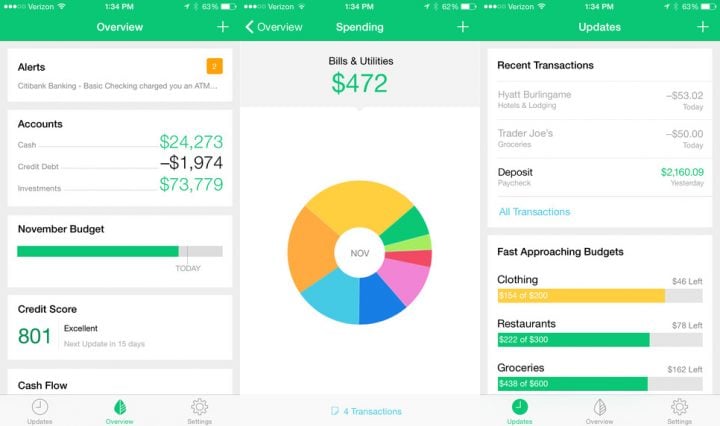 Mint is one of the best budget apps because it takes the hassle out of making a budget. You connect the Mint app to your bank and the app can use your details to help create a personalized budget. We love this budget app because it can help you quickly identify where you are spending your money, so you can see where to trim your current expenses as you make a budget.
It's a very easy app to get started with, so you can take the hassles out of starting a budget for 2020.
The Mint app uses the same security as banks and the team behind this service also makes TurboTax and Quicken, so you can trust that they take all possible steps to secure your accounts and your data.
Mint will send you alerts to unusual charges and helps identify tips customized to your spending that can help you reduce the money you spend on fees and on other bills. Mint also includes your credit score, so you can see a big-picture view of your budget and your personal finances. The base subscription is free, but there is an optional in-app purchase of Mint Live for $24.99.
With the Mint apps for iPhone, iPad and Android you can see your budget anywhere and there is also an online component to look at from your computer and a bill pay component to help you manage and pay your bills in one place.