Best Free Tax Software for 2018
This is the best free tax software for 2018. You can use this free online tax software to do your own taxes in no time and without any hidden fees. At this stage you should have everything you need to do your taxes, and some of these can even quickly import your information.
Do you make less than $100,000 and get a W-2 for your income? If you answer yes to those questions you can file a 1040 EZ or 1040A for your 2017 taxes without paying to file your taxes.
Read: Are Online Tax Apps Safe?
The 2018 Tax deadline is April 17th, not April 15th like you are used to. You can file federal taxes free and state taxes free with free tax software and apps from well-known tax preparation companies. After you file, use this guide to check your tax refund status.
If you have to pay in, check out the best apps to make money fast and the best budget apps to keep you on track.
Best Free Tax Software & Apps for 2018
These are the best free tax software options that you can use online, without spending money on software. Doing your own taxes is easy, especially if you work a normal 9 to 5 job and get a W-2 for your taxes. Even if you have student loans, this is something you can do on your own, for free. Here are the best free tax software tools and apps;
Credit Karma
H&R Block Free Edition
TaxACT Free Federal Edition
If you made less than $64,000 in 2017 (after payments for alimony or contributions to an IRA) you can use the IRS Free File Software to do your taxes without paying.
You can start using the free tax software, and if you discover along the way that you need to upgrade to a paid tool because of investments or other income, you can do that without losing your progress.
You can file your taxes free if you file a 1040EZ or 1040A using all of these tax software tools. The tools are online, so you don't need to download and install anything. You can use your PC, Mac, iPhone, Android or iPad.
After you file your federal and state taxes you will need to fill out a simple form for your local taxes. This is often very easy to do once you have the numbers from your federal taxes.
TurboTax Free: Absolute Zero
You can use TurboTax Absolute Zero to file your federal and state taxes free of charge. There are no hidden fees or costs to this, so you won't get to the end and see that you need to pay to actually use the software. You need to meet these requirements to use the free Turbotax tool to prepare and file your federal and state taxes in 2018;
Made less than 100k
Don't own a home or rental property
Didn't sell investments
Don't own a business or have 1099 income
Don't have major medical expenses
If this sounds like you, then you are able to get started online right now. You can use your iPhone or Android to take a picture of your W-2 and get a head start on your refund. This tool works with the Earned Income Credit and you can use self-help tools and tap into the Turbotax community with other questions.
Credit Karma Tax
With the Credit Karma Tax tool, you can file your federal and state taxes free, with support for more forms and situations than you'll find at TurboTax and some of the others. We love using Credit Karma to track our credit score and this is an excellent option for doing your taxes.
In addition to a normal W-2, you can even include 1099-MISC, other 1099 forms, and many other tax forms. This free tax software even handles 1040 Schedule C, Schedule E, and Schedule SE.
The Credit Karma Tax tool is easy to use and you can choose to e-file or to print and mail your form. You will need to use your browser on a Mac or PC to complete this as there is no Credit Karma Tax app this year.
H&R Block More ZERO Free Edition
With the H&R Block MORE Zero service, you can prepare and file your taxes free in 2018. This includes federal and state taxes with no hidden fees. You can import your previous taxes from TurboTax, TaxACT, and other companies.
Get a jump start by taking a picture of your W-2 to get the information into the free tax software from H&R Block. This is similar to TurboTax, as it is designed for simple filing situations with a W-2. You can add in the EITC and you can even import your 1095-A and various 1099 forms including 1099-INT, 1099-R and 1099-DIV. One plus to H&R Block is that you can use a 1040 with Schedule A if you itemize with the free option.
You get free technical support by chat, but you will not get tax expert advice. For that level, you need to upgrade to a paid plan.
TaxACT Free Federal Edition

The TaxACT Free Federal Edition includes support for 1040 AX and 1040A. You can import your W-2 from a number of companies, but if you want to import last year's TaxACT return you will need to pay $10. You can file federal and state free with the online tool.
While this may not look as fancy as some of the other options, it does have one big benefit. You get unlimited email and phone support that includes technical support and answers to tax questions. The support staff will not do your taxes, but they can help answer questions about them. If you are still struggling with your finances you can check out iva advice and solve your finance problems.
Choose to use this free tax software online, or download it locally so you can prepare and store your tax information offline.
Now that you've handled your taxes, check out our best budget apps to stay on top of your finances in 2018.
The Best Budget Apps for 2020
Mint Budgeting App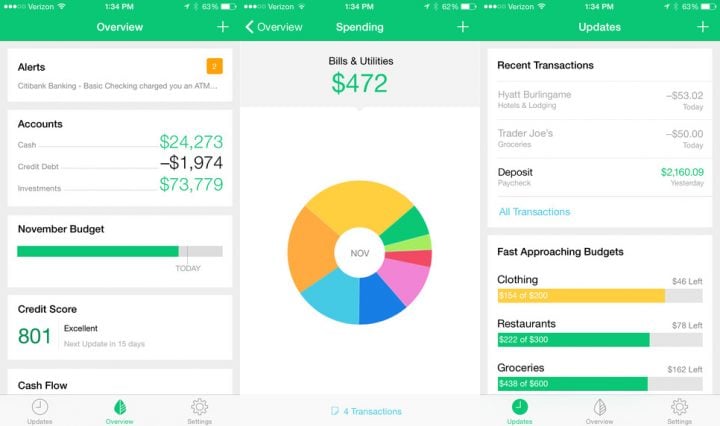 Mint is one of the best budget apps because it takes the hassle out of making a budget. You connect the Mint app to your bank and the app can use your details to help create a personalized budget. We love this budget app because it can help you quickly identify where you are spending your money, so you can see where to trim your current expenses as you make a budget.
It's a very easy app to get started with, so you can take the hassles out of starting a budget for 2020.
The Mint app uses the same security as banks and the team behind this service also makes TurboTax and Quicken, so you can trust that they take all possible steps to secure your accounts and your data.
Mint will send you alerts to unusual charges and helps identify tips customized to your spending that can help you reduce the money you spend on fees and on other bills. Mint also includes your credit score, so you can see a big-picture view of your budget and your personal finances. The base subscription is free, but there is an optional in-app purchase of Mint Live for $24.99.
With the Mint apps for iPhone, iPad and Android you can see your budget anywhere and there is also an online component to look at from your computer and a bill pay component to help you manage and pay your bills in one place.

As an Amazon Associate I earn from qualifying purchases.