Which Galaxy S10e Storage to Buy
This guide will help you decide which Samsung Galaxy S10e storage option to buy when you pick out your new phone. Samsung offers two storage options, and you can also expand your storage with a MicroSD card later, but you should still consider spending the extra $100 to double your storage because there is an extra bonus that comes with this upgrade.
With the larger Galaxy s10e storage option you also get more RAM, which puts the S10e performance right in line with the Galaxy S10 that is $150 more. If you go this route, you also get twice the storage as the base Galaxy S10 or S10+ which is a nice bonus. Here's a closer look at which storage option to buy when you pick out your Galaxy S10e.
How Much Galaxy S10e Storage Do I Need?
The Galaxy S10e storage comes in 128GB and 256GB and both sizes include MicroSD card support that allows you to add up to an additional 512GB of storage. This makes picking a larger Android storage option less of an issue, but it is a nice upgrade and you get 8GB of RAM instead of 6GB of RAM. That is a performance boost that isn't shabby.
Galaxy S10e with 128GB of Storage – $749 or $20 to $31 a month
Galaxy S10e with 256GB of Storage – $849 or $21 to $35 a month
The only price difference is $100 and that includes the extra storage and the additional 2GB of RAM. You can take advantage of all the Galaxy S10e deals when you buy the added storage.
You can buy the Galaxy S10e at Best Buy, Samsung, Verizon, AT&T, T-Mobile, Sprint and U.S. Cellular starting at $749 or as low as $12.48 per month.
Who Should Buy the 128GB Galaxy S10e?
If you plan to buy a MicroSD card, aren't going to use a lot of apps at the same time and you are planning to keep your photos backed up in the cloud, you should be able to use the 128GB Galaxy S10e storage option easily. Plan on spending $25 to $30 on a MicroSD card slot and using Google Photos to backup your pictures and videos.
This is a very capable phone at $749 and the 128GB base storage is enough for many users. This is double the base storage in the iPhone XR, and enough for many average users.

Who Should Buy the 256GB Galaxy S10e?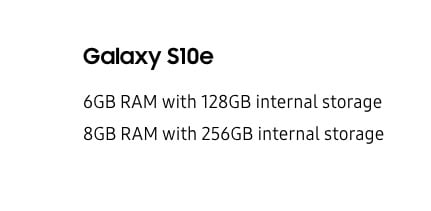 The 256Gb Galaxy S10e is the best value, and well worth the $100 premium if you plan to keep your phone for a long time and you are a power user. With the added RAM that this model gets, you will have the same performance as the Galaxy S10, double the storage of the base Galaxy S10 and a smaller form factor.
If you don't want to buy a MicroSD card right off the bat, want better performance and plan to keep your phone for more than two years, this is the option that you should buy. You'll have better performance over the life of your phone and while we hope it isn't the case, the extra RAM could be the difference between getting a future Android update from Samsung and not getting an update. Or at least between a good update and a sluggish one.
At this stage, you may want to consider going with the Galaxy S10 at 128GB, which includes a $130 gift certificate, the extra camera and the bigger screen if those things appeal to you. Keep in mind, that you need to spend an extra $250 if you want more Galaxy S10 storage, so it starts to get pricey.
7 Reasons to Buy the Galaxy S10e & 3 Reasons Not To
Buy if You Want an Affordable New Phone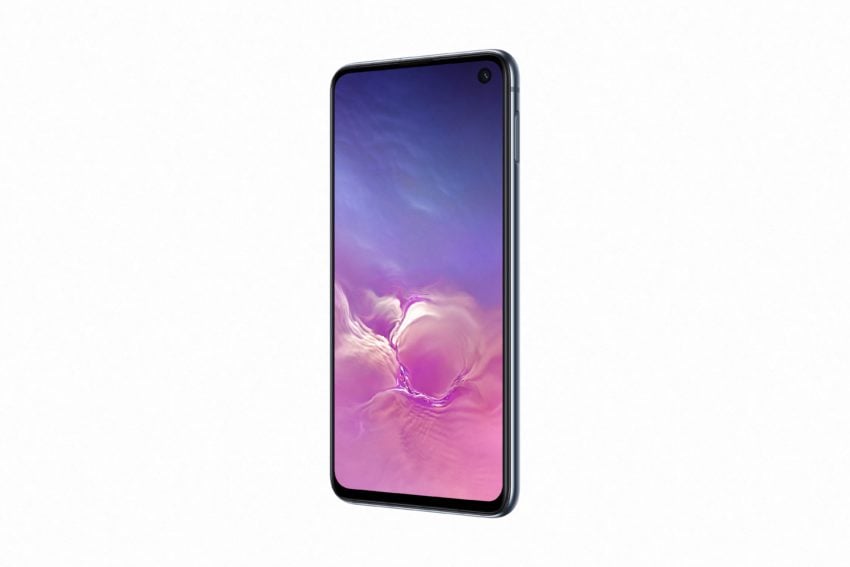 Are you looking to upgrade from your Galaxy S7 without spending a grand on a new phone or making your cell phone bill look more like a car payment? If so, the Galaxy S10e needs to be a device that you consider.
This phone is $150 less than the Galaxy S10 and you can even find deals that will let you get one for half off or a Buy One Get One deal that cuts the price even more. In short, this is a cheaper Android phone that is still going to do what most users need.
While I wouldn't recommend choosing the 36 month payment plans some carriers offer, you can get this phone without spending as much as you would for the Galaxy S10, LG G8 or the iPhone XS.
It's a sensibly priced smartphone with all the essential features, hence the name, and it's not using an old processor or outdated tech.

As an Amazon Associate I earn from qualifying purchases.