Which Galaxy S9 Color to Buy: Black, Blue or Purple?
This guide will help you decide what Galaxy S9 color to buy. Samsung's new phone is a sleek and sexy device, and choosing the right color is a big deal. You'll be happy to learn there are multiple different colors to choose from, three of which are available in the United States. If you're asking yourself, "which Galaxy S9 color should I buy?" These are your options and what you need to know.
Over the years we've seen a lot of great color options for Samsung's smartphones, but the Galaxy S9 changed it again. Every model is black on the front, with different colors on the sides and the back. That's because the huge 5.8 and 6.2-inch Infinity screens take up almost all the space.
Read: 15 Best Galaxy S9 Cases
In fact, you don't want colors on the front, as they're mostly full of sensors and cameras, which get hidden by the black bezels. If you were wondering, different front colors didn't look that great on the Galaxy S8. Additionally, all black makes the screen look bigger. So, should you buy the Galaxy S9 in Black, Blue or Purple? Those are your choices in 2018.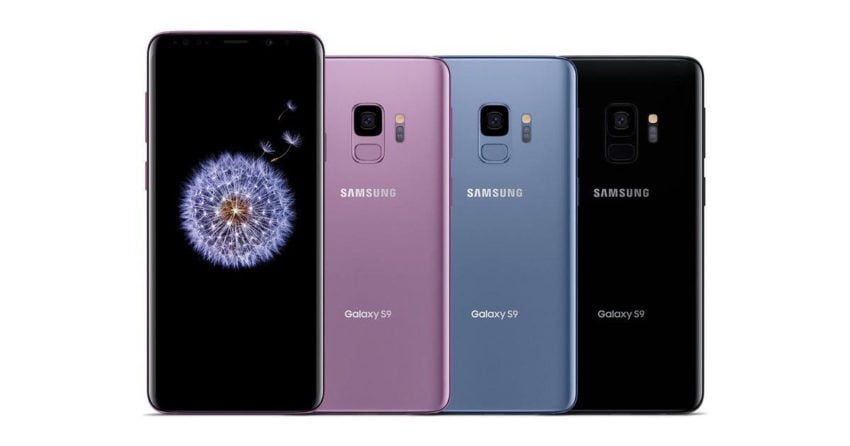 We've seen Coral Blue and a few other shades of blue on the Galaxy S and Note series, but nothing like what's available on the Galaxy S9. This year Samsung introduced a completely new Midnight Black, Lilac Purple, or a refined Coral Blue. The Blue almost looks like a greyish powered blue, which we really like. It's truly unique and something you'll really enjoy. Well, as long as you don't cover it with a case.
However, the color that is extremely rare and unique is that all-new Lilac Purple. Yes, a purple smartphone. As a reminder, the Galaxy S9 release date is March 16th.
Galaxy S9 Colors: Video & Entertainment
While this is all about personal preference, black is probably the best choice overall. It will show fewer fingerprints, fewer scuff marks, and be the best for watching videos or any entertainment. Black bezels on the front mean the huge 5.8 or 6.2-inch display blends in with the body, making it look bigger than it really is.
This may seem like a silly thing to think about, but it makes a big difference. From certain colors being fingerprint magnets to black looking extremely sleek and sexy.
Black just looks the best in my opinion, including the matte black sides, top, and bottom of the Galaxy S9. Additionally, with Black, you'll see the notification LED easier, which is a big deal to some users.
Read: 9 Best Galaxy S9 Screen Protectors
If you get a case, then it really doesn't matter what color you choose. That said, we recommend potential buyers head to Best Buy during the first few weeks of March and see all of the colors for yourself. We're hearing they might offer the Gray color too, eventually, but it's not available yet.
If you already know which one you want, click here for more information about buying the Galaxy S9.
Galaxy S9 Colors: Scratches and Discoloration
Another thing you'll want to consider when choosing a color is how easily it will scratch. Or, how easily those scratches will be visible if you're not planning on using a case. You don't watch a certain color to scratch easily, or to discolor after a year or so of use.
Keep in mind that any color you choose is pretty durable and protected. Samsung covers the front and back in strong reinforced Gorilla Glass. That means you'll get scratches on the glass, and not in the actual Blue or Purple color of your Galaxy S9. It will never scratch, fade, or start to look worn out. For what it's worth, gray will hide scratches in the glass the most, and black will be pretty noticeable.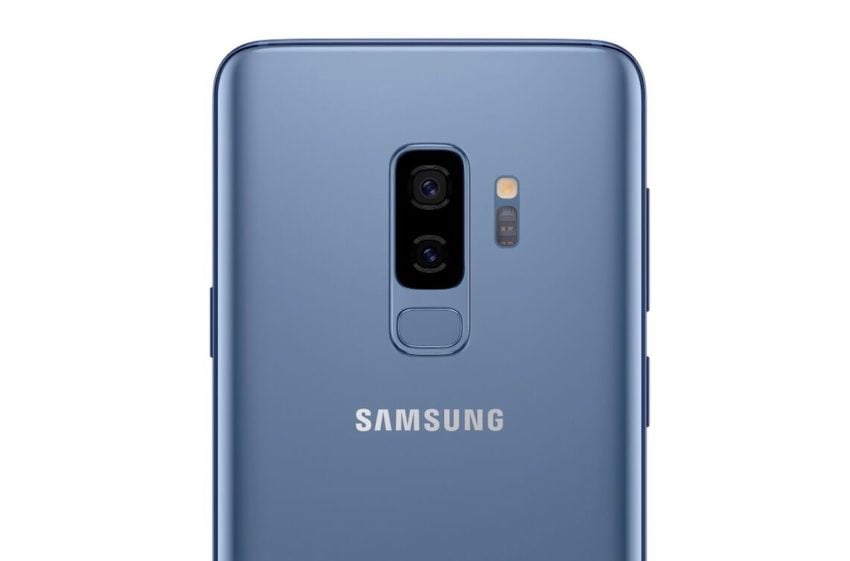 Personally, a good middle ground is the new Coral Blue color choice. As we said earlier, it's a mix between a greyish blue with a powder coat look in my opinion. It's really eye-catching and will look good without showing scratches.
Galaxy S9 Color: Oil & Fingerprints
Fingerprints are something we just have to deal with. Especially with a huge 5.8 or 6.2-inch screen. Due to the nature of the design, fingerprints and smudges are inevitable. The glass on front and back show everything, and they always will. The new Blue and Grey option will likely hide fingerprints the most, and black does pretty well too.
Again, we can't be sure until we get our hands on them ourselves. We recommend going to a carrier store or Best Buy and testing this out yourself.
Galaxy S9 Cases & Covers
Think about whether or not you'll use a case with the Galaxy S9 or Galaxy S9+. Personally, a case is highly recommended and a very good idea. These are durable phones, but they're not scratch or shatterproof. One drop is all it takes and you might have a shattered screen.
So, if you're getting a case, what color, or does it even matter. A case will cover almost the entire design of the Galaxy S9, aside from the front and maybe the back or bottom. You'll see nothing but Black on the front, and whatever color you choose will show on the back where the fingerprint scanner is located.
If you're not sure, check out this list of Samsung's official accessories.
Which Galaxy S9 Color Should I Buy?
So, in closing, which Galaxy S9 color should you actually buy? Well, that's completely up to you. In our opinion, they all look pretty amazing, and classy, but something about all-black just calls to me. That's the color I'll get, but the Coral Blue is a close second. Honestly, does it really matter though? They all look great.
In a survey of nearly 30,000 iPhone buyers from 2015, the black option was the most popular. The rest all ended in a tie. Things might be different here in 2018, so just choose whatever floats your boat. Here's the bottom line on picking a Galaxy S9 or S9+ color.
Midnight Black – You'll be watching a lot of movies, you don't like white phone fronts, and just love the sleek look and finish.
Titanium Gray – A good middle ground that is fancy and flashy, but not too bright or shows every single fingerprint. You won't use a case. (Grey is available for international markets)
Lilac Purple – You want a bright, vivid and crisp color that stands out from the rest. In certain light and angles, it looks extremely unique. You probably won't use a case, and most people won't have the same color Galaxy S9 as you. It's kinda special.
Coral Blue – You want a uniquely beautiful and noticeable Galaxy S9. Coral Blue is smooth yet eye-popping, a bit underappreciated, and looks great outdoors with the sun shining on it.
Let us know which Galaxy S9 or S9+ color you plan on buying, or if you even care. At the end of the day, a large majority of owners will simply opt to use a case, and buy whatever the store has available. This covers up the color but protects the curved glass screen. If you're still on the fence, here's a few Galaxy S9 buying tips followed by 10 cool things the Galaxy S9 can do.
15 Cool Things the Galaxy S9 Can Do
Unlock the Galaxy S9 With Your Eyes and Face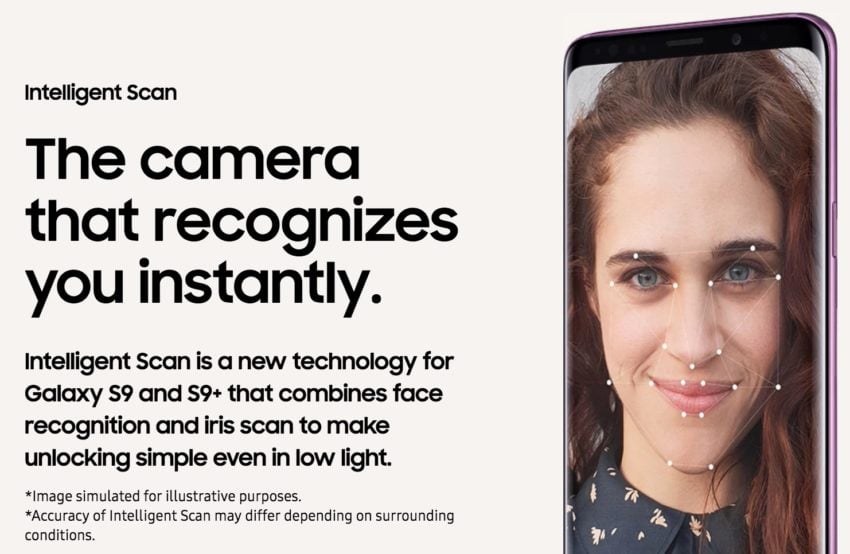 One of the coolest things about the Galaxy S9 is that you can quickly unlock it, even if you're wearing gloves or if your hands are wet. That's because it features technology that can scan your Face or irises to unlock your phone. We saw this with the Galaxy Note 8, but the Galaxy S9 scans both so it's faster and more accurate.
The fingerprint scanner is on the back and it's hard to reach for some users. If so, use the cool new Intelligent scan feature. The Iris scanner works well, even through glasses. It is similar to Apple's Face ID technology found on the iPhone X.
You can unlock your Galaxy S9 with a fingerprint, PIN, password, pattern, swipes or full facial scan, but the Iris scan is the best and most secure option. In fact, if you use Samsung Pay the only choices are a fingerprint or Iris scan.