The 2017 Mazda 6 delivers a better than expected driving experience, a very nice interior and a collection of driver convenience features that will help keep you safe. Mazda isn't just marketing when they say that a little bit of what they do on the track trickles down to each of the Mazda lineup. The 2017 Mazda 6 isn't going to deliver quite the same feeling as the Miata MX5, but it's definitely a fun family car.
Stacking the 2017 Mazda 6 up against the Ford Fusion, Hyundai Sonata, Chevy Malibu and the Toyota Camry leaves us in love with driving the Mazda 6, but missing out on the technology features Ford, Chevy and Hyundai offer like CarPlay and Android Auto.
The 2017 Mazda 6 starts at $21,945 for the Sport. The Sport and Touring models are available with a manual or automatic transmission. The 2017 Mazda 6 Grand Touring we spent the week driving starts at $30,695 and with the GT Premium Package, Cargo Mat, Metallic Gray Paint Charge and Door Sill Trim plates came to $34,530 with destination charges. The GT Premium package includes;
i-ELOOP regenerative engine braking system
Active Grille Shutters
Heated rear seats
Heated steering wheel with unique stitching
Black headliner
Nappa leather-trimmed Sport seats
Bright finish power seat switches and glove compartment knob
LED accent lighting for shifter area
This upgrade is very interesting since it adds luxury upgrades as well as heated rear seats and also an option that can help you get better fuel economy by powering your car's electronics when you brake. Mazda claims this will add up to 5% fuel economy and it frees up the engine's power to go towards driving instead of electronics.
[letsreview]
2017 Mazda 6 Driving Experience
The 2017 Mazda 6 is very fun to drive, in fact it's the most fun we've had driving a five passenger car this year. It's not a sportscar, but that doesn't mean that Mazda dumbs down all the inputs. Mazda adds G Vectoring Control in 2017, which is also new on the Mazda 3. G Vectoring control is a new feature that makes small adjustments to the torque to improve steering by moving the weight of the car towards the front wheels. Getting the weight of the car to the front before turning is actually one of the things you'll learn at track school, so it's not shocking to see Mazda add this as a standard feature.
There is only one engine option for the 2017 Mazda 6, but it is a very capable SkyActive G 2.5L DOHC 4 cylinder engine. The Mazda 6 GT is only available with a automatic transmission, but you can get the Sport and Touring models with either automatic or manual. We came away impressed with the automatic transmission that offers crisp, quick upshifts and plenty of acceleration. Switch into Sport mode and the Mazda 6 dials in the fun even more with a ride that will keep you entertained.
Mazda hits the sweet spot of power, braking and excellent steering to outclass the competition when it comes to a fun five seater. Even with a fairly firm ride, it's still comfortable on longer road trips, even on poor roads. The Mazda 6 is only available in front wheel drive.
Fuel economy is good and, with the technology package, it jumps form 26 mpg city to 27 mpg city thanks to active grille shutters and the i-ELOOP regenerative engine braking system. If you want the other features in the Mazda 6 GT Premium package, this is a nice icing on the cake.
2017 Mazda 6 Design & Interior
The first thing that strikes you about the Mazda 6 design is the sweeping lines and curves that make you think you're looking at more than a traditional sedan, and we already know that carries over into the driving experience. Mazda nails the design of the Mazda 6 with beautiful curves sweeping over the quarter panels at the front and the back. From the perfectly proportioned grille and front end to the back, it's tough to find a bad angle to look at this car.
Inside there is a good deal of room, but you will find a little more room in the Ford Fusion. Interior material quality is top notch, especially with the Nappa Leather Trim included in the GT Premium package. The seats are all comfortable and the driver seat offers a good deal of adjustments to get everything just right, thanks to 8-way power adjustments, with a power lumbar control.
The backseat is more than spacious enough to handle two adults, but don't try to put a grownup in the middle seat in the back. There are connections for two car seats in the back. Overall the Mazda 6 is quiet inside, but it's not as quiet as others in the class. There is a spacious 14.8 cubic foot trunk that will hold luggage, groceries, golf clubs and more with ease. The backseat folds down in a 60/40 split and you can release the seats from the trunk, which is where you most often need to trigger it.





















2017 Mazda 6 Technology & Safety
Mazda lags behind the competition when it comes to infotainment. There is no support for Apple CarPlay or Android Auto, so you will need to rely on the stock Mazda infotainment system. This system is fairly good, but it's no match to the integration for messages, music and navigation that you get with CarPlay or Android Auto. The good news is Mazda is working on CarPlay and Android Auto Support and plans to roll it out as an upgrade for existing vehicles with Mazda Connect. Unfortunately there is no timeframe or confirmed list of Mazda vehicles that will get the upgrade.
You can control the Mazda Connect system with the touch screen or with buttons and a dial located on the center console behind the shifter. It's a handy mix of input options and the only thing you'll really need to adjust to is the small volume control. The eleven speaker Bose sound system sounds good and the multitude of connectivity options let you connect your phone wirelessly or wired as well as listen to local and satellite radio.
The Mazda 6 key can stay in your pocket and you can lock or unlock the doors with a button on handle. You can also start the car with a push-button ignition. Steering wheel mounted controls allow you to change the volume, skip tracks and control other settings on the car.
Mazda's heads-up display is very handy. A small clear piece of plastic pops up to show you road signs, the speed limit and other important information. The car pulls this information from your surroundings with traffic sign recognition technology.
Convenience features like Lane Keep Assist, lane departure warning and radar cruise control are all there to help you stay on pace and in your lane while driving. We love radar cruise control because it will slow you down in traffic if the person in front of you can't stick with a consistent speed. The vehicle also offers blind spot monitoring and rear cross traffic alert, which keeps you safer and helps build driver confidence.
The Mazda 6 also includes smart brake support and smart city brake support. Smart City Brake support works at 2-18 mph. When the car senses an object it will move brake pads closer to the disc so you can stop faster and, if you don't take action, the car will apply brakes automatically. Smart Brake Support works at higher speeds and can trigger automatic braking at up to 99 mph.
Another standout feature is the adaptive front lighting system. This will turn the headlights to deliver better illumination around corners and there's a leveling function to keep your headlights from pointing in to the eyes of oncoming drivers. These safety features are standard on the 2017 Mazda 6 GT.
You Need These 10 Must Have Car Features: Find Out Why
Smart Cruise Control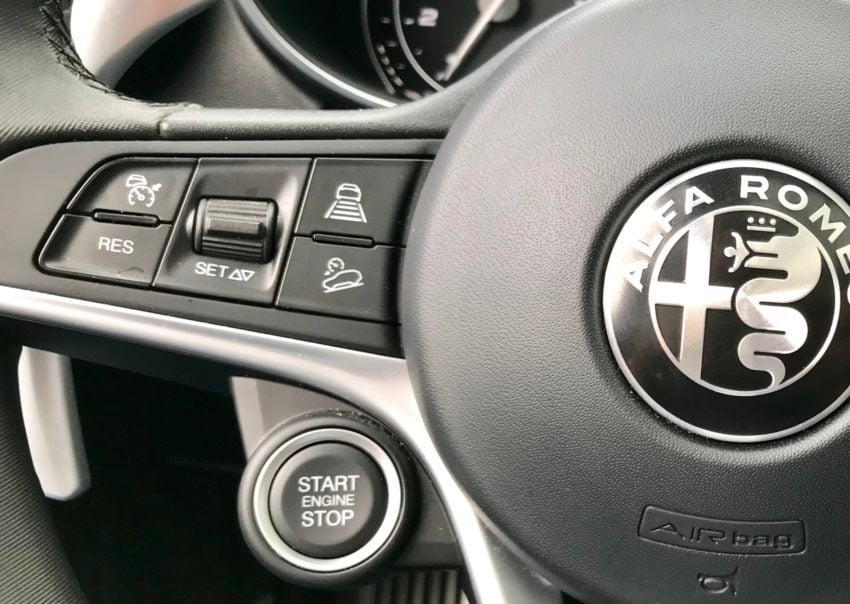 Do you hate constantly adjusting your cruise control, or giving up on cruise control because of traffic or due to a driver in front of you who keeps changing speed? You need a smart cruise control system.
Smart cruise control goes by many different names. You may see it listed as Radar Cruise, Adaptive Cruise or Intelligent Cruise control. Whatever it is called, it will allow you to set your cruise control and then stay with the flow of slower traffic.
Here's why we love it and why you need it. You get on the highway and set the cruise at 76 miles per hour. You also set the distance you want kept between you and the car in front of you. There are typically three or four settings so you can be close or keep a lot of space. Now you simply steer and your car will go 76 mile per hour when traffic allows it or there is no one in front of you. When someone is in front of you going 73 mph, the car automatically slows down to keep you the distance you choose from that car. This is indispensable in traffic and on long road trips.
Not all smart cruise control systems are the same. Some of work at all speeds, while others only work above a specific limit. Some systems can bring you to a complete stop in traffic and then restart without you needing to touch a pedal.
You can find adaptive cruise control on cars as cheap as $18,500 like the Toyota Corolla, and as an option on many cars below $30,000. Even on pricier cars you may need a higher trim level or special package to get this feature.

As an Amazon Associate I earn from qualifying purchases.