2018 Hyundai Sonata: 5 Things You Need to Know
The 2018 Hyundai Sonata is all new this year and it's a sedan that you cannot afford to pass up when you're shopping for a new car. You've probably seen the Duet Sonata ad on TV with two 2018 Sonata owners driving in traffic singing "Sweet Caroline." If that caught your attention, this is what you need to know about the 2018 Sonata. The new Sonata starts at $22,050 and is available in seven trim levels including a Sport 2.0T and Limited 2.0T with a2.0L turbocharged engines.
We tested the 2018 Sonata in Michigan in the Limited 2.0T that retails for $32,450 near Ann Arbor to see how it handles, how well the new design looks and just how much technology Hyundai can pack into the Sonata. This is what buyers need to know about the 2018 Sonata which starts at $22,050.
How Does the 2018 Hyundai Sonata Drive?
Before you can slide behind the wheel, you'll notice the new design of the 2018 Sonata that helps it stand out in a crowded market. The bolder new grill is just the start as the brings a new front and rear as well as a redesigned interior for 2018. the Sport gains a new look that was only available on the 2.0T trim levels previously.
Hyundai didn't change the engine options, but there is a new eight speed transmission on the 2.0L Turbo that we drove. They also made several changes to the suspension and steering to deliver better handling and a smoother ride. It's a change that paid off with a good performance on the highway when you need to pass and still capable of delivering a comfortable ride through town. The 2.0L engine option offers fast access to power so you can accelerate quickly when you need to get into traffic.
The new Sonata upshifts and downshifts well when in full auto and if you put it in manual mode the paddle shifters deliver responsive shifts. The Paddle shifter finish feels out of place in the upgraded cabin with a very plastic feel. Steering is good, and doesn't feel heavy even when you go into sport mode. This isn't a sports car, but you can still have a little fun on curvy roads. Buyers looking for a sportier ride should consider the Ford Fusion or the Mazda 6.
2018 Hyundai Sonata Tech Features
Hyundai knows consumers want value from a sedan, but that doesn't mean skimping on technology. The 2018 Sonata includes a 7-inch touch screen standard and a 8-inch touch screen option on the Limited. Both support for Apple CarPlay and Android Auto. The screen is responsive, easy to see and easy to reach from the driver seat. You can also trigger voice support from Hyundai or from your phone using the on steering wheel button.
Hyundai adds a Qi wireless charging pad for 2018 which can charge many Android phones as well as the new iPhone 8, iPhone 8 Plus and iPhone X. This is up front under the dash, and large enough to accommodate most modern phones. Hyundai also adds a USB port in the back seat, so your passengers can charge, which is a very important feature for road trips.
Hyundai Blue Link is standard for three years, which allows you to control your car from your iPhone, Android, smart watch and voice control with Google Home and Amazon Echo devices. You can remote start, set the temperature, turn defrost on and much more from your phone. It's a super cool feature and the voice assistant support is something you'll use a lot.
You also get real-time traffic on your navigation screen with the Ultimate Package for Limited and an upgraded Infinity Premium Audio system that sounds good.
2018 Hyundai Sonata Interior & Design
Hyundai upgrades the new Sonata with a new look for the steering wheel, instrument cluster and the entire center stack of controls and the screen. The result is a more modern look and a sportier steering wheel. This interior looks very nice and matches the upgraded exterior very nicely.
The blue accents on the seats look sharp and are an accent we think will age well as you own the car. Optional heated and ventilated seats allow you to comfortably ride no matter what the weather is outside. This is the new Black with Blue Accents interior. Hyundai also offers a new Black Cloth option and two new colors machine Gray and Electric Blue.
There's a new hidden trunk release button built-in to the logo on the trunk as well as a smart trunk open feature that can open when you approach the trunk without the need to press a button.
The backseat offers a lot of room for passengers. Even with the front seats set up for two tall adults, there is room for two adults to comfortable sit in the back, and there's good headroom.
2018 Hyundai Sonata Safety
Hyundai makes Blind Spot Detection standard on the 2018 Sonata, which is awesome. This is a feature that you need on any new car you buy in 2018, since it will make highway driving easier and safe. This also includes rear traffic alert, so you can back out of parking spots without worrying about a vehicle surprising you from the side.
All models come with a rearview camera and a remote keyless entry system with an alarm. Buyers can opt for features like;
Lane Keep Assist – the car helps keep you in your lane on the highway.
Automatic Emergency Braking with Pedestrian Detection – the car can stop to prevent a collision.
Smart Cruise with stop/start – The Sonata will stay a set distance from the car in front of you, can come to a stop in traffic and resume speed without you touching the pedals.
You'll need to go with the Tech Package for SEL or Ultimate Package for Limited to get these features. The Ultimate Package also adds Automatic High Beam Assist, Rear Parking sensors and a heated steering wheel. The Limited 2.0T is fully loaded with these safety features.
2018 Hyundai Sonata Price
The 2018 Hyundai Sonata starts at $22,050 plus a $885 destination fee. The top of the line model is $32,450, which is a price drop of about $2,000 from the previous model year, with more features included. Neatly half of the trim options offer more value for your dollar this year with lower starting prices.
Model
Engine
Transmission
MSRP
SE
2.4L GDI 4-cyl
6-Speed Automatic with SHIFTRONIC®
$22,050
Eco
1.6L Turbo GDI 4-cyl
7-Speed EcoShift® Dual Clutch Transmission

with SHIFTRONIC®

$22,650
SEL
2.4L GDI 4-cyl
6-Speed Automatic with SHIFTRONIC®
$23,700
Limited
2.4L GDI 4-cyl
6-Speed Automatic with SHIFTRONIC®
$27,400
Sport
2.4L GDI 4-cyl
6-Speed Automatic with SHIFTRONIC®
$25,200
Sport 2.0T
2.0L Turbo GDI 4-cyl
8-Speed Automatic with SHIFTRONIC®
$27,600
Limited 2.0T
2.0L Turbo GDI 4-cyl
8-Speed Automatic with SHIFTRONIC®
$32,450
The $1,000 Tech Package for SEL is a must buy. You get must have safety and convenience features at a bargain price. The Ultimate Package for Limited offers the a lot of value at $2,900 with a mix of safety, convenience and tech features. the bigger question buyers need to consider if they want these features is if they should consider the next jump up to the Limited 2.0T which includes those features and more for about $2,000 more than the Limited with the Ultimate Package.
You Need These 10 Must Have Car Features: Find Out Why
Smart Cruise Control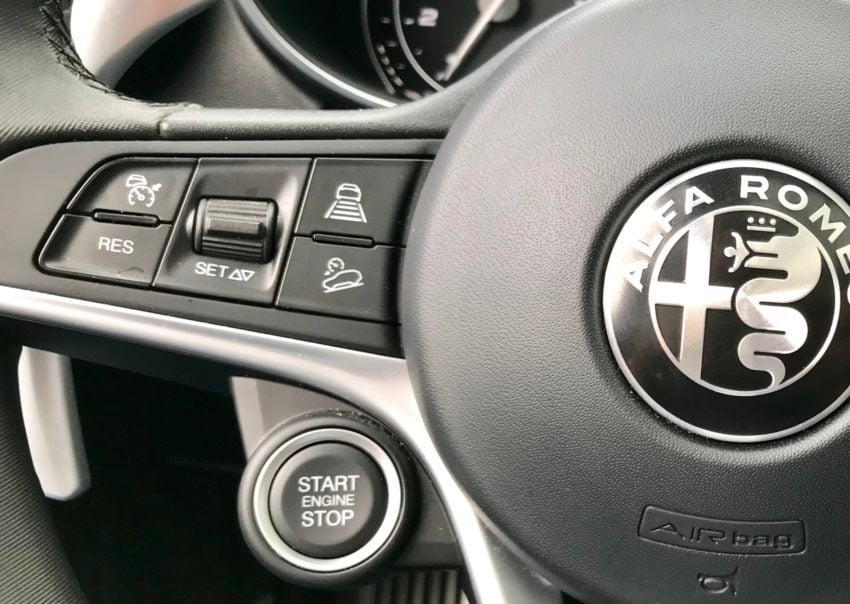 Do you hate constantly adjusting your cruise control, or giving up on cruise control because of traffic or due to a driver in front of you who keeps changing speed? You need a smart cruise control system.
Smart cruise control goes by many different names. You may see it listed as Radar Cruise, Adaptive Cruise or Intelligent Cruise control. Whatever it is called, it will allow you to set your cruise control and then stay with the flow of slower traffic.
Here's why we love it and why you need it. You get on the highway and set the cruise at 76 miles per hour. You also set the distance you want kept between you and the car in front of you. There are typically three or four settings so you can be close or keep a lot of space. Now you simply steer and your car will go 76 mile per hour when traffic allows it or there is no one in front of you. When someone is in front of you going 73 mph, the car automatically slows down to keep you the distance you choose from that car. This is indispensable in traffic and on long road trips.
Not all smart cruise control systems are the same. Some of work at all speeds, while others only work above a specific limit. Some systems can bring you to a complete stop in traffic and then restart without you needing to touch a pedal.
You can find adaptive cruise control on cars as cheap as $18,500 like the Toyota Corolla, and as an option on many cars below $30,000. Even on pricier cars you may need a higher trim level or special package to get this feature.

As an Amazon Associate I earn from qualifying purchases.