5 Things to Know About the New Amazon Echo for 2017
Amazon just announced a new Echo smart speaker that delivers better sound in a smaller package and comes with new Alexa Routines to streamline voice controls. This is what you need to know about the Echo 2, which Amazon is simply calling the Echo.
In addition to the new more affordable Echo, Amazon announced a Fire TV with 4K & HDR, the Echo Plus, Alexa in BMW cars and new Echo buttons as well as a box that lets your Echo call any phone, not just other Echo devices.
What is the Amazon Echo?
The new Amazon Echo is a smart speaker that you can use as a personal assistant to play music, check information, control your smart home and more. You simply say Alexa, and then a command. You can stream music fromAmazon Music, Pandora, Spotify, iHeartRadio, TuneIn, listen to NPR and many other services. You can also use Alexa to play something on your TV if you have a Fire TV.
The Echo is more than a speaker, and it's an upgrade form a Bluetooth speaker since you can control it with your voice and expect great sound in a small package. You do need to plug it to use it.
Amazon Echo 2 Price
The Amazon Echo 2 is on sale now for $99, but if you want some of the higher end colors and textures you will need to pay $119 for your new Echo. The Fabric options are $99 and the Oak, Silver and Walnut options will set you back an additional $20.
Amazon also offers a payment plan of five $20 payments or five $24 payments depending on the model you choose.
You can save $50 if you buy three of the new Echo units and use code ECHO3Pack when you check out. This works on all of the options. You cannot mix in the Echo PLus or Echo Spot with this deal.
What's New with the 2017 Echo?
The 2017 Echo is cheaper than the model it replaces, which makes it more affordable to put Alexa everywhere in your house. It's smaller, about half as big as the previous Echo, and it supports Multi-room audio. Amazon announced multi-room audio support for older models, but this is a big selling point of the 2017 Echo.
There is a 2.5-inch subwoofer, dedicated tweeter and now the Echo includes Dolby processing that promises better sound.
Amazon's 2017 Echo includes, "next generation far-field performance" that delivers better response to your wake word like Alexa, better noise cancelling and improved beamforming. Basically, expect your Echo to hear and understand you better across the room.
New Echo Release Date
The new Echo release date is October 31st. You can pre-order the new Echo today at Amazon and receive it on the release date with free two day shipping.  There is a chance that Amazon will sell out, but it's not clear how high the demand is. You may be able to buy the new Echo at Whole Foods this holiday season and can expect to see them at retailers like Best Buy, Bed Bath and Beyond, Target and other stores.

You can put the Echo in any room in your house.







New Echo Features & Skills
Amazon announced several new Alexa features that are coming to the new Echo as well as older Echo devices. You get these if you buy the $99 Echo, but if you are already invested you should see them arrive on your device in October.
Alexa Routines – Set something to happen when you say a specific keyword or at a specific time using the new Routines.
Smart Home Groups – Simply say turn off the lights, instead of a specific device to control the lights in the room your Echo is located instead.
Call Anyone – You can call your contacts or businesses using Alexa and your Echo.
The new calling feature is live today, and the other features come in October. You cannot call 911 using the calling feature unless you get Echo Connect and turn Echo into hands free calling for your landline.
19 Cool Things Your Echo and Alexa Can Do
Stream Music From Spotify, Apple Music Amazon Music, Pandora & More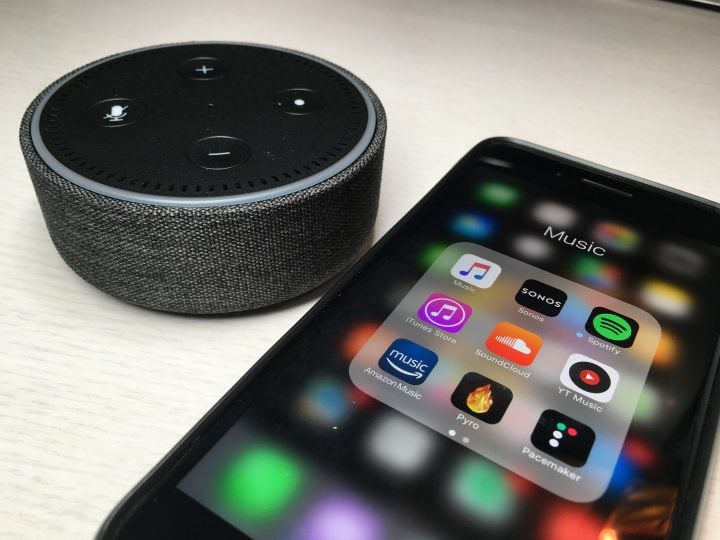 Alexa can stream music from Spotify to the Echo, Echo Dot or a paired Bluetooth speaker. You can also stream Amazon Music, Apple Music, TIDAL, Pandora, iHeartRadio or TuneIn radio to the Echo using your voice.
Open the Alexa app and tap on the menu in the upper left. Tap on Settings and then on Music & Media. Tap on the account you want to use and then link to your account by logging into the account. You need to have Spotify Premium installed for this service to work with Spotify.
You can log into all the accounts you have and when you ask Alexa to play you can say "on Spotify" or on a different service to choose where to listen. On the bottom of this page, tap on Choose default music services to pick the service Alexa should use if you don't specify.

As an Amazon Associate I earn from qualifying purchases.