2018 Toyota Corolla Review
The 2018 Toyota Corolla is an affordable daily driver that's reliable and well suited for owners who simply need a compact car to get them from A to B. The recently updated styling helps upgrade this car with modern looks and you get an impressive amount of room inside the cabin for a small car.
Starting at $18,600, the Corolla is well-equipped with Toyota Safety Sense P, and with many trim levels to choose from you can add-on most of your must have car features without breaking the bank. Toyota didn't change anything from the 2017 Corolla other than dropping the 50th Anniversary trim level.
Is the 2018 Toyota Corolla a Good Car?
The 2018 Toyota Corolla is a good car, but there are other options that buyers need to consider with better technology options and more engaging driving. The Toyota Safety Sense P includes a lot of must have safety features on all trim levels. With a modern look and more room than you'd expect in a compact car, you get a good value. The fuel economy is good with 31 mpg combined on the Corolla SE tested.
Before you buy, consider checking out the 2019 Hyundai Veloster, 2018 Mazda3 and looking at the 2019 Toyota Corolla Hatchback that includes Apple CarPlay support if this is important to you. You won't find CarPlay or Android Auto on the 2018 Corolla or the 2019 Corolla, it's a hatchback only feature so far.
[letsreview]
2018 Toyota Corolla Price
The 2018 Toyota Corolla starts at $18,600 and is available in six trim levels from L to XSE which starts at $22,780. The 2018 Corolla SE we tested is the trim level we recommend for most buyers. You can also get the SE with a six speed manual if you don't like the Continuously Variable Transmission found on the automatic versions.
The 2018 Toyota Corolla SE we reviewed includes the SE Premium Package for $1,535 which includes Entune Audio Plus with Navigation App, 7-inch touchscreen, 16-inch machined alloy wheels, LED Daytime Running Lights , moonroof and other upgrades.
With this price you also get ToyotaCare, which includes maintenance and roadside assistance for two years.
Driving the 2018 Toyota Corolla
The 2018 Corolla isn't a particularly engaging car to drive, which is fine if you are just looking for a car to get you to work, to the store and back home reliably. The ride quality is decent and it is comfortable for longer drives. The automatic transmission can drone on some, but it's not an awful amount of drone.
Ultimately the Corolla isn't about performance, but the CVT automatic is still slow to get up to speed compared to other cars in this class. When you test drive the Corolla make sure you take it onto an on ramp and merge into traffic to see if there's enough power under the hood for you.
The handling is surprisingly good. It's not sporty, but it is responsive and it combines with decent steering to make for a good, but not great driving experience. It's easy to keep the Corolla in your lane and it handles rough roads quite well. If you want something that is more fun to drive, look into a Honda Civic or Mazda3.
The 2018 Corolla SE is rated for 31 mpg combined, with 28 mpg city and 35 mpg highway.
2018 Toyota Corolla Interior & Design
While the 2018 Corolla is a compact car you still get a good amount of room inside. The driver and passenger area is spacious for the size, and there is room for four adults in the car. While the backseat isn't super-spacious there is enough room to fit an adult in there with a little legroom to spare and there is a good deal of headroom for the overall size of the Corolla.
The modern exterior is easy on the eyes and even sporty with a wide low grille and the upgraded rims on the SE Premium Plus package. This may not be the most fun car to drive, but it looks like a fun car on the outside.
The interior features a mix of material options. I like the accent trim on the inside, though I wish it matched the body color instead of being a blue interior trim with a red body color. The seats are comfortable and heated seats are standard on the higher trim levels.
All the controls are easy to reach, there are two cupholders in the center console and a decent amount of storage in the center console. There is no USB or charge point on the back seat and there is no vent in the center of the back seat area.












2018 Toyota Corolla Tech & Safety
The 2018 Corolla technology offering lacks Apple CarPlay or Android Auto support, which is something I miss greatly and that we find in cheaper cars. It is in the 2019 Corolla Hatchback, but not in the 2019 Corolla either.
On the entry-level Corolla you get a 6.1-inch touch screen, but with the SE and higher trim levels you get a 7-inch touch screen. The screen is easy to see, the Entune system is easy to use and you can stream audio, take calls on Bluetooth and even pair your phone up for navigation with Scout GPS Link. While I still prefer CarPlay or Android Auto, this is a decent option. You can control the system with your voice or using Siri Eyes Free.
I like that you get remote keyless entry, push to start, power windows and power door locks. The LED headlights and LED Daytime Running Lights are nice features.
The Toyota Safety Sense P is standard on all trim levels. This includes;
Pre-Collision System with Pedestrian Detection
Lane Departure Alert with Steering Assist
Automatic High Beams
The first feature helps keep you safe with warnings to apply the brakes, extra brake force when needed and even automatic braking in some cases. The Corolla will alert you if you are about to leave your lane and can even help steer you to keep you in your lane. It's not semi-autonomous driving, but it is a big help on long trips. You also get automatic high beams that turn on when needed and off when traffic is detected.
Dynamic Radar Cruise control, or smart cruise control, is one of the new car features you must have. This allows you to set the cruise control at a speed, like 70 miles per hour, and then it will keep that speed unless the car in front of you is going slower. If that happens you can choose how much distance to leave between your car and the car in front of you. This is an awesome feature on long road trips and during your commute. These safety and convenience features are standard on the Corolla, and are features you typically need to pay for on more expensive cars.
You Need These 10 Must Have Car Features: Find Out Why
Smart Cruise Control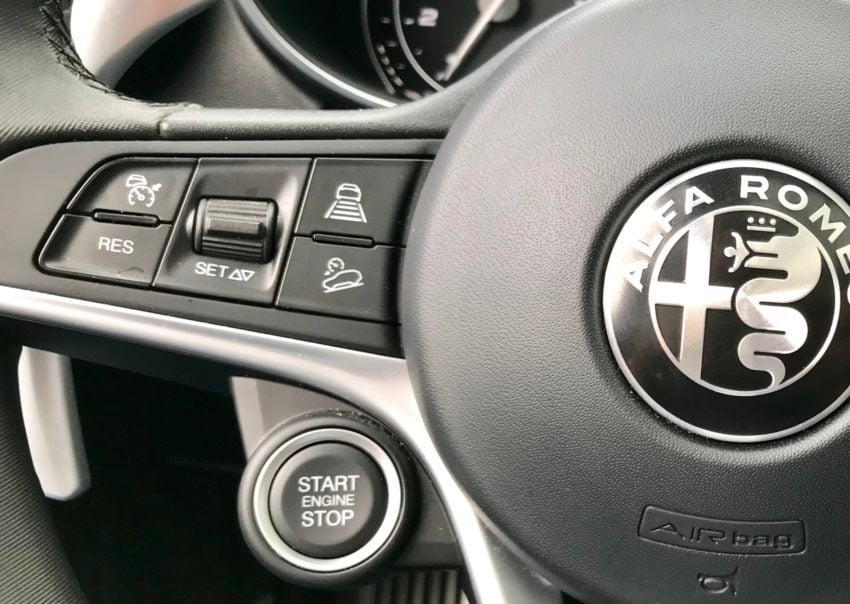 Do you hate constantly adjusting your cruise control, or giving up on cruise control because of traffic or due to a driver in front of you who keeps changing speed? You need a smart cruise control system.
Smart cruise control goes by many different names. You may see it listed as Radar Cruise, Adaptive Cruise or Intelligent Cruise control. Whatever it is called, it will allow you to set your cruise control and then stay with the flow of slower traffic.
Here's why we love it and why you need it. You get on the highway and set the cruise at 76 miles per hour. You also set the distance you want kept between you and the car in front of you. There are typically three or four settings so you can be close or keep a lot of space. Now you simply steer and your car will go 76 mile per hour when traffic allows it or there is no one in front of you. When someone is in front of you going 73 mph, the car automatically slows down to keep you the distance you choose from that car. This is indispensable in traffic and on long road trips.
Not all smart cruise control systems are the same. Some of work at all speeds, while others only work above a specific limit. Some systems can bring you to a complete stop in traffic and then restart without you needing to touch a pedal.
You can find adaptive cruise control on cars as cheap as $18,500 like the Toyota Corolla, and as an option on many cars below $30,000. Even on pricier cars you may need a higher trim level or special package to get this feature.