2019 Toyota Tacoma Review
The Toyota Tacoma is an excellent mid-size pickup that handles truck stuff with ease, but there a few catches that hold it back from being the best mid-size truck if you spend most of your time on the road without hauling or towing.
Even with a few shortcomings and increased competition from the Ford Ranger and Chevy Colorado, the 2019 Tacoma is near the top of the class and holds true to its roots as one of the leaders in this segment.
I tested the 2019 Toyota Tacoma TRD Sport in four wheel drive with the TRD Sport Premium Package and the Technology Package. As equipped, the Tacoma TRD Sport is $41,200 including destination. The 2019 Tacoma starts at $25,550.
Is the 2019 Toyota Tacoma a Good Mid-Size Pickup?
[letsreview]
The 2019 Tacoma features a stylish and bold look, a unique seating position and a lot of off road prowess, especially in the TRD Pro trim. While the competition is heating up with better interiors and upgraded on-road ride quality, the Tacoma still offers a lot of value to buyers.
With a very capable 3.5L V6 engine and the optional Tow Package you can haul up to 6,800 pounds or carry a 1,440 pound payload. In the mud and sand you have access to a wealth of handy features including Crawl Control and an electronic locking rear differential. We appreciated all of these features and the off-road prowess when we first tested the 3rd gen Tacoma.
On the road, you notice the off-road focus with a decent amount of wind and road noise coming into the cabin. It can be tough to have a conversation at highway speeds over the Bluetooth connection. The tech is lagging behind with no support for Apple CarPlay or Android Auto, but there are a lot of standard safety features.
Driving the 2019 Toyota Tacoma
The 2019 Tacoma is clearly designed to master off-road driving. The cabin has an awkward height to it where it feels like it needs a step bar or to be a little closer to the ground. I wasn't too bothered by this, but my wife was not a fan of getting in and out of the Tacoma. The driver position is unique in a pickup. Instead of having a floor that drops down like in most trucks or SUVs, the seat is very low to the floor, almost like a go cart. This helps with ground clearance, but does take some getting used to. I was able to find a comfortable seating position after fiddling with the seat and the wheel, but it would be nice to have more steering wheel movement and adjustable pedals.
Visibility is good with few blind spots and the Blind Spot Monitoring system that came as part of the $800 Technology package helped add a little extra convenience to highway driving.
When driving the Tacoma over bumps and rough roads without a load in the back, you'll feel the bumps. This is fairly common on pickup trucks, but it's something to keep in mind if you do most of your driving on the road. At that point, you should ask yourself if you need a pickup, or if a crossover is more fitting for your needs.
On the other hand, if you want to take th Tacoma offroad, it's ready to meet the challenge. You can see the 3rd gen Tacoma tackling off road obstacles in the video below. With the TRD Pro trim, you can really supercharge the off-road experience.
The 3.5L V6 offers up 278 horsepower and 265 lb.-ft of torque, which can tow 6,400 as equipped, or you can bump that up to 6,800 if you get the towing package. The engine sound is surprisingly pleasant for a V6. Acceleration is a little on the slow side around town, but switching into sport mode helps with that. That will eat into the middling fuel economy though, which is rated for 18 mpg city and 22 mpg highway. I was able to match these fuel economy numbers easily, but it's well behind the 2019 Ford Ranger.
2019 Toyota Tacoma Design & Interior
Toyota nails the 2019 Tacoma design with a rugged good looks that carry through and match up with smart features like a pickup bed with adjustable tie downs and an outlet to power your tools or gear. While most Toyota's feature massive grilles, the Tacoma keeps a perfectly sized grille that bolsters a strong front end. The unique ride height plays into the style of the Tacoma well, accenting the body lines and the angular tail lights.
Inside the Tacoma sticks with a strong look, but that means a lot of hard plastic materials instead of cushy high end cabins like we're seeing in many pickups. Ultimately this still works for the Tacoma, but the time is coming for a materials upgrade even with the focus on off-roading and getting work done. The Calgary Blue color of the Tacoma is a sight to see, and works really well.
The front seats offer a decent amount of room and there is a good amount of storage in the center console as well as in nooks throughout the cabin. USB ports are easy to access with flip up covers and the Qi wireless charging is handy. Buttons and controls are easy to use, even with gloves on. I love the power sliding rear window, and I wish Toyota would add the full power rear window from the Tundra.
There's plenty of room to haul passengers around in the dual cab configuration I tested, and the rear seats fold up to easily add more room for storage and to create a flatter surface to slide in items. By flipping the seats up, you can also put taller items in the back seat area.
2019 Toyota Tacoma Tech & Safety
While Toyota has come a long way with technology in their 2019 models like the Avalon and Corolla, the 2019 Tacoma does not get the Entune 3.0 update. That means no Apple CarPlay or Android Auto and an older infotainment system. While the Entune system isn't bad, it's not up to snuff with the tech that we expect in a pickup in 2019. if you want built-in navigation, since you can't use your phone's apps on the screen, you will need to opt for the Premium Package which is a $2,890 upgrade.
The touch screen is responsive and the system is quick enough that it meets your needs, but it's no replacement for full smartphone connectivity. I relied on Bluetooth and the Qi charger during my time with the Tacoma and found both worked well, though there were times having a conversation over Bluetooth was challenging due to the road noise and wind noise coming into the cabin.
From a safety perspective Toyota has it locked down with Toyota Safety Sense P standard. This is adds a solid collection of safety and convenience features to the Tacoma at every trim level. You get forward collision warning, automatic braking, pedestrian detection, lane departure warning, automatic high beams and adaptive cruise control. All these features work well and the adaptive cruise control is especially nice for longer trips on the highway.
You Need These 10 Must Have Car Features: Find Out Why
Smart Cruise Control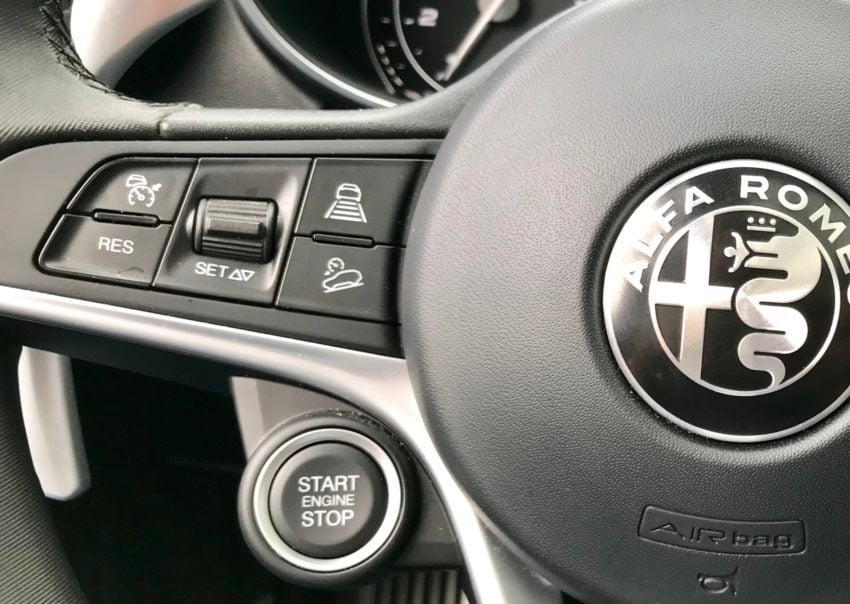 Do you hate constantly adjusting your cruise control, or giving up on cruise control because of traffic or due to a driver in front of you who keeps changing speed? You need a smart cruise control system.
Smart cruise control goes by many different names. You may see it listed as Radar Cruise, Adaptive Cruise or Intelligent Cruise control. Whatever it is called, it will allow you to set your cruise control and then stay with the flow of slower traffic.
Here's why we love it and why you need it. You get on the highway and set the cruise at 76 miles per hour. You also set the distance you want kept between you and the car in front of you. There are typically three or four settings so you can be close or keep a lot of space. Now you simply steer and your car will go 76 mile per hour when traffic allows it or there is no one in front of you. When someone is in front of you going 73 mph, the car automatically slows down to keep you the distance you choose from that car. This is indispensable in traffic and on long road trips.
Not all smart cruise control systems are the same. Some of work at all speeds, while others only work above a specific limit. Some systems can bring you to a complete stop in traffic and then restart without you needing to touch a pedal.
You can find adaptive cruise control on cars as cheap as $18,500 like the Toyota Corolla, and as an option on many cars below $30,000. Even on pricier cars you may need a higher trim level or special package to get this feature.