5 Things to Know About the Fallout 76 Power Armor Edition
Bethesda and its retail partners are selling three Fallout 76 editions including an expensive Power Armor Edition bundle that includes a copy of the game and some very interesting collectibles.
Fallout 76 is currently on sale ahead of its fall release date on Xbox One, PS4, and Windows PC. Those who pre-order a copy of the game will not only get to play the final version right when it arrives, they'll also get to try the beta when it arrives later this year.
While most people should pre-order the standard edition or the Tricentennial Edition, others might want to shell out for the Power Armor Edition. The Power Armor Edition comes with the most stuff and the most expensive price tag.
What is the Fallout 76 Power Armor Edition?
The Fallout 76 Power Armor Edition is 2018's equivalent to the Fallout 4 Pip-Boy Edition bundle from 2015.
In addition to a copy of the game, the bundle comes with some collectibles aimed at the most hardcore fans of the Fallout series. Instead of a real-life Pip-Boy, the bundle comes with a real piece of Power Armor.
The crown jewel of the bundle is the Full-Scale Wearable T-51 Power Armor Helmet. The wearable comes with a voice modulator speaker, functioning LED head lamp, and custom V.A.T.S. sound feature. It's perfect for cosplayers or those who simply want to add to their Fallout collection.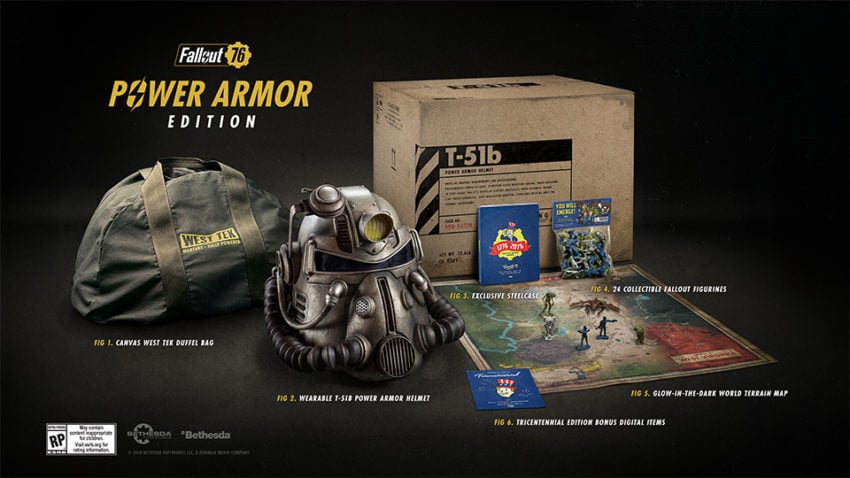 In addition to the helmet, you get a West Tek Canvas Carrying Bag to help you store your helmet and/or the other items from the bundle.
The Power Armor Edition also includes a 21 x 21 glow-in-the-dark World Terrain Map, 24 collectible Fallout figurines that've been crafted from in-game 3D models, a Tricentennial Steelbook case that's exclusive to this edition, all of the in-game bonus items from Bethesda's Tricentennial Edition, and access to the Fallout 76 beta.
Fallout 76 Power Armor Edition Release Date
Those who pre-order the Power Armor Edition bundle will get the game at the same time as those who pre-order the standard or Tricentennial Edition.
While some companies provide early release dates to those who buy the most expensive bundles, Bethesda's three editions share a release date.
The Fallout 76 Power Armor Edition is slated to arrive on November 14th in the United States and other countries around the world.
How Much Does It Cost?
The Power Armor Edition bundle is far more expensive than the standard and Deluxe versions of the game.
A standard copy of Fallout 76 costs the usual $60 without a deal while the Tricentennial Edition costs $80. The Power Armor Edition is $200. Fortunately, there are a few ways to save on the bundle.
If you are currently a Best Buy Gamers Club Unlocked member, you should be able to save the usual 20% on the bundle. Unfortunately, Best Buy isn't taking new GCU members.
Where You Can Buy It?
There are currently five retailers in the United States taking Fallout 76 Power Armor Edition pre-orders. The list includes Amazon, Best Buy, GameStop, Target, and Walmart.
Bethesda is also taking pre-orders through the Beth Store. There is a limit of one bundle per customer and the retailer will only ship to the United States.
We're also seeing the bundle popup on resale sites like eBay for exorbitant prices. Scalpers are, in some cases, charging nearly $400 for the rights to a pre-order.
Fallout 76 Power Armor Edition Stock
When the bundle first went on sale Bethesda said supply would be limited. It wasn't lying.
Amazon, Best Buy, GameStop, Target, Walmart, and Bethesda are all currently sold out of the Power Armor Edition and it's unclear when additional stock will emerge.
If you want to buy the bundle before the release date and you don't want to pay $300+ for it, make sure you track stock as we push through the summer.
We've already seen a few additional bundles emerge though they've sold out within minutes.
3 Reasons to Buy Fallout 76 & 7 Reasons to Wait
Buy If You Love Online Games & Fallout
If you like the sound of an online Fallout-style RPG, you might want to buy a copy of Fallout 76.
Fallout 76 is an online survival RPG inspired by games like Rust and DayZ.
It's much different than the Fallout games you're used to, but it still has quests, a leveling system, V.A.T.S. (though it's nothing like the V.A.T.S. from previous games) and tons of enemies to kill just like Bethesda's traditional single-player RPGs.
It also has base building (dubbed C.A.M.P.), something Bethesda introduced in Fallout 4 back in 2015. Fallout 76 allows you to build anywhere on the map.
Fallout 76 is more Fallout Online/Elder Scrolls Online than Fallout 5. If sharing an open, evolving Fallout world with friends sounds amazing, think about buying a copy of the game today, tomorrow, or sometime in the near future.