Fallout 76 Power Armor Edition: 7 Essential Tips
If you're thinking about buying the Fallout 76 Power Armor Edition or if you've already put in a pre-order, here are some tips that will help you avoid headaches ahead of the bundle's release date this fall.
The Fallout 76 Power Armor Edition is a $200 bundle that comes with a number of unique items though the crown jewel for many people is the full-scale Wearable T-51 Power Armor Helmet.
Most people will want to opt for the standard or Fallout 76 Tricentennial Edition, but the biggest fans of the Fallout series might want to invest in these collectibles to go along with a copy of the game.
In 2015, Bethesda released something similar alongside Fallout 4. The company's Pip-Boy Edition was highly sought after ahead of Fallout 4's release and it led to many problems and lots of confusion.
We assume Bethesda's learned some lessons from that launch, but there's still a a potential for issues given that the Power Armor Edition is a limited run.
With that in mind we want to take you through some tips that helped us stay sane during the Pip-Boy Edition fiasco and they should help you lock down a Power Armor Edition before November 14th.
If You Want It, Pre-Order It
If you want the Fallout 76 Power Armor Edition on November 14th you'll want to pre-order.
Bethesda says supply is going to be limited which means the bundle could potentially sell out in the United States, and elsewhere, prior to the game's release date.
If you've got your heart set on playing this game and more importantly these collectibles, pre-order ASAP. Most retailers allow you to cancel for free if you decide you no longer want to invest $200.
If you don't put in a pre-order, and you decide you want the Power Armor Edition, you might have to shell out for the bundle this fall.
If it sells out ahead of the release date, scalpers will try and capitalize just like they did with the Pip-Boy Edition. The Pip-Boy Edition was sold for $150, but scalpers on sites like eBay were charging more than $250 for the bundle.
If you really want a Power Armor helmet, but don't want to deal with this potential circus, you can find alternatives on sites like etsy.
They don't come with a glow in the dark map or a copy of Fallout 76, or a copy of the game, but there are some excellent third-party Power Armor helmets out there.
Track Stock
Retailers like Amazon, Best Buy, GameStop, and Walmart are taking Power Armor Edition pre-orders though we've seen stock fluctuate at all four as we've pushed away from the big announcements at E3.
Given Fallout's popularity and what Bethesda's said about limited stock, we expect stock to continue to fluctuate throughout the year. This is precisely why you'll need to keep a close eye on inventory.
We've put together a guide that will help you quickly track day-to-day Fallout 76 Power Edition stock. Setting up alerts will help you get ahead of the crowd and lock down a pre-order.
Even if the game appears to sell out, stock could, and likely will, return. When people cancel pre-orders, that stock should recirculate. Stock could appear at any time so that's why it's important to setup alerts and check daily.
Track Your Order
If you manage to pre-order the bundle, make sure you keep an eye on your pre-order as we make our way toward the game's release in the fall. This becomes especially important in the hours leading up to your shipping date.
In 2015, we reported that a number of people had trouble with their Fallout 4 Pip Boy Edition pre-orders. Some claimed their shipment was delayed for unknown reasons, some claimed their pre-order was cancelled. The issues were fairly widespread and very frustrating.
We're already seeing reports of cancelled Power Armor Edition pre-orders at Best Buy and this trend could continue as we approach the game's release date later this year.
In the weeks ahead, you'll want to periodically check your pre-order to make sure the status is healthy. And then once we hit November, you'll want to check it more often to make sure your card was charged and your shipment's out.
If you wind up buying the bundle through a reseller like eBay you'll want to be especially vigilant.
If You Aren't Sure, Wait for Reviews
The Pip-Boy in Fallout 4's Pip-Boy Edition was a glorified smartphone case and a lot of people were disappointed with the quality. We busted a piece on the first day and we saw, and continue to see, plenty of complaints about the Pip-Boy and the bundle's other contents.
The Pip-Boy wasn't as expensive as the Power Armor Edition, $120 vs. $200. This year's bundle is quite the investment so you'll want to be absolutely sure about spending the money on these collectibles.
If you think the Power Armor helmet is going to wind up in a closet collecting dust within a few days of the release date, you might want to save your money.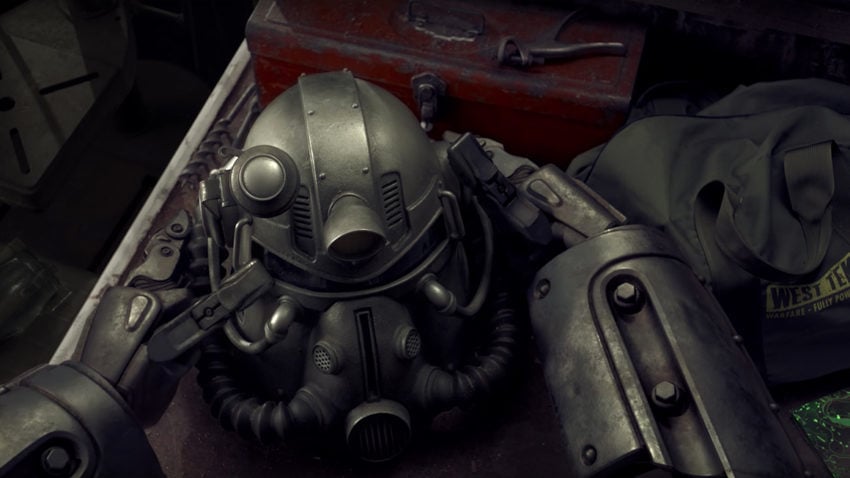 If you're entirely unsure, we recommend waiting for Power Armor Edition reviews to emerge in and around that November 14th street date.
Critics and fans of the series will provide honest feedback about the quality of the items in the bundle and that feedback could help you make a final decision.
Don't Expect Many Deals
If you don't want to pay the full $200 for the Power Armor Edition you should try and find a friend with a Best Buy Gamers Club Unlocked account.
Best Buy isn't taking new GCU memberships, but current members can take 20% off the price of the Power Armor Edition.
This is as good as its going to get. We don't expect to see a ton of deals on the Power Armor Edition pre-launch and if the bundle does sell out, you can expect prices to skyrocket around the release date.
Keep Your Information Updated
Make sure you keep your information up-to-date otherwise you could run into problems with your pre-order.
If you cancel your credit card anytime between now and the game's release date in November, make sure that you update your pre-order to reflect that. If you change your address, you'll need to update that too.
It's easy to forget about these details once you secure a pre-order, but you'll want to try your best to remember.
Don't Cancel Your Pre-Order
If you pre-order the bundle, don't cancel your pre-order. If you do that, you may not be able to pre-order again. If you can't, you'll likely need to pay a premium on the resale market.
3 Reasons to Buy Fallout 76 & 7 Reasons to Wait
Buy If You Love Online Games & Fallout
If you like the sound of an online Fallout-style RPG, you might want to buy a copy of Fallout 76.
Fallout 76 is an online survival RPG inspired by games like Rust and DayZ.
It's much different than the Fallout games you're used to, but it still has quests, a leveling system, V.A.T.S. (though it's nothing like the V.A.T.S. from previous games) and tons of enemies to kill just like Bethesda's traditional single-player RPGs.
It also has base building (dubbed C.A.M.P.), something Bethesda introduced in Fallout 4 back in 2015. Fallout 76 allows you to build anywhere on the map.
Fallout 76 is more Fallout Online/Elder Scrolls Online than Fallout 5. If sharing an open, evolving Fallout world with friends sounds amazing, think about buying a copy of the game today, tomorrow, or sometime in the near future.