5 Things to Know About the macOS 10.15.2 Update
The new macOS 10.15.2 update is out with a ton of bug fixes and a few new features. It even fixes the speaker pop on the MacBook Pro 16 for many users. This is what you need to know about the new macOS Catalina update.
Apple dropped the update alongside the Mac Pro pre-orders going live, iOS 13.3 and watchOS 6.1.1 updates. This is a good update for many users to install, though we did run into an issue with playing back video until we restarted again.
This is what you need to know about the new macOS 10.15.2 update from performance and problems to what's next and what you need to know about a downgrade.
macOS 10.15.2 Reviews
The macOS 10.15.2 update on the MacBook Pro 16 is running smoothly now, but I did run into a few hiccups during my first 24 hours of use. The installation was quick and relatively easy.
Connectivity
WiFi and Bluetooth are working great with our home network and with mouse, keyboard and AirPods.
Apps & Files
Most apps are working as expected.
Safari is working, but blocks in WordPress aren't working for some users.
Video would not play in Quicktime or Final Cut until another restart.
Speaker pops are fixed on our MacBook Pro.
Performance and Battery Life
Performance is good, though Final Cut Pro used an incredible amount of resources this morning.
The battery life is good so far and I will test it more over this week.
macOS 10.15.2: What's New
Here's a rundown of what's new in the latest macOS Catalina update.
Apple News
New layout for Apple News+ stories from The Wall Street Journal and other leading newspapers
Stocks
Get links to related stories or more stories from the same publication at the end of an article
"Breaking" and "Developing" labels for Top Stories
Stories from Apple News are now available in Canada in English and French
This update also includes the following bug fixes and improvements:
Music
Restores the column browser view for managing the music library
Resolves an issue that may prevent album artwork from appearing
Fixes an issue that may reset music equalizer settings during playback
iTunes Remote
Adds support for using an iPhone or iPad to remotely control the Music and TV apps on a Mac
Photos
Resolves an issue that may cause some .AVI and .MP4 files to appear as unsupported
Fixes an issue that prevents newly created folders from appearing in Albums view
Addresses an issue where manually sorted images in an album may be printed or exported out of order
Fixes an issue that prevents the zoom-to-crop tool from working in a print preview
Mail
Addresses an issue that may cause Mail Preferences to open with a blank window
Resolves an issue that may prevent using undo from retrieving deleted mail
Other
Improves the reliability of syncing books and audiobooks to your iPad or iPhone through Finder
Fixes an issue where reminders may be out of order in the Today smart list in the Reminders app
Resolves an issue that may cause slow typing performance in the Notes app
macOS 10.15.2 Problems
We're seeing some macOS 10.15.2 problems during the first day. Specifically, WordPress blocks are not working in Safari for some users and when playing video any app simply skipped to the end of the video without playing.
We've yet to run into widespread issues with major components. If you have problems, we suggest a restart and checking our guide on how to fix macOS Catalina problems.
macOS Catalina Downgrade
You can downgrade from macOS 10.15.2 to macOS 10.15.1 or an older version. There is no time frame for this to expire, so if you decide you need to go back, it's fairly easy to do if you are prepared. Here's our guide to downgrade macOS Catalina.
Should You Install macOS 10.15.2?
The macOS 10.15.2 update is an important milestone. It may be enough for you to finally jump from macOS Mojave to macOS Catalina, but if you are in that boat, we suggest you wait a week to see what happens with this update.
If you are already on macOS Catalina, this is a good update to install. We walk through the reasons below to make up your mind about macOS 10.15.2 or the full jump to Catalina.
7 Reasons Not to Install macOS Catalina & 14 Reasons to Install macOS 10.15.7 Today
Install for macOS 10.15.6 Fixes and Security Updates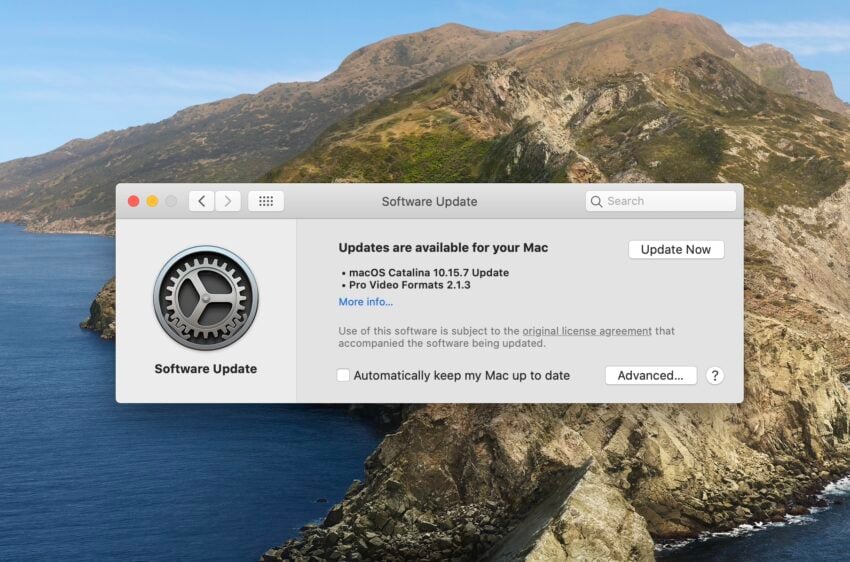 If you are on macOS Mojave or an older version of macOS 10.15, you should install this update to get the latest security fixes and new features that come with macOS. These include security updates that help keep your data safe and updates that patch bugs and other macOS Catalina problems.
The macOS 10.15.7 update includes the following fixes;




Resolves an issue where macOS would not automatically connect to Wi-Fi networks

Fixes an issue that could prevent files syncing through iCloud Drive

Addresses a graphic issue that may occur on iMac (Retina 5K, 27-inch, 2020) with Radeon Pro 5700 XT
We will also see a list of security updates in this, which are disclosed on this security page.

As an Amazon Associate I earn from qualifying purchases.