Amazon's Big AR Bet Includes Alexa Style Hosts To Fill Virtual Worlds
Amazon is making a major play into the Augmented Reality and Virtual Reality space with a new tool that will help people make AR and VR apps for phones and headsets with their new Sumerian platform.
For users this means more immersive AR and VR experiences, including worlds filled with what Amazon calls hosts. These hosts are 3D characters made smart with the same AI found inside Alexa.
PCMag recently took a deep dive into the platform to see what this can do and just how it can deliver crazy new experiences on phones, in VR headsets and someday maybe even your browser.
Apple's ARKit and Google's ARCore platforms are driving the AR experience on smartphones and with Amazon's Sumerian platform we could finally see the same apps come to iPhone and Android at the same time.
When Pokémon Go added new AR features, they were iPhone only at launch due to the lack of support on Android. With Sumerian Niantic or other developers can build once and then ship these to iPhone, Android, Oculus Rift and HTC Vive.
For app users this new system offers a promising future of using Augmented Reality and Virtual Reality apps across systems with the same or very similar features.
The new Amazon Sumerian Hosts are 3D animated characters that will interact with you while you use apps built-in to the system. The hosts can interact naturally, waving when you say hi, or performing other interactions.
Developers can even make the host always pay attention to you, the user. In this interaction you'll always have eye contact with the host, by changing how the host looks at you through the screen or in a VR headset.
You can't say "Hey Alexa", to chat with the hosts you encounter, but they are powered by voice services that will allow conversations while immersed in AR or VR.
There aren't apps that you can download and try out just yet, but PCMag saw several demonstrations including a virtual meteorologist and a virtual personal caregiver.
Amazon VP of AR/VR, AWS Mobile, Serverless Computing and IoT divisions Marco Argenti, told PCMag about another potential use case. "A cruise ship is a good example. The host might say 'Hey, based on where you are on the ship right now, [with] your reservation in 20 minutes, you're not going to make it. Do you want me to push it back 15 minutes? There's also a visual aspect to the experiences you're re-creating. A host talking to you about traveling is going to look different from one talking to you about your financial strategies. Adding location information could have characters change depending on where they find themselves; the way they dress, and the way they move, the inflections they have."
While this will drive apps in ARKit and ARCore in the short-term, the bigger experience will come when hardware is cheaper and "less clunky to wear", according to Argenti. Rumors indicate Apple is working on AR Glasses and there are new advances to heighten the immersion in Virtual Reality.
19 Cool Things Your Echo and Alexa Can Do
Stream Music From Spotify, Apple Music Amazon Music, Pandora & More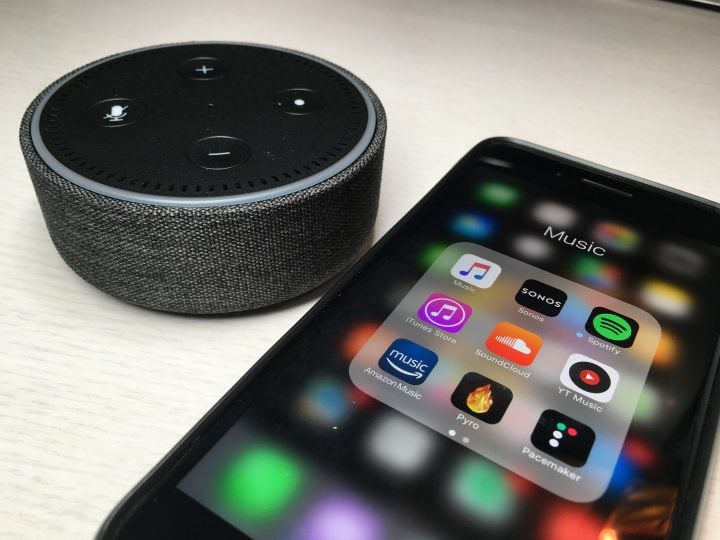 Alexa can stream music from Spotify to the Echo, Echo Dot or a paired Bluetooth speaker. You can also stream Amazon Music, Apple Music, TIDAL, Pandora, iHeartRadio or TuneIn radio to the Echo using your voice.
Open the Alexa app and tap on the menu in the upper left. Tap on Settings and then on Music & Media. Tap on the account you want to use and then link to your account by logging into the account. You need to have Spotify Premium installed for this service to work with Spotify.
You can log into all the accounts you have and when you ask Alexa to play you can say "on Spotify" or on a different service to choose where to listen. On the bottom of this page, tap on Choose default music services to pick the service Alexa should use if you don't specify.

As an Amazon Associate I earn from qualifying purchases.