August Splatoon 2 Splatfest Details: 4 Things to Know
Splatoon 2 launched this past August, and Nintendo is celebrating the game's release with the August Splatoon 2 Splatfest.
Think of Splatoon 2 Splatfests as giant celebrations of the game's strange sense of humor and culture. Nintendo sets a topic for every Splatfest. Gamers choose a side based on how they feel about that topic. Everyone battled over whether cake or ice cream was better in the Splatoon 2 Splatfest Nintendo held just before the game's release on Nintendo Switch.
The August Splatoon 2 Splatfest is all about food too, and Nintendo wants to know whether you prefer Mayonnaise or Ketchup. This latest battle between the game's population starts on Friday, August 4th and ends on Saturday, August 5th. Players can expect a new multiplayer map to be available for a limited time during this Splatoon 2 Splatfest.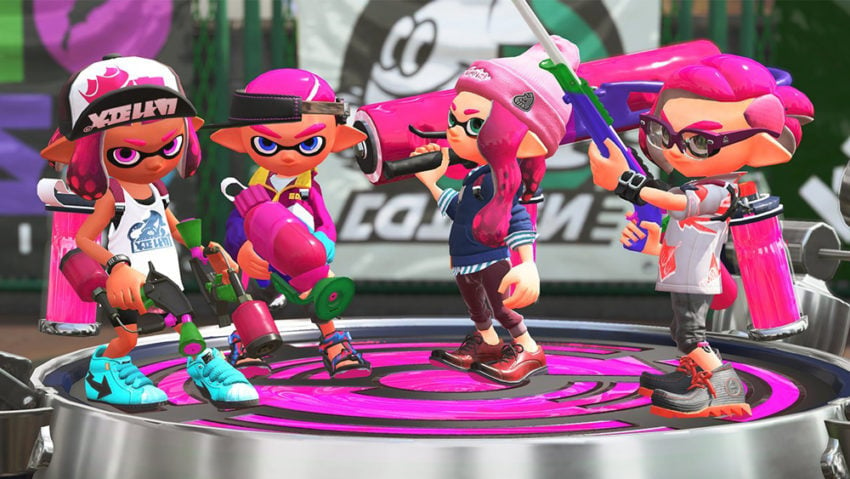 Here's everything else that you need to know about the August Splatoon 2 Splatfest.
When is the August Splatoon 2 Splatfest?
The August Splatoon 2 Splatfest starts on Friday, August 4th at 8 PM Pacific Time in the United States. It will run until August 5th at 9 PM Pacific Time. Unlike the first Splatfest for Splatoon 2, you will need a physical or digital copy of the game to play.
Nintendo says that it has Splatoon 2 Splatfests planned for months to come. You can always tell when there's an event about to happen in the game. Scaffolding appears in Inkopolis Square, the game's lobby when a Splatfest is near. You can vote for your team in the square, plus pick up a themed t-shirt to wear during the event.
The August Splatoon 2 Splatfest Battle Topic
Again, the topic of the August Splatoon 2 Splatfest is Mayo vs Ketchup. You choose which side you're on by logging into the game after the Splatfest has started.
Winning the Splatfest won't be simple. Nintendo bases which team wins on popularity, solo win percentage and team win percentage. All regions will have the same topic during the August Splatoon 2 Splatfest, but each region will have their own winners.
Besides competing in matches, Nintendo wants users to send their best mayo and ketchup themed drawings through the game.
Read: 7 Nintendo Switch Tips & Tricks
What's New for the August Splatoon 2 Splatfest
Even if you don't care about the topic, plan to compete in the August Splatoon 2 Splatfest anyway. It's your only opportunity to see the game's first new multiplayer map since launch.
Nintendo of America revealed the Shifty Station stage this week on Twitter. It's called Shifty Station because it can morph between Splatfests, according to Nintendo's social media message. Most maps in the game have buildings in their backdrop, but this stage seems set in the middle of the solar system. You can see stars, galaxies and clouds of cosmic dust in the sky.
You may need to play multiple rounds before you get to experience Shifty Station. Nintendo is adding this limited time map to its usual line-up of arenas. It won't be the only map used during the Splatfest.
Expect to play a lot of Turf War during Splatoon 2. That's the game mode that sorts players into two teams. The team that's managed to cover the stage in more of their ink wins the match. Remember, your win-loss record directly affects which side wins the Splatfest.
Team Mode is also available during the Splatfest. It requires just four players from the same side of the Splatfest join a private lobby to compete against another team.
Each team gets awarded Super Sea Snails based on how they perform during the Splatfest. You can use these items to upgrade your Inkling's gear. The better your gear, the more effective you are in Turf War, Salmon Run and other multiplayer modes.
Read: 6 Splatoon 2 Tips for Winning Turf War & More
How to Play in the August Splatoon 2 Splatfest
Playing in the August Splatoon 2 Splatfest is easy. Just be sure that your Nintendo Switch is charged and that you have solid internet access. Check out Gotta Be Mobile's breakdown of Splatoon 2 problems and Nintendo Switch problems if you run into issues getting set up.
10 Best 2017 Nintendo Switch Games Coming
Sonic Forces
Featuring three protagonists, Sonic Forces will offer platforming and an all-new story when it arrives on video game consoles – including the Nintendo Switch – in 2017.
We know that Sonic Forces lets gamers create their own characters. Players must base this character on one of seven different classes that come with their own advantages and abilities. Sonic Team calls these custom characters "Avatars," and there are hundreds of cosmetic items for Sonic Forces players to add some style to their creation.
You can skip the custom character mode and enjoy two generations of Sonic game play: 2.5D and 3D. The 2.5D mode offers the classic side-scrolling Sonic experience from your childhood. 3D Mode plays more like Sonic Unleashed. All game worlds and characters are three-dimensional, just like they would be in a modern game.

As an Amazon Associate I earn from qualifying purchases.